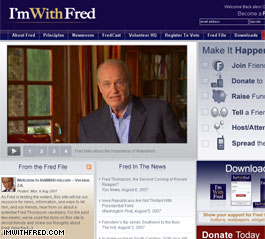 Fred Thompson 2.0
Former Tennessee Sen. Fred Thompson's presidential campaign may not be fully up and running, but his
Web site
certainly is. Thompson's non-campaign campaign Web site re-launched today with a host of new interactive features, a significant upgrade from the site's sleek but stripped-down predecessor. Click
here
to read more.
Finding lost kids
It's the 21st century version of the milk carton. In a new attempt to get information out about kids in danger, the National Center for Missing and Exploited Children is putting pictures of missing kids on a new computer screensaver. Click
here
to download the free screensaver to your PC.
Watch "The Situation Room" at 4 PM, 5 PM, and 7 PM ET for these stories and more from Internet reporter Abbi Tatton.