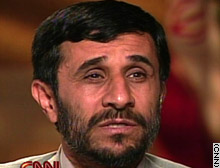 Iranian President Mahmoud Ahmadinejad
After nearly two months since his first entry, Iranian President Mahmoud Ahmadinejad has updated his
personal blog
. In his latest online update, Ahmadinejad explains that he has been spending his "allocated" blog time personally reading visitor's messages. CNN cannot confirm that the Iranian President is actually writing himself.
The recent entry purports to be a transcript of Ahmadinejad's meeting with the Council on Foreign Relations in New York in September 20th after his speech at the United Nations. The Council tells us the transcript of inaccurate and incomplete.
While some of the comments posted on the side of the blog offer support for the President, other comments criticize him for being too radical and not spell-checking the English translations. When we tried to enter a comment, a message appeared saying the message was received and will be displayed after it is "reviewed".
Ahmadinejad's first post in Early August was a lengthy essay on a wide variety of topics including his childhood, education, and the Iran/Iraq war.