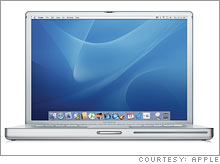 Included in the recall are batteries from the PowerBook G4 computer.
Apple recall

Apple
is
recalling
1.1 million laptop batteries in the U.S. over fears that they may overheat. Is your computer vulnerable? Click
here
to see which laptop models are affected, and how to solve the problem.
Dell
was forced to
recall
over 4 million laptop batteries in August because of similar concerns.
Pluto: 1930-2006
After more than a week of heated deliberations, the votes are in: Pluto is out. A group of international astronomers gathered in Prague have determined that Pluto doesn't fit the bill as a planet. According to the new definition, a planet must be dominant enough to clear the neighborhood around its orbit, but Pluto's orbit overlaps into Neptune's.

The decision leaves our solar system with just eight planets. The many textbooks and Web sites naming Pluto as a planet will all have to be updated. NASA especially has a lot of work to do, as a search on 'Pluto' on NASA.gov rakes in nearly 20,000 results. The owner of the amateur space site nineplanets.org says he will not be changing the site's name, especially since the domain name eightplanets.org is already taken.

Watch "The Situation Room" at 4:00 PM, 5:00 PM, and 7:00 PM, ET for these stories and more from our Internet reporters.