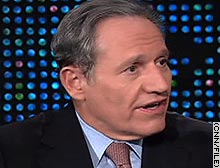 Bob Woodward said a Bush administration official's reference to Plame was "casual and offhand."
Calendar of Events

Did former Deputy Secretary of State Richard Armitage discuss the identity of CIA employee Valerie Plame with reporter Bob Woodward? Under the Freedom of Information Act, the Associated Press has obtained an
official State Department calendar
which shows that Armitage met with Woodward on June 13, 2003. [To view the calendar obtained by AP, you must scroll down to the middle of the page and click on the right-hand column].
In a statement made last year, Woodward said that he had a "casual and offhand" discussion about Plame with an unidentified administration official in mid-June, 2003. Whether that official was Armitage is unknown. Armitage and Woodward have no comment. The newly-disclosed calendar also shows meetings with Scooter Libby and, notably, actor Tom Cruise and other prominent figures in the Church of Scientology. The calendar does not reveal the subject matter of any of the meetings, however.

9/11 Graphic Details
Are Americans ready for a 9/11 comic book? The events of that day have already been re-enacted for film and television, and now the shocking details of the 568-page 9/11 Commission Report are being transformed into a new 128-page illustrated adaptation. Watch an interview with the book's authors, Sid Jacobson and Ernie Colon, and judge the comic for yourself online at Slate.com, where it is being serialized.
Watch "The Situation Room" at 4:00 PM, 5:00 PM, and 7:00 PM, ET for these stories and more from our Internet reporters.