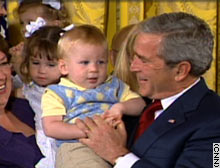 At Wednesday's press conference, Bush holds a baby who was adopted as an embryo.
WASHINGTON (CNN) -- President Bush on Wednesday vetoed the embryonic stem-cell research bill passed Tuesday by the Senate, his first veto since taking office.
"It crosses a moral boundary that our decent society needs to respect, so I vetoed it," he told backers. (
Full story
)
On Tuesday, the Senate voted 63-37 to loosen Bush's limits on federal funding for embryonic stem-cell research.
The measure, which the House of Representatives passed in May, would allow couples who have had embryos frozen for fertility treatments to donate them to researchers rather than let them be destroyed. But neither chamber approved the bill with the two-thirds majority needed to override the veto Bush had promised.