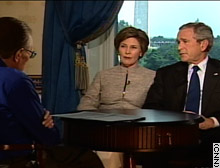 The first lady and President Bush speak with CNN's Larry King.
From The Morning Grind
President Bush predicted Thursday that Republicans would maintain control of Congress after the November elections and vowed to continue criss-crossing the country in the coming months to help elect GOP candidates.
"We're right on winning this war on terror, and we've got a good economic record," said a confident Bush, in an exclusive interview on CNN's 'Larry King Live.' "People are working under the leadership of this administration and the Congress."
Bush sidestepped a question about campaigning for the eventual Republican presidential nominee in 2008 by saying he was "trying to get through the '06 elections."
Today, Bush is in Illinois and will attend a fundraiser for GOP gubernatorial nominee Judy Baar Topinka. CNN's Robert Yoon reports that this is Bush's 44th fundraising event of his second term and he has raised over $155 million for GOP candidates and party committees since Jan. 2005. The Topinka campaign estimates they will raise $1.2 million from today's event that will be attended by about 500 people.
In the interview with CNN's King, Bush also spoke on subjects ranging from Osama bin Laden and Iraq to North Korea, immigration reform and the late Ken Lay.
Here is a
full transcript
of the interview.