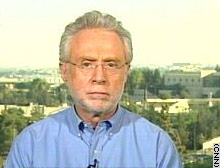 By Wolf Blitzer, CNN JERUSALEM (CNN) -- Israel is a different place than it was six months ago.
I was last here in early January when then-Prime Minister Ariel Sharon had a stroke and went into a coma. He is now the former prime minister, he remains in a coma and his condition, according to his doctors, has deteriorated in recent days.
At the time I went there, there was widespread fear in Israel that he was on the verge of death. That was the story then. Yes, there were tensions with the Palestinians in Gaza and the West Bank. But there was no talk of the dangers to Israel lurking from south Lebanon.
That has clearly changed over these past two weeks. Now, the talk of Israel and much of the world is the warfare between Israeli forces and Hezbollah militants in Lebanon.
People here in Jerusalem do not believe they are in any immediate danger of those Hezbollah rockets and missiles -- in large part because they don't think the Islamist militants would fire their inaccurate rockets at Jerusalem...
(Read more of Wolf Blitzer's column)