Friday, October 05, 2007
Are you suspicious of pro athletes?
Thanks for all of your comments in response to last night's question. Tonight we want to know what you think about Marion Jones, the U.S. Olympic Gold Medalist who today admitted to using performance enhancing steroids during the 2000 Olympics and lying to federal investigators during a subsequent investigation. Do you suspect most record-breaking athletes use illegal performance enhancing drugs? Submit your comments below and we'll read some of them during the show. Also tonight: a closer look at drug testing for athletes -- we're Keeping Them Honest. Plus, Marion Jones, in her own words. See you at 10p.m. ET.
Bearing witness
Filming what's happening inside Myanmar is a dangerous business. If you get caught with a video camera, or even a tape, you would likely be beaten, jailed, or even killed.
There's a group here in New York called Witness that trains human rights workers to use small video cameras to document abuses, and they've been working with an organization called Burma Issues.
What the Burma Issues photographers captured, all of them refugees from Myanmar who returned with cameras, is shocking: streams of ethnic Karen refugees, a long-oppressed minority group, slogging down jungle trails to Thailand, trying to escape the Myanmar army, which has been killing them and destroying their villages for a years.
That video is now available online at
www.witness.org
, and worth watching if you care about what is happening inside that country. The people who shot it risked their lives for these images of destroyed villages, starving refugees, and forced labor.
Couple that with the firsthand accounts CNN's Matthew Chance got from a group of refugee Buddhist monks on the Thai-Myanmar border who escaped the latest crackdown, and you start to understand just how brutal the military regime is.
-- By Steve Turnham, CNN Producer
Philly gunning for more control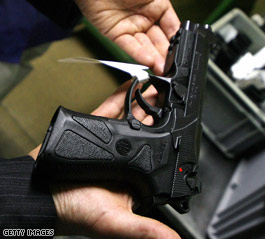 With more than 300 murders so far this year, Philadelphia has been struggling to contain gun violence.
If I was a Philadelphia resident, I could walk into any gun shop in the city and buy 50, 100, even 1,000 guns, just like that. All they would do is run an instant background check, and assuming my record was clean, I'd walk out with all that firepower.
There's no waiting period, no rules on who I can and can't sell those weapons to. In fact, state law says I don't even have to get a license for the guns or register them.
Could this be contributing to the gun violence in Philadelphia? So far this year, there have been more than 300 murders, and more than 85 percent of them were the result of a firearm, according to the Philadelphia Police Department.
Ray Jones, a community volunteer with the group Men United, blames state lawmakers for not passing tougher gun laws and for keeping cities like Philadelphia from passing their own regulations.
"It's about survival," Jones said. "People are dying in the streets and we need to get help."
The fight over gun laws has turned into a power struggle between the state government and Philadelphia.
Back in 1994, the state legislature overturned an assault weapons ban, making AK-47s as easy to get as hunting rifles. The next year, rules were eased on concealed weapons. Today it's actually against the law in Pennsylvania for a policeman to ask anyone why they want to carry a concealed weapon.
At last check, there are now 29,000 permits to carry concealed weapons in Philadelphia, compared to about 800 applications for permits back in 1995. One law enforcement source told me the state is handing out permits to carry like "candy."
State Senator Vincent Fumo is a gun owner, and he supports the current laws. "People want to think that this is the wild west, and we don't have any laws. What we don't have is enforcement of those laws," he told CNN.
Many here in the city argue that if Philadelphia had "home rule", as it's called, and the city was allowed to pass more stringent gun laws, people would be safer.
"It really would be appropriate for the city to determine its own sort of destiny," Jones told CNN. "Now our hands are sort of handcuffed."
Who do you think has the right to set the ground rules when it comes to guns? The state or the city?
-- Randi Kaye, CNN Correspondent
Thursday, October 04, 2007
Your thoughts on Phoenix Airport death?
Tonight we want to hear from you. During the program we'll ask a question after our lead story, which right now is the investigation into the death of a woman in police custody at the Phoenix Airport. Today police released, for the first time, an extensive account of the circumstances surrounding the death of Carol Anne Gotbaum, including video of her arrest.

After you see the video, tell us: "Do you think police used excessive force?"

We'll post your responses on the blog, and read a few at the end of the hour.
Makeshift memorials dot city
PHILADELPHIA, Pennsylvania -- Driving through southwest Philly to the scene of a recent murder, it's impossible to miss the evidence: a makeshift street corner shrine to a murder victim.
We thought we'd found the place we were looking for, but we hadn't. Our corner was four blocks away, another shrine.
That's what it's like here, with piles of stuffed toys, photos of the dead, testimonials scrawled on poster board, every few blocks.
There is hope, but everyone agrees you have to get to the kids while they're young, before the culture and economics of the street suck them in.
At Smokin Joe Frazier's gym in North Philly, we met teenagers, some doing homework, others sparring in the ring, determined to stay off the streets. Boxing, a passion here in Philly, gave them an alternative.
The man most likely to take over as mayor next year, Michael Nutter, told us he intends to get back to the basics of community policing to try to stop the killing. He has a lot of work to do.
-- By Steve Turnham, CNN Producer
Wednesday, October 03, 2007
Guatemalan adoption: A troubling tale
CNN Correspondent Harris Whitbeck interviews Guatemalan women who claim their babies were stolen from them.
ANTIGUA, Guatemala -- I was eleven years old when a devastating earthquake decimated much of Guatemala in 1976. My family and I lived in Guatemala City and were fortunate that our recently built house was not damaged.
My parents immediately involved themselves in relief and reconstruction efforts, and one night my mother came home with two babies in her arms. Maria and Francisca were only months old. They had been living in an orphanage that was so badly damaged it had to be evacuated. A call went out to the community for people to take in the children while the home was rebuilt, and my mom responded.
When the two babies arrived at our house, their little heads were infested with lice. They were severely traumatized -- one of them, Francisca, would spend hours rocking back and forth in her crib, refusing anyone's attention. They were terrified of the bathtub my mother used to bathe them.
But Maria and Francisca became the center of attention.
My siblings and I played with them constantly as they became temporary members of the family, and we marveled at how these terrified little creatures came out of their shells and began to laugh and play with us.
More than 30 years later, Maria and Francisca were often in my thoughts as I
reported
on the current adoption situation in Guatemala. (
Read: Guatemala seeks to slow exodus of babies to U.S.
)
The story of the Casa Quivira adoption center, the wrenching tales of adoptive parents waiting for their children, birth mothers haltingly explaining why they give their children up is one of the most difficult ones I've ever reported.
As a Guatemalan reporting on my country's adoption industry for a major U.S. news outlet, at times I was ashamed, angered, outraged and saddened.
I was ashamed that my country offers so little hope and opportunity that its young are seen as commodities. I was ashamed that Guatemala is becoming one big baby market -- that adoption in Guatemala has turned, to quote a high-level diplomat in Guatemala City, into such a "nasty business." I was outraged that some who promote the adoption business in the United States use the poverty and misery of millions of Guatemalans as a marketing tool.
I was saddened for the Guatemalan mothers who either have had babies stolen, have been manipulated into selling or giving children up, or forced into doing so because of their dire socio-economic conditions, and saddened too for the potential adoptive families who -- only for wanting to bring a child into their lives and for their altruism -- have in some cases become embroiled in sordid and shady dealings.
There are no easy answers in this story and there are many, many layers to it. When I set out to report it, I did so to attempt to find the truth in what happened at Casa Quivira and the truth behind thousands of Guatemalan babies who have been exported to the United States. (
Watch: Guatemalan adoption controversy
)
We interviewed everybody who could possibly be involved in the adoptions -- waiting adoptive parents, government officials, state prosecutors, investigators, adoption lawyers, birth mothers, foster parents, midwives, even one of Casa Quivira's owners. The only ones we could not interview, who are, in the end, the most affected by all this, were the babies themselves.
And maybe the ultimate truth in this story lies in the tales they cannot tell now and in the tales they someday will be able to tell of their new lives. Adoption is, after all, more about the future than about the past. And in the end, it is those babies' futures that matter most.
While I do not know what became of babies Maria and Francisca my mom rescued, I do know they were lucky to have survived that earthquake 31 years ago and to have fallen in with good and honorable people who, albeit temporarily, ensured their well-being during desperate times.
I hope those babies currently waiting for adoption in today's Guatemala will also eventually fall in with good and honorable adoptive parents. But it is the process through which some of them might find those parents that troubles me so.
-- By Harris Whitbeck, CNN Correspondent
Tuesday, October 02, 2007
Insurance companies fight law on punitive payouts
SEATTLE, Washington (CNN) -- Across the country, insurance companies, trial lawyers and legislators are closely watching a November referendum in the state of Washington that could change how insurers are required to treat their customers.
Insurance companies are using the referendum process to try to strike down a new law in Washington state.
Insurance giants like Allstate, State Farm, Safeco and Farmers have poured more than $8 million into the referendum battle. Their goal is to convince voters to reject a law passed earlier this year that could force insurers to pay up to triple damages and lawyer fees if they fail to pay a legitimate claim and then lose in court. A "yes" vote on the referendum allows the law to go into effect while a "no" vote strikes the law down.
Supporters of the law say it forces insurance companies to pay legitimate claims in a timely and fair fashion and frees the courts from relatively minor cases that clog the system for months and even years. One supporter, the Washington Trial Lawyers Association, has raised almost $900,000 to fight the insurance industry over the referendum.
Click here to read more
-- By Drew Griffin, CNN Correspondent
Kathleen Johnston, CNN Producer

Monday, October 01, 2007
Planet in Peril: Chasing wolves
Here's another
Planet in Peril
preview. Anderson Cooper examines how Yellowstone is faring more than a decade after wolves were reintroduced.
(Click image at left to play video)