Friday, September 28, 2007
Chicago's finest under fire
CHICAGO, Illinois (CNN) -- Robin Petrovic, a college English teacher, was out dancing at a popular Chicago nightclub, the "Funky Buddha Lounge," when she got into an altercation with the bouncer and called police for help.
But according to Petrovic, the officer who showed up -- James Chevas, a 12-year veteran -- turned on her when she refused to sign a blank incident report and tried to write down his badge number.
"He picked me up and threw me face down into the ground. And since my hands were handcuffed behind my back, I couldn't break my fall at all, so I just landed on my face," she told CNN.
Petrovic is one of thousands of ordinary people who every year accuse Chicago police of abuse. Few complaints result in disciplinary action.
Click here to read more
From Randi Kaye, CNN Correspondent
Ismael Estrada, CNN Producer
Chicago cop: One punch got me five years
CHICAGO, Illinois -- Mike Mette has been a Chicago police officer for almost four years. But now, as a result of a fistfight one night in Dubuque, Iowa, he is a convicted felon.
Mette has been sentenced to almost five years in prison after Dubuque County Judge Monica Ackley found him guilty of assault causing serious injury. Mette says he's been wronged.
"I was arrested for self-defense ... I was defending myself," he said.
Click here to read more
By David Mattingly, CNN Correspondent
Katherine Wojtecki, CNN Producer
Thursday, September 27, 2007
On the road in New Hampshire
New polls on the Republicans, President Bush gets a little help, and Bill Richardson takes a swipe at the top Dems. CNN's Tom Foreman has the Raw Politics.
(Click image at left to play video)
Wednesday, September 26, 2007
Unapproved prescription drugs ... the backstory
People always ask me, "Where do you find the stories you produce?" And I tell them I find them everywhere -- sometimes in a something I read, sometimes from people I talk to and sometimes I find stories from my own life.
This story
is one of those times when I turned life experience into a two-part investigation for "360."
A little over seven months ago, in the middle of winter, I gave birth to my second son. Being a second-time mom, I had a little more experience than I did the first time around, so when my newborn got sick with a hacking cough and cold, I called our pediatrician and asked him to prescribe the same cold medicine that I gave my first son as an infant three years ago. Much to my chagrin, my pediatrician told me that the cold medicine that he had formerly prescribed was no longer being given to kids under two. When I asked why? He said it wasn't advised.
Being a journalist and a mom is a unique mix. Not wanting my child to suffer (or for me to have another sleepless night) and a nagging feeling that something wasn't right, I started to do a little research to find out what had changed about the cold medicine. What I found out shocked me -- the drug that I had given my first son as a baby had been pulled off the market because it had not been tested in kids under two and there had been reports of adverse effects in some children. I was completely shocked. I had inadvertently given my first child drugs that could have made him sick.
How could my doctor have prescribed my son something that could have made him sick? Why didn't he know? Why didn't I know? I am in the media. I report the news everyday. I thought there was a system in place to prevent something like this from happening.
Let me preface these questions. Aside from the occasional tantrum and the refusal to kiss some particular relatives, my first son is perfectly fine. But what if he wasn't? How could my doctor not have known that this drug was unapproved? Well, it turns out he and I are not alone in our lack of knowledge. It turns out that 65 million prescriptions are written every year for drugs that are unapproved by the FDA and the FDA has known about it for decades.
This led me to ask more questions -- How does this happen? Who is responsible here? What other drugs are out there that are unapproved? Why don't doctors know which drugs are approved and which aren't?
I mentioned all this to Gary Tuchman, a CNN correspondent and regular on this blog, and my bosses here at "360." Everyone was as curious as I was, so they sent me off in search of answers. The pieces you will see on tonight's program and the text version you can
read now on CNN.com
are the result of several months of digging and talking to people. The answers we got from the people in charge at the FDA, on Capitol Hill and from a manufacturer might surprise you. They did surprise me.
And for those of you now wondering about my infant son and his cold, well, he got over it with a lot of TLC and vaporizers. It took a lot longer than it did with the cold medicine, and I was a mess, but that's what being a parent is all about. As for my older son, I guess I can blame the tantrums on the cold medicine he got when he was an infant or more realistically, it's probably because he is now three-and-a-half years old.
-- By Audrey Gruber, CNN Producer
Tuesday, September 25, 2007
What would you ask Iran's president?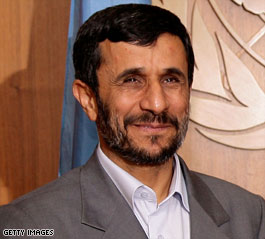 Iranian President Mahmoud Ahmadinejad got a less than welcome reception at Columbia University.
Call me crazy, but there's something fascinating about that firebrand in the tan jacket from Iran.
Mahmoud Ahmadinejad sat stoically yesterday at Columbia University while its president, Lee C. Bollinger, lit into him with a barrage of attacks. By the time Bollinger was finished, he had called the Iranian president cruel and petty and finished him off with this: "Mr. President, I doubt that you will have the intellectual courage to answer these questions, but your avoiding them will in itself be meaningful to us. I do expect you to exhibit the fanatical mind-set that characterizes what you say and do."
Ahmadinejad remained silent and stone-faced during Bollinger's relentless cross-examination. But when he did walk up to the podium, he had a rebuttal ready. "In Iran, tradition requires when you invite a person to be a speaker, we actually respect our students enough to allow them to make their own judgment, and don't think it's necessary before the speech is even given to come in with a series of complaints to provide vaccination to the students and faculty," Ahmadinejad told the audience.
It was an interesting reply. And some would argue an effective one for a man who is a master at avoiding questions or spitting them back.
But that is just part of what makes Ahmadinejad an interesting player on the world stage. He knows his rhetoric about the Holocaust and Israel will make headlines. But what is his motive? And should we fear him? Juan Cole is wary of that notion. In an article in Salon, Cole says neo-cons are casting Ahmadinejad as our main enemy as an excuse to wage war with Iran. Here's his story:
Turning Ahmadinejad into public enemy No. 1
Tomorrow, Christiane Amanpour will interview Ahmadinejad on "360." What questions would you ask of him?
-- By Gabe Falcon, "360" Writer
Raw Politics: Endorsements, endorsements!
Endorsements, more fallout over the MoveOn.org ad controversy, plus an update on primaries. CNN's Tom Foreman has the Raw Politics.
(Click image at left to play video)
Monday, September 24, 2007
Jeffs appears calm as jury deliberates
FLDS leader Warren Jeffs consults last week with his legal team at his rape-accomplice trial.
They look nervous and ill-at-ease. But we can't be sure, because outside of saying "hello," they won't talk to us.
They
are the followers of Warren Jeffs, the man they regard as a prophet of God.
About 15 of Jeffs' followers are sitting in the lobby of a courthouse in Washington County, Utah, awaiting word that a jury has reached a verdict. An eight-member jury is deciding whether the leader of the Fundamentalist Church of Jesus Christ of Latter Day Saints is guilty of being an accomplice to rape.
Jeffs is accused of ordering and presiding over the marriage of a 14-year-old girl to an adult male with full knowledge they would consummate the marriage. Jeffs was on the FBI Ten Most Wanted list for months because he has been accused of doing this to many girls, but only one would come forward to testify in this case.
Jeffs' attorneys say this prosecution is a persecution of religion, and nothing more.
Jeffs appeared calm in court as the jurors began their second day of deliberations. The alleged victim, Elissa Wall, who is now 21, told me in court she "had a long weekend, but is at peace."
Security is elaborate in and around the court, because authorities aren't quite sure what will happen if a man believed to be a direct pipeline to God is found guilty in a court his followers believe is run by "apostates."
-- By Gary Tuchman, CNN Correspondent