Friday, August 31, 2007
Fallujah: A battle like no other
In all the war in Iraq, there has been nothing like the battle of Fallujah, November 2004.
From the beginning, insurgents in Iraq have planted fields of hidden bombs, fired countless shots from sniper nests, and launched mortars and rockets onto opposing soldiers and civilians alike, but only once have insurgent forces tried to directly stand up and engage Coalition troops in head-on fighting.
The Battle of Fallujah was the most intense, sustained combat American forces have seen since Vietnam, and the 1st Battalion, 8th Marine Regiment, Bravo Company was right in the middle of it.
Over the past few months, I have traveled the country visiting with the troops of Bravo and others who witnessed Fallujah, trying to understand precisely what happened in that horrifying and relentless clash. What emerged is an extraordinary tale of heroism, survival, heartbreak, and success.
Insurgents claimed they could hold the city against the American onslaught; we found that they failed miserably.
Human rights advocates have said Fallujah involved a wholesale slaughter of civilians by American troops; we found no evidence to support that claim.
Critics have suggested the vastly superior U.S. technology is the only way Americans won; we found that in the tight corners and darkened houses of the city, much of the technology proved of little use, and American troops prevailed because of their superior training, discipline, and courage.
In this war, where so many days seems the same, the Battle of Fallujah remains a remarkable milestone. If you want to understand this war, you have to know Fallujah.
-- By Tom Foreman, CNN Correspondent
Preview: Snipers on the hunt
Preview: Marine down
Thursday, August 30, 2007
Taking your calls and e-mails, tonight!
Monday brought the shocking revelation that Sen. Larry Craig was arrested after an incident in a Minneapolis airport bathroom back in June. On Tuesday, Sen. Craig appeared with his wife by his side to assert his innocence and assure the American people that he is not gay. Yesterday, three fellow Republican lawmakers, including presidential candidate John McCain, called on Sen. Craig to resign and now another blow to the Sen. Craig camp ... there's a soundtrack to go along with the story as an
audiotape of his arrest
has just been released. Among many things on the tape in which Craig seems to be upset and on the offensive, he denies the arresting officer's allegations of lewd behavior, reprimands police for being "out to entrap people" and is accused by an officer of lying.
With these latest revelations, do you think Sen. Craig should resign from Congress? We'll be taking your phone calls and reading your emails live on tonight's show, so tell us what you think --
Send us some V-Mail
.
-- By Chuck Hadad, CNN Producer
Planet in Peril: The Trailer
Please take a look at the latest trailer for
Planet in Peril
and let us know what you think. Thank you.
(Click image at left to play video)
Wednesday, August 29, 2007
No right for us to feel fatigued
Two years after Katrina, many in the Gulf Coast are struggling to recover.
I'm not big on anniversaries, especially ones recognized by television. They always seem artificial to me. Maybe I'm just cynical about television, but whenever I hear a newscast making a big deal about the anniversary of an event, I always assume it must be a slow news cycle.
So why then, on the second anniversary of Hurricane Katrina, am I heading toward the Gulf Coast? I guess it's because today more people around the country may be willing to take a few moments to remember what happened and what continues to happen in New Orleans and Mississippi.
I've lost count how many times I've been to New Orleans since Katrina. I'm told we've done about 20 shows there after spending a month in the area immediately following the storm. I'm proud that CNN has remained commited to telling this story. A lot of other news organizations seem to have moved on. "Katrina fatigue" -- that's what some people call it.
As anyone in New Orleans or the Mississippi Gulf coast will tell you, the only people who have a right to "Katrina fatigue" are the people still waiting for their insurance company to reimburse them or those waiting for the long-promised Road Home money or those still trying to find help rebuilding their home or their business.
I know today a lot of reporters will descend on New Orleans, many for the first time since the last anniversary. I'm glad they will be there. This city, this region needs all the coverage it can get.
But let's not forget that tomorrow the cameras will leave, the anchors will fly home (myself included), but the people and their problems will remain. It's not enough to only think of them on this yearly anniversary. What they are going through is happening everyday, every week, month after month. Let's keep that in mind, let's keep them in mind, not just today, but everyday until their lives, their homes are restored.
Tonight we will be live in New Orleans, with many of the volunteers who have made a great difference in this city. We'll continue showing you what has worked, and what hasn't in the last two years. I hope you'll join us.
-- By Anderson Cooper
Critic: Full-time pay, half-time work
NEW ORLEANS, Louisiana -- I had heard a lot about Edward Blakely, the so-called "master of disaster" turned New Orleans recovery czar. Mayor Ray Nagin announced his hiring last December, at $150,000 a year. So we figured it was time to see just what he has accomplished since then. After all, he'd earned the name "master of disaster" after helping California recover from the Oakland fires and a major earthquake, so we figured he's gotta be good, right?
Well, that depends on who you ask. People we talked to around the city of New Orleans told us Blakely hasn't done much but embarrass them. Shortly after his hiring, he referred to the people of New Orleans as "buffoons" following a planning meeting. He also promised cranes in the sky by September of this year, part of his $1.1 billion blueprint for recovery. He told us exactly where to look for the cranes he says are there, but we never found them.
So I asked Blakely directly: What have you accomplished since you came on board in December?
"First, we have the plan. Secondly, we have about $500 million we didn't have before," Blakely said. "The LSU complex is another accomplishment. ...Practically every street in the city is being repaired. That didn't happen before I got here. The signs are up. City is running."
To hear Blakely tell it, he's practically rebuilt the city of New Orleans single-handedly. Critics say Blakely doesn't really deserve the credit.
"That is not Dr. Blakely. Those are initiatives that were done by the Louisiana legislature and other bodies. I think what he unfortunately has the tendency to do is take credit for things that are not his doing," said New Orleans talk radio host Jeff Crouere.
Blakely has also been criticized for being absent from New Orleans much of the time. He has also been teaching in Australia at the University of Sydney and travels around the United States giving speeches.
"Being paid $150,000 to do a full-time job and getting half-time commitment was really disappointing to a lot of people," Crouere told us.
How does Blakely feel about the criticism?
"People can say whatever they want. I just have to do my job," he said.
Mayor Nagin says we're all going to be surprised by Blakely's successes. But when -- many others in New Orleans want to know -- is he going to start getting results?
-- By Randi Kaye, CNN Correspondent
Sign of life in decimated neighborhood
NEW ORLEANS, Louisiana -- Two years ago, I rode out Hurricane Katrina at a hotel in the Central Business District of New Orleans. By mid-morning, many of the hotel's employees were talking to family members and friends in the Lower 9th Ward who were already on rooftops seeking help to get away from rising floodwaters. But it wasn't until later that night that I realized just how horrible the situation was.
On Monday night around 6 p.m., I went out with Tommy Evans, another "360" producer, and Mike Miller, a cameraman from Miami. We were chasing a tip that people were stuck inside City Hall when we ran into an officer who was patrolling that area. He told us about another area of the city where people were being rescued off rooftops and let us follow him to that location.
When I stepped out of the car on a bridge on I-10 overlooking Elysian Fields, I heard dogs howling and people screaming for help and I saw a family in a boat headed to the on-ramp. The fire department had set up some lights to help the rescuers. I couldn't believe that this neighborhood, which was not that close to the lake, river, or any canal, had about six feet of water in it.
I drove around that neighborhood yesterday. Blue tarps still cover holes in roofs where people used axes and any means possible to escape their homes. There is also progress. Many of the residents are returning and trying to rebuild their homes.
Every time I return to the New Orleans area with Anderson and the "360" team, I am amazed by the resilience of many of the residents. It's been two years since Katrina changed this city that I love. And while myriad businesses have re-opened and many residents have returned, there is still much work to be done.
-- By Kaye Jones, CNN Producer
Hot Links: Katrina stories
Tuesday, August 28, 2007
Another sex scandal?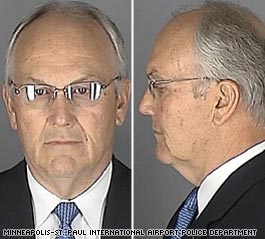 A police mug shot of Sen. Larry Craig after he was arrested at the Minneapolis-St. Paul airport in June.
Senator Larry Craig says he's sorry ... sorry for pleading guilty to a misdemeanor disorderly conduct charge he says he did not commit.
"At the time of this incident, I complained to the police that they were misconstruing my actions," the Idaho Republican said in a statement. "I was not involved in any inappropriate conduct."
But an undercover cop tells a much different story. The plainclothes officer arrested Craig in an airport bathroom after, he says, the senator tried to engage in lewd conduct. According to the officer's report, "Craig would look down at his hands, fidget with his fingers, and then look through the crack in my stall again."
The report goes on to say, "The presence of others did not seem to deter Craig as he moved his right foot so that it touched the side of my left foot which was within my stall area." When the police interviewed him later, the senator said that "he has a wide stance when going to the bathroom" and that was why his foot may have touched the officer's, the report said. (
Read the arrest report
)
Craig, who is married with three children and nine grandchildren, has had to answer to allegations he is gay. Always strongly denying it, he calls the stories "completely ridiculous." A lengthy investigation by the Idaho Statesman newspaper chronicles the allegations by unnamed men and the congressman's repeated denials. (
Read the Idaho Statesman story
)
Sen. Craig is not the first politician to get caught up in a sex scandal. He won't be the last. But for now, his case is making headlines.
If he is gay (and he says he is not), should it matter? And do you feel he needs to resign?
Tell us what you think.
-- By Gabe Falcon, "360" Writer
Monday, August 27, 2007
Arm wrestling a Chihuahua-owning champ
My day began before dawn in Richmond, Virginia, as the circus that is the Michael Vick court case opened for business. Satellite trucks flanked the entire length of the court house, local police were lead around by German Shepherds to "make sure everything is safe in the area" (as their press officer cryptically tells me) and I assumed my place in the line of all lines.
The day's proceedings weren't scheduled to begin for another five hours, but to ensure I was one of the 100 people that gained entry into the first-come, first-served courtroom, I got there at 5:45 a.m., placing a respectable 13th in line. The line got long quickly as a motley crew of journalists, Vick supporters and Vick haters filled out the ranks.
Next to me in line was one such hater -- Steve, a 60-something shipyard man, with a Chihuahua named Dinky by his side and a T-Shirt that reads "My Dog Hates Michael Vick". He's an affable fellow who's passionate about his dog and perhaps even more passionate about, of all things, arm wrestling. I was skeptical about his claim to have once been the world arm wrestling champion, so he insisted that we match up. He took me down ala Sly Stallone, in what's perhaps the only film ever dedicated to the sport, 1987's "Over the Top". I decide never again to question alleged former world arm wrestling champions.
Surprisingly enough, the hours seemed to fly by, and finally, I was directed to the courtroom in which Michael Vick was to plead guilty to a conspiracy charge. The atmosphere was surprisingly jovial, given the serious business that was about to unfold. But that changed when members of Vick's family, the last to enter before Vick himself, were shown to their seats in the front row. The chatter devolved into a murmur. And then, when Vick walked through the door, there was complete silence.
Judge Henry Hudson rolled through a number of questions about the case with speed and cadence and Vick kept his answers short and seemingly without emotion. I tried to get a look at his face for any indication of what was going through his mind, but with his back to the crowd, hands at his side, it was impossible. From there, we rushed over to Vick's press conference, where many of those covering the case were surprised to hear Vick speak. The rest of the day was a whirlwind of "live shots" (where a correspondent, in this case, legal analyst Jeffrey Toobin, goes live on air). As I write this blog post, I'm in hour 15 of Vick coverage today, with a few more hours to go.
-- By Chuck Hadad, CNN Producer
Raw Politics: One fewer target for Dems
When it comes to winning over American voters, the Republicans have made some big mistakes. They know it. The Democrats know it. Virtually every political analyst in the country knows it.
And right now, Democrats are practically dancing in the streets, hurling "I told you so's" at every passing GOPer. With Alberto Gonzales out and the Katrina aniversary upon us, a feeding frenzy is underway that will likely last all week long. The Democrats are delighted to see the White House reeling, President Bush increasingly alone, and Republican candidates struggling to define their messages about the war in Iraq.
But consider this question: Which party will really benefit from the Gonzales departure in the long run?
Karl Rove and Gonzales were the Dems' favorite, highly-visible targets, and now they are gone. Gone with them? The easy headlines. The late-night riffs about them from comedians. The heat that was driving the investigations into their conduct.
The Bush White House is still under a lot of pressure, and certainly Republicans don't like having to throw their own overboard. But cranking it up just got a little tougher for the Democrats.
The Raw Politics Read: Watch for the Republicans to take their licks this week, but by the weekend, Republicans could mount a counterattack, with two fewer weak spots in their armor.
-- By Tom Foreman, CNN Correspondent
Writer's Block: Bush's shrinking inner circle
We can't call him Al, but the president can.
"Al Gonzales is a man of integrity, decency and principle," President Bush said today shortly after U.S. Attorney General Alberto Gonzales announced his resignation. "It's sad that ... his good name was dragged through the mud for political reasons."
Those "political" reasons came from both sides of the aisle. Gonzales, who championed the domestic spying program, may be remembered as perhaps the most controversial and criticized head of the Justice Department in history. Even so, it sounds like he is leaving with the continued full support and confidence of his boss.
Gonzales is not the only member of the president's inner circle to step down amid some controversy -- Donald Rumsfeld, Harriet Miers, and Karl Rove come to mind.
Also, we're hearing from senior administration officials that the next U.S. attorney general will likely be Homeland Security Chief Michael Chertoff. If he's nominated, you can be sure his handling of Hurricane Katrina (this Wednesday marks the 2-year anniversary) will come up during confirmation hearings.
Should Chertoff get the job? Was Gonzales railroaded? Tell us what you think.
-- By Gabe Falcon, "360" Writer