Thursday, August 23, 2007
Catholic town rises in Florida
Domino's founder Tom Monaghan is building a Florida town based on Catholic values.
AVE MARIA, Florida -- We drove for miles and saw nothing but endless plains of green, on the edge of the lush Florida Everglades. And then there it was: a giant cathedral rising from earth, surrounded by a European-style piazza of soon-to-open businesses and restaurants. It was Ave Maria, a town built from scratch, founded and funded by billionaire Tom Monaghan. His vision: a community that would reflect traditional Catholic values.
Monaghan grew up in a Catholic orphanage, where he was raised by nuns. He found God at an early age and dedicated his life to serving the church. For a while, he considered becoming a priest. Eventually, he turned to business, opening a pizza parlor, then another and another. You'll recognize its name: Domino's Pizza.
Monaghan poured his Domino's money into various Catholic causes. He became active in the anti-abortion movement, and he founded
Ave Maria University
, which promises to be more conservative and traditional than other Catholic colleges. The original campus was in Monaghan's home state of Michigan, but next week, its new facilities open their doors in Florida. A new college with a new college town built around it.
If all goes according to plan, 25, 000 people will live in Ave Maria within a decade; 5,000 students will be enrolled at the university. Monaghan insists all are welcome, not just Catholics. But as I stood on the corner of Pope John Paul II Boulevard and Annunciation Circle, I wondered why non-Catholics would want to live here. It's charming, to be sure; not a Stepford community of look-alike houses. It has distinct neighborhoods and lovely landscaping. But like a medieval European village, Ave Maria is dominated by the giant church at its physical and spiritual center.
Initially, Monaghan wanted to ban pornography and contraception from being sold in Ave Maria. He soon realized that would be illegal and he backed-off. Prospective retailers have been asked to abide by community moral standards. No requirements, though.
Tom Monaghan admits he has a personal stake in this. He says he's trying to get into heaven and wants to drag as many people with him as he can. It seems like a worthy goal to me. What do you think? What do you make of Tom Monaghan's vision?
-- By Claire Brinberg, CNN Producer
Raw Politics: Hammer time!
Tom Foreman reports on the leading '08 candidates taking a beating and President Bush getting a boost.
(Click image at left to play video)
Wednesday, August 22, 2007
White-knuckle flight into the eye
I looked to the left and the passenger next to me was white-knuckling the armrest -- one more bump and I was convinced he'd let out a blood-curdling scream. Watching the radar, I knew it was only going to get worse.
I started thinking about the Dramamine I'd taken on the ground, wondering, "What's the worst thing that could happen if I exceed the recommended dosage? Could it be worse than this?"
We started our descent into then-Hurricane Dean, at 8,000 feet, and the weather officers started dropping sensors through a metal shaft in the belly that looked like a drive up bank deposit tube. The drop sensors record and send meteorological data back to the National Hurricane Center in Miami, Florida. That's how the weathermen on the ground know what's really going on.
The ride started to get so bumpy I said to myself, "I know this is a Hurricane Hunter but this, this can't be normal." The pilot didn't come on the intercom and coolly talk about turbulence; instead one of the crew members in the cockpit grabbed my arm and said, "You might want to hold onto something." It was too late. We hit a bump and I hit my head on the ceiling.
As Hurricane Dean came roaring off the Yucatan Peninsula last night and into the Bay of Campeche, a small crew of airmen aboard a C-130J and a handful of journalists were flying straight into the storm. It is a flight not for the weak in courage or weak in stomach. We left from Keesler Air Force Base in Biloxi, Mississippi.
After smacking my head in the cockpit, I wandered back down to the belly of the C-130J and took a seat. We thumped and floated somewhere between weightlessness and violent shaking. An 11-hour ride into 100-plus mile an hour winds.
The Air Force guys were unimpressed. Dean "never really got its act together" is how one crew member put it. Even on the ground again, I could still feel the turbulence.
-- Eric Marrapodi, CNN Producer
Writer's Block: Is dog fighting just another sport?
If Michael Vick needs a character witness, he should consider Stephon Marbury. "He is a good human being," the Knicks player said about Vick. "He just fell into a bad situation."
Marbury was just getting started.
"We don't say anything about people who shoot deer and shoot other animals. From what I hear, dog fighting is a sport. It's just behind closed doors," Marbury told Capital News 9, a TV station in Albany, New York.
Interesting. But he's not alone in that belief. Fact is there are people who agree with Marbury's assessment of what is indeed a crime in every state in the United States. Chances are, somewhere today pit bulls are being bred for battle and money is being waged on who will win or lose.
We're going to take up the Vick case tonight. Jami Floyd and Jason Whitlock will be on hand to answer calls and emails. Do you believe Vick got a raw deal? Was justice served? And do you believe, like Marbury, that dog fighting is a sport?
Let us know.
-- By Gabe Falcon, "360" Writer
All Access: Behind the scenes of covering Dean
TULUM, Mexico -- Gary Tuchman shows you his bedless hotel room and explains exactly what a BGAN can do.
(Click image at left to play video)
Hot Links: Stories we're watching today
Tuesday, August 21, 2007
The hurricane's wrath
Imagine a force of nature the size of Texas racing towards you at 165 miles per hour. That was how Hurricane Dean made landfall in the Yucatan Peninsula last night. It arrived as a rare Category 5. They are the most powerful storms, coming ashore with a storm surge generally more than 18 feet above normal and capable of causing building failures and complete destruction.
Although Dean has now been downgraded, the damage and misery it brought is only beginning to surface. If you have family or friends in the path of Dean, we hope they're okay -- we're also interested in hearing their stories. (
Are you there? Send an I-Report
)
Right now, thousands of people, including many American tourists are trapped across the battered region. CNN's Jason Carroll told us security guards at one Cancun hotel chained the exits so guests couldn't leave.
I've covered enough hurricanes in my lifetime to know you never get used to them. It was two years ago this Thursday that a tropical storm formed over the Bahamas. The name was Katrina. And as we've all seen with Katrina, it's not just wind and water that takes a toll.
See you later.
-- By Anderson Cooper
Awaiting Dean
It's 3 a.m., and my producer Kelly, my two photographers Effie and Orly, and I are sleeping on a hard floor in a $10 a night residential motel in Tulum, Mexico, which is about to get struck by a massive hurricane.
We have about three hours to sleep before the winds in this small town reach their maximum level and we're back on the air reporting what we witness. We're on the floor because the only room that was left has no furniture. But we took it, because we felt it was one of the safest structures to work out of when the hurricane hits.
Tulum is known for its Mayan architectural ruins, which were built on the shores of the Gulf of Mexico many centuries ago. But when I think of Tulum as I try to sleep on this floor tonight, I think of the frightened children in this town, who in many cases are also now awake, as the winds start to howl and their very modest homes start to shake.
For the people of Tulum and throughout the Yucatan, the darkness must be especially scary right now.
-- By Gary Tuchman, CNN Correspondent
Monday, August 20, 2007
In memory of Miles
Editor's note: Miles Levin, a young man profiled recently on "360", passed away yesterday. Over the course of his battle with cancer, Miles became know for blogging about his experience, even contributing a post to the "360 Blog" (Miles: Whatever life we get is bonus). What follows is a short tribute to Miles written by his mom, Nancy.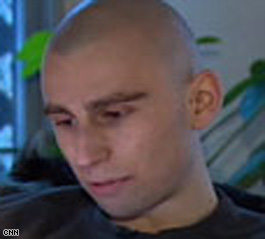 Miles Levin blogged about his experience with cancer; readers from around the world found him.
In a certain sense, Miles Levin's life had become "The Truman Show" in cyberspace. In that movie, Truman's life was chronicled for all the television world to follow. Miles' life, or more accurately, Miles' life and death infiltrated the hearts and minds of people all over the world, even though most never met him and relate to him only through the Internet.
Miles fell just short of his 19th birthday, which would've happened this week, after succumbing to the cancer that invaded and overtook his body. Diagnosed in June of '05, Miles waged a chemical war against these aggressive and relentless cancer cells, a type known as alveolar rhabdomyosarcoma, a pediatric cancer that attacks soft tissue muscle. Miles endured nearly 18 months of different chemotherapy drugs and two rounds of radiation, finally achieving a "clean scan" in December of '06.
Hoping to return to the normal life of a high school senior, Miles jumped into his life with both feet. His freedom was shortlived; the cancer returned in full force in March of '07. With additional treatment, Miles was able to push the cancer back once more, just long enough to attend his graduation, where he gave the student address alongside Bob Woodruff, and his prom, where he enjoyed the company of his delightful girlfriend, Robyn. The cancer, which had become resistant to any intervention, continued to proliferate, until it took over Miles' body, taking his spirit with it. Miles' physical presence departed yesterday, August 19.
Throughout Miles' 26-month fight, he maintained a blog describing his cancer experience, his thoughts, and showcasing his gift of writing. He attracted the media, with newspaper articles and a spot on "360", which increased his readership and popularity. (
Teen cancer patient's blog celebrates life
)
By the end of his life, Miles had become like a guru to many and loved by all who knew him. He carried and expressed gems of wisdom which he imparted in periodic updates on his site. His sweet and innocent disposition reflected more than simple platitudes of truth and wisdom; he carried and projected a wisdom well beyond his years. He seemed to be delivering a message that many in our time long to hear. It's difficult to state his message simply, though he did develop a motto, "Keep fighting, stop struggling."
"People like to construe that every day is a blessing and that's not true. There's nothing wrong with having a bad day; they do happen. But (what's important is) that there's enough good out there -- even if you have cancer or something terrible happens to you -- you can still find it," Miles said in his final interview.
What touched me, as his mother, was how fully human he was, and with such honesty and acceptance. Even with his desperate situation, he maintained a sense of balance, optimism, and spirit. When asked how he'd like to be remembered, he said: "Someone who maintained their light through their darkest journey."
That's exactly who Miles was, and precisely what he inspired in others; accepting his life on its own terms, yet retaining control of his outlook. He said many times, it's not dying he's afraid of, it's dying without impact. He clearly has had impact, the degree to which remains to be seen. At the end of his life, he felt a deep satisfaction of knowing that his life had purpose and that he fulfilled his mission. That's rare for anyone, but even more so for an 18-year-old.
-- By Nancy Levin, Miles Levin's mother