Thursday, July 26, 2007
Chinese river runs red with rust
Zhu Chuuyun lost her husband to cancer; she says a polluted river caused it.
LIANGQIAO, China -- Deep in the Guangdong province of China, I met a woman I won't soon forget.
Wearing a straw hat and carrying a sickle, Zhu Chuuyun is a farmer, growing rice like many in her village. She has an easy smile, with astonishingly perfect teeth and the beautiful face of a model. Both she and her 9-year-old daughter belong on the cover of magazines. Of course, she is far away from the world of glamour and fashion. Here in Liangqiao, Zhu is simply trying to survive. It isn't easy, and every day she worries about the health of her and her daughter.
She told me it all started when the water in her village turned red. First the red water claimed her crops, and then it stole away her husband. He died an awful death, suffering for more than a year before finally succumbing to cancer. The problem, as she described it to me, is that the Hengshui River, which provides the only water to her village, has become so polluted that it is slowly robbing the entire area of life. The most tragic thing is that she has no choice but to use this water, even though she believes it is killing people. She told me this over quiet tears, sobbing and talking about how much she misses her husband.
Despite the health risks, Zhu says she and her daughter still depend on the river for their sustenance.
For a couple of days, we have been looking around the area where Zhu Chuuyun lives. Many refer to this particular place as a cancer village. In fact, nearly 30 out of the 400 people who call this village home have died of cancer over the last several years. While it is hard to say if this red water is the cause, we have learned a few things. The river is in fact red, allegedly because of the oxidation, or rusting, of heavy metals that are released during the mining process at Dabaoshan, a mine through which the river runs 60 kilometers away. That same mining process also results in the deposition of heavy metals such as lead, arsenic, zinc and cadmium into the water at staggeringly high levels, and we do know those chemicals can cause cancer. In fact, according to scientists, Hengshui River is now a grade five out of five, meaning it is too toxic to touch, let alone irrigate crops or drink.
Xing Jing, an environmental lawyer, is determined to sue the mining company. This young Chinese woman, who reminds me of Erin Brockovich, has been steadily collecting evidence to TRY to make the case on behalf of this cancer village. But given that the country of China runs the mining company, her challenge is a formidable one. Still, Xing Jing wants to do it for people like Zhu Chuuyun, Zhu's daughter and the husband and father they'll never see again.
-- By Dr. Sanjay Gupta, CNN Chief Medical Correspondent
Editor's note: For more coverage of environmental issues, please check out Planet in Peril: A CNN Worldwide Investigation.
Wednesday, July 25, 2007
Child rape case falls apart on technicality
When the cops arrested Mahamu Kanneh three years ago in suburban Washington, D.C., they thought they had a pretty good case, for an unthinkable crime. The 23-year-old Liberian immigrant was charged with seven counts involving a 7-year-old girl, including rape and molestation, and two counts of molesting an 18-month-old toddler.
Both girls were his relatives.
Last week, Montgomery County Maryland Circuit Court Judge Katherine Savage ordered that the charges be dropped, because in the two-and-a-half years since the indictment, the court had been unable to find an interpreter who spoke Kanneh's native language -- Vai -- and who could stay the course of the trial. And that, said the judge, violated Kanneh's right to a speedy trial. The Washington Post, which broke the story last week, reported that a court-appointed psychiatrist had recommended that an interpreter be used and the court found four interpreters, but that none worked out for various reasons.
Vai is an extremely rare language spoken by an estimated 100,000 people in Liberia and Sierra Leone, countries where English is the official language. But it's not so rare that you can't find an interpreter. What the court couldn't do in two-and-a-half years took us about two-and-a-half hours. On tonight's show, you'll meet our interpreter, a cultural anthropologist from Vai country, who speaks excellent English, Vai, several other African languages, not to mention Swedish, Norwegian, and Danish. He told us he would be willing to serve as a translator, because as a resident alien in the United States, he felt he could not refuse a request from a country where he is a guest. He lives less than 10 miles from the courthouse. He says he was never contacted by the court.
There are other serious questions about this case, such as, did Kanneh even need an interpreter?
The police say he spoke to them in English. The prosecutors say he attended Montgomery County Public Schools, where kids who don't speak English are put through rigorous English as a second language classes. We checked that out and were told that Kanneh graduated from an excellent county high school, Magruder High, in 2005. You can't graduate from Magruder unless you take four years of English. Kids who have trouble with English are assigned to English for Speakers of Other Languages courses, also known as ESOL classes. Kanneh, we were told, never did an ESOL course, an indication his teachers at least thought his English was good enough.
We also talked to a man who lives across the hall from Kanneh in a small Rockville apartment building. He said he's spoken to Kanneh briefly on several occasions and that his English was just fine.
We asked for an interview with the judge, with the court clerk responsible for finding interpreters, and with kanneh's attorney. All declined because the Montgomery County State's Attorney is appealing the judge's ruling. But if that appeal fails, Kanneh cannot be prosecuted on the original charges. He'll either be a guilty man walking free, or an innocent man with a terrible reputation. Either way, justice has not been served.
-- By Steve Turnham, CNN Producer
Market rife with illegal, endangered animals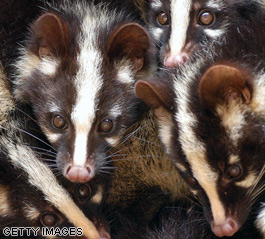 Though illegal to possess, civet cats were available in a Chinese market visited by Dr. Sanjay Gupta, CNN Chief Medical Correspondent.
The first time I heard of a civet cat was the spring of 2003, when I was in Iraq as an embedded reporter. Every now and then, we were able to dial in some radio news coverage from the desert, and I still remember hearing one report about a new respiratory disease called SARS. The reporter went on to say that it had possibly been traced back to the consumption of civet cats in the Guangdong province of China. In fact, at the time, the cats were considered a delicacy on the menu at several local restaurants in the city of Guangzhou.
Given the association of civet cats with SARS, it is no surprise that possession of the cats is now considered illegal in China. So imagine my surprise when I visited a Chinese marketplace this morning around 5:30 a.m., and immediately walked into a flurry of vendors with these strange-looking cats in cages. As I got a closer look, the vendors became apprehensive and started to cover the cages and scurry away. Frankly, the lights and cameras used by videographers Neil Hallsworth and Phil Littleton probably didn't help. Still, there was no doubt these were the elusive civet cats, and Craig Kirkpatrick from the wilderness conservation group Traffic confirmed it for me. They certainly do look like cats, as the picture above shows, but they have a snout that is considerably longer and more pointed. Most remarkably, according to Kirkpatrick, despite the civet cats' tumultuous history, their consumption continues to grow.
As Craig and I walked around the market, we saw all sorts of exotic wildlife. One back room was completely filled with turtles. There must've been thousands of them. While most of them were from farms in China, Craig deftly pointed out endangered turtles from Burma and Madagascar. When I asked the shop owners if they had permits for endangered animals, they quickly gave me the brush-off. Craig explained that while selling endangered animals is illegal, his experience has taught him that the police place a low priority on doing anything about it. In plain sight in this market, there were even a couple of Tibetan vendors who claimed to be selling the paws and bones of a tiger, a coveted and endangered animal. Tiger bones are believed to cure arthritis and its blood is said to have an almost mystical quality.
The various marketplaces I visited here were huge, with thousands of vendors and unimaginable numbers of animals and animal parts, from shark fins to bear bile, from poisonous live scorpions to fungus-infected caterpillars. So high is the demand for these animals that they are brought in from all over the world, sometimes legally and sometimes poached. We were told in no uncertain terms that for the right amount of money, we could get just about anything we wanted.
The demand is fueled by custom, such as the need to serve shark fin at a proper Chinese wedding or turtle at parties for the affluent. Part of the consumption is driven by traditional Chinese medicine, which is dependent on approximately 11,000 different plants and 1,500 different animals. Some of the consumption is driven by plain old curiosity. One thing is for certain, though, which is that as our human population continues to grow, certain animal species are declining and even disappearing. We are breathlessly consuming many of our planet's natural resources.
So how do we control this consumption in China and the rest of the world?
-- By Sanjay Gupta, CNN Chief Medical Correspondent
Editor's note: For more coverage of environmental issues, please check out Planet in Peril: A CNN Worldwide Investigation.
Tuesday, July 24, 2007
Family suspicious about grandson's jail death
Lee Demond Smith's family questions the official story about how he died in jail.
Often, one story leads to another. And that's just what happened in this case.
I got a call in April from a family in Biloxi, Mississippi, whose home had been destroyed by Hurricane Katrina. In 2006, I'd reported on their plight and the good Samaritan who rebuilt their home.
But this call was different. The family's only grandson, 21-year-old Lee Demond Smith, had died in December while being held on a parole violation in the Harrison County Jail in Gulfport, Mississippi. The county autopsy said his death was from natural causes, a "massive recent pulmonary embolism," a blood clot in the lungs.
The family, though, was reluctant to accept that finding. Lee had never before had any health problems. And they learned of his death by getting calls from the families of other inmates at the jail. The jail itself denied for hours that anything was wrong. Family members weren't allowed to see Lee's body until the day he was buried.
But most disturbing were the stories the family had long heard about inmates being beaten by guards. So the local community rallied around them, raising $9,000 to ship Lee's body to Nebraska for a second autopsy.
The Smith family contacted me after the results came back. Forensic pathologist Dr. Mathias Okoye found that Lee had been strangled. The precise cause of death was "asphyxia due to neck compression and physical restraint while in police custody." Okoye was particularly shocked to find Lee's lungs had never been dissected. Both Okoye and another forensic pathologist we interviewed agree that is the only way to confirm a blood clot in the lung as a cause of death.
Still, the county stands by its original autopsy, though it refused to release its autopsy photos to CNN. (
Hear Smith's family talk about their suspicions
)
We also traced the troubled history of the Harrison County Jail. Four prisoners have died due to unnatural circumstances there since 2002. One of them was beaten to death in February 2006 in front of cameras in the jail's booking room.
Four guards go on trial next month accused of his murder.
Since then, four more have pleaded guilty to abusing other inmates. We got an exclusive interview with one of those jailers, Preston Wills.
Wills calmly told us how from his first day he was taught to keep order in the jail by abusing prisoners. I was stunned to hear his matter-of-fact descriptions of the brutality that he says was condoned and encouraged by his superiors. Wills says the term was: "make 'em understand."
We were fortunate to find former inmates who willing to come forward and talk about what they'd been through.
It's important to remember that this is just a county jail. This is not a maximum security prison packed with murderers and rapists. Many people are brought there for misdemeanors, crimes like public drunkenness or unpaid parking tickets.
Two prisoners we interviewed were both in jail overnight. One says guards pummeled him, slammed him into a concrete wall and ripped his shoulder out of its socket. The other says he was beaten, strapped so tightly into a restraining chair that he had nerve damage, and then had a sheet pulled over his face and water poured on it until he couldn't breathe. When he finally went to the hospital days after his release, he says doctors found he was suffering from near-fatal kidney failure.
The county denies any wrongdoing in the Smith case and in the other cases of alleged abuse we reveal in our reports.
Despite initially agreeing to an on-camera interview, Sheriff George Payne changed his mind once he learned the Smith family had gotten the results of the second autopsy.
Instead, he released a statement saying, "I in no manner or form condone or encourage the use of excessive force by any individual employed by the Harrison County Sheriff's Department. As always, in the event that I become aware of suoh allegations, the incident is thoroughly investigated and reported to the proper investigatory entity."
Initially, Harrison County authorities planned to investigate Lee Demond Smith's death themselves. But Smith's family believed it would not be a fair investigation. So three weeks into CNN's investigation, the local district attorney asked the U.S. Justice Department to take over the case.
After the three-plus months CNN has investigated this case, I'd like to believe our reporting will force change at the jail. But I'm not optimistic.
-- By Kathleen Koch, CNN Correspondent
The CNN/YouTube debate
Responses from I-Report contributors poured in after Monday night's CNN/YouTube debate. Check out the following clip to see and hear what they had to say:
I-Reporters respond to debate
To join in the dialogue, please consider submitting your own i-Report:
Submit an i-Report
Monday, July 23, 2007
Your take on the YouTube debate
Two hours and nearly 3,000 questions later, the first CNN/YouTube presidential debate is over.
Our goal was to bridge the gap between you and the politicians, to cut through the spin and get the truth. We hope that was accomplished, at least in part.
Mind you, this new platform is a work in progress, and we promise to smooth out the rough spots for the next one.
What matters, of course, isn't what we think of the debate. It's what you have to say that matters.
And we want to hear it. So share with us your opinions of the debate. Who won? Was there an answer that changed your mind about a candidate?
Like I said, let us know.
See you later.
-- By Anderson Cooper
T-C-M for Y-O-U?
Editor's note: This post by Dr. Sanjay Gupta also appears on his blog, "Paging Dr. Gupta."
BEIJING, China -- I am on the road working on an upcoming documentary called
"Planet in Peril"
. A few weeks ago I was in Central Africa looking at the causes for the disappearance of Lake Chad. Now I am in Beijing, China.
My first stop was something that I had been looking forward to for some time: a Traditional Chinese Medicine clinic. Immediately upon entering, I saw two young gentlemen in short white coats carrying around what appeared to be dried snakes on small white pieces of paper. They quickly showed the "prescription" to the doctor and after getting her approval, they wrapped it up and handed it to the patient. "Was that dried snake?" I asked the doctor. She nodded, as if it were the most obvious thing in the world. Her attitude was not surprising given that 95 percent of people in China use what it called TCM, or Traditional Chinese Medicine. There are huge textbooks with descriptions of medications that vary from rhinoceros horn to turtle shells and yes, snakes. In the book are not only doses, usually around 15 - 30 grams, but also specific uses such as "thins the blood, acts as a tonic" or my favorite, "restores the yang."
Now, if you are imagining a rustic, rural place in a small Chinese village, think again. The TCM clinic we visited was right in the middle of Beijing, one of the largest cities in the world. Right outside the office doors were fancy electronics and boutique stores selling high-end goods, and there was a long waiting line of well-dressed people with ailments ranging from arthritis to nausea to the common cold. One woman who came in for persistent vomiting was given a seven-day prescription of herbs and dried animal parts, including four different kinds of roots, orange peel, a huge spool of bamboo, shaved bull horn and a touch of turtle shell. The final prescription took up nearly the entire counter with each daily dose the size of a small salad. She was told to pour the entire quantity into a pot of hot water and drink the liquid as a tea. Judging by her happy reaction, she was quite confident this would fix what ailed her.
I even decided to put it the test myself. I described a raging headache that I was having, probably due to my long travel and numerous days with hardly any sleep. The doctor asked me a series of questions about the headache and my general medical condition and checked my pulse. She had a look at my tongue as well. While I was fully expecting some deer antler shaving or a dollop of dried plants and herbs, she simply smiled and said "go get some sleep."
It was a good diagnosis, but there was still something nagging at me. Many of the animals that provide the ingredients for traditional Chinese medicine are threatened, and some of the techniques used to get some of the animal substances are alarmingly brutal. For example, bear bile is often used in Traditional Chinese Medicine. To obtain this rare substance involves sedating a bear and then sticking a long needle straight into the bear's gallbladder and slowly filling up a glass jar with the green substance. It is not only dangerous and barbaric, but also life threatening for the bear. When I asked the doctor about this, she told me that TCM has recently evolved and no endangered species are used in making the medicine and brutal techniques have been stopped as well. She said the punishments are very severe if someone is caught doing it. When I pushed her on this particular issue, she conceded that there are probably places still offering some of these substances, but they were not available in her clinic.
One of the reasons I wanted to pursue this story is in part my own curiosity as a doctor, but also because medicine seems to transcend borders unlike anything else. In fact, many of the same "prescriptions" previously relegated only to China and the Far East, are now available at stores focusing on health and wellness in the United States. Ironically, one young woman told me the newest generation of Chinese citizens has started to shy away from TCM, opting instead for Western medicine such as aspirin for headaches and prepackaged cold medicine. There in fact may come a day when Traditional Chinese Medicine may be more popular outside China than inside the country where it has been popular for thousands of years.
So, would you try TCM to treat yourself or a loved one? Do you think in the United States that we have been too close minded to what Far Eastern medicine has to offer? Do you have any particular stories of your own experience with TCM?
-- By Dr. Sanjay Gupta, Chief Medical Correspondent