Friday, July 20, 2007
Menu features exotic animal parts
In many cultures, tiger parts are consumed as food, worn as decoration or used in medicines.
BEIJING, China -- Our chief medical correspondent Sanjay Gupta and I are in China. We've just returned from a restaurant we first started hearing about while shooting footage in Southeast Asia for our
"Planet in Peril"
series. Many restaurants here have exotic animals on the menu. We wanted to check this one out.
As often happens on trips like this one, what you think you'll find and what you do find can be two totally different things.
With that in mind, Sanjay Gupta and the rest of our team headed towards the Beijing restaurant dubbed "the penis emporium." As you grapple with that, you're due an explanation: the restaurant was said to serve exotic animal parts from animals around the world, and it just so happened that penis is their specialty. I guess everybody's got to be good at something.
When we arrived, it was clear we found what we were seeking. The window display featured all sorts of animal parts -- ground deer antler, deer blood wine, and three variations of deer penis. The interior of the place was drab -- peeling wallpaper, a Buddha statue in one corner and a cash register in the other. There was no open seating, just ten or so private dining rooms spread over two floors.
The restaurant manager happily took us into a private room to explain to Sanjay what they serve and why they serve it. There were two menus to browse. One was a la carte and the other banquet style.
As we looked over both, the manager explained many of his customers were upper class Chinese as well as foreign tourists. The latter come mostly to try something new and exotic. The former, he said, come to continue an old Chinese tradition.
The Chinese, he explained, have a long history with exotic animal consumption. When you eat a part of an animal, you take on its characteristics.
This sounded simple and innocuous enough, but what he didn't detail is the sometimes devastating effect this consumption can have on endangered animals. According to the American Institute of Biological Sciences, food consumption is second only to habitat loss as the primary threat to China's animals.
And of course, the rarer the animal the more highly prized its parts. Ounce for ounce, things like rhino horn and deer musk can be worth as much as class A drugs or even gold, according to the World Wildlife Fund.
There was knock at the door and a waitress entered with a bottle of deer blood and ground antler wine. The manager filled the glasses and suggested we continue looking at the menu over a drink (note: the "wine" doesn't taste much like any I've had before -- less like wine, more like moonshine). The al la carte was pretty tame. It was the banquet menu that listed the truly exotic.
The manager ordered what amounted to what you might think of as a party platter, and as he went back to the kitchen our interpreter noticed two things on the menu -- item three listed tiger paw and item five simply "T". He flagged a waitress to inquire and she said the "T" meant tiger penis.
When the manager reentered the room, Sanjay asked him about the tiger listed on the menu. Where does he get his tiger parts? Who are the customers? Isn't it illegal to sell tiger?
The manager laughed it off and said they only have it on the menu for affect. They don't actually sell tiger, he said, they only list it so when a customer asks for it, they explain they don't have it and bring them parts resembling a tiger's.
Sanjay asked him to take us into the kitchen to see the "fake" tiger, but the manager refused. The manager could very well have been telling the truth, but there was no way to prove his claims or verify our suspicions.
Officials who track the trade of illegal wildlife will tell you -- getting to the bottom of such an underground and elusive trade can prove remarkably difficult.
After asking about the tiger, it was clear our interview was over. We settled our bill, and headed back out into Beijing.
-- By Charlie Moore, "360" Senior Producer
Editor's note: For more information about this and other environmental issues, please visit "Planet in Peril".
Thursday, July 19, 2007
Which party is God's party?
The separation of church and state is a principle of American government that most of us learned in grade school. We were taught that it was a cornerstone idea of the founding fathers and serves as an important hedge against undue religious influence on our system of laws and justice.
Rod Parsley thinks we were taught a lie.
The much-renowned Protestant pastor believes that while the founders did not want one denomination to take over the government, they fully intended for the population as a whole -- which was then, and is now, overwhelmingly Christian -- to inject religious beliefs into the political process.
Parsley cites the same documents so often mentioned by those who argue for the separation: the Constitution, letters from the nation's founders, and other historic records. The difference is, he believes references to separation are primarily about protecting the church from government interference; not the other way around.
Both Democrats and Republicans are actively seeking the support of religious voters this election. A recent Pew Forum study found that 51 percent of Americans think churches and other houses of worship should be engaging politicians on issues, while 46 percent think churches should mind their own business and leave politics alone.
So what do you think: Should religious communities have more or less influence on the government? And is either party more welcoming to those with religious views?
-- By Tom Foreman, CNN Correspondent
Wednesday, July 18, 2007
Planet in Peril...
BEIJING, China -- If you've been wondering why we're going to such great lengths -- and distances -- to tell the stories of threats to our planet and its inhabitants, now we can finally tell you.
We're working not just on dispatches for the daily "360" broadcast, but also on a four-hour documentary titled "Planet in Peril." It will air on CNN October 23rd and 24th. The documentary will investigate deeply some of the themes we've explored on "360" in recent months -- species loss, overpopulation, deforestation and climate change. We've also launched a companion Web site:
Planet in Peril
.
We'll take you around the globe and show you how all of these threats aren't just future predictions but instead are happening right before our eyes. Through reports from Anderson, wildlife biologist Jeff Corwin and Dr. Sanjay Gupta, you'll meet the people working to address these issues; you'll also see a shadowy world of wildlife trading where billions of dollars, and lives, are at stake. We think it's a story you should know.
Beijing and rural China are our latest stops for "Planet in Peril." We've just arrived and through Sanjay's reporting we'll examine how China's explosive economic and industrial growth is affecting not only its natural resources, but the people around the globe who depend on it. You likely already know China is the world's most populous nation, but here are some things that might surprise you:
China consumes more steel, meat and grain than any other country on earth;
In 2000, China had around 4 million cars; in 2005 that grew to 19 million.;
Every week or so another new coal-fired energy plant comes online in China;
According to World Bank, 16 of the world's 20 most polluted cities are in China;
China is now the number one emitter of greenhouses gases, according to research from the Netherlands Environmental Assessment Agency;
At least one quarter of the Chinese population lacks access to clean drinking water.
China, for its part, recognizes it has a problem, but it is caught between cleaning up its environment and continuing it's breathtaking growth. China comes under constant criticism for rejecting mandatory curbs on its carbon emissions, but it points out that the United States refuses to accept curbs as well. It also makes the following point:
"What many Western consumers wear, live in, even eat is made it China," government spokesman Qin Gang recently said. "On the one hand you want to increase this production in China. On the other hand, you want to condemn China over the issue of emissions reductions."

You can see that like many of the stories we've been covering, there aren't any easy answers. While governments continue their back-and-forth, we're going to try and dig into how average people's lives, and with Sanjay's expertise, their health is affected. We hope you'll enjoy the reports.
-- By Charlie Moore, "360" Senior Producer
Raw Politics: Cowboy Up
NEW YORK (CNN) -- Tom Foreman reports on new numbers in the GOP horse race and Bill Richardson riding higher in the polls.
(Click image at left to play video)
Tuesday, July 17, 2007
Cool t-shirts: Obama's secret weapon?
A whisper campaign is rocketing around Washington, and the target is Barack Obama. He has proudly talked about the overwhelming number of small donors who have contributed to his campaign, with supporters citing them as evidence of a groundswell that could sweep Obama into the Democratic nomination. But now critics say he is padding his numbers.
Obama is counting every person who buys a campaign button, t-shirt or bumper sticker as a donor, and that has pushed up his numbers. It's only made a small difference, his campaign folks say; people who bought merchandise account for only about one percent of his donors.
What's more, the candidate himself says, correctly, that under law he must list these people as donors, because the campaign itself is selling the merchandise. When campaigns farm their merchandising out to vendors, like many of them do, only then do the rules change ... and the buyers are no longer donors.
That's how campaign analysts read the law. But the whispers go on. What do you think: Is this about a real attempt to massage the numbers or just sour grapes?
-- By Tom Foreman, CNN Correspondent
Wife seeks divorce from 'Jesus Christ reborn'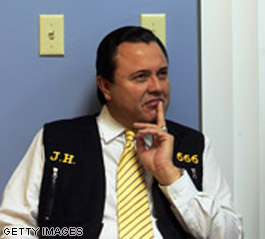 Jose Luis de Jesus Miranda says he is the second coming of Jesus Christ; his wife wants a divorce
Where was the money coming from?
That was one of many questions that crossed my mind when the CNN Miami Bureau first began working on a story over a year ago on a religious group -- critics call it a cult -- that had sprung up in a working class area of Miami.
The group "Growing in Grace" is the kind of organization that causes one to ask questions. Its leader is a charismatic minister named Jose Luis de Jesus Miranda who preaches that he is the second coming of Jesus Christ.
De Jesus' followers passionately believe that he is God. They stage protests outside other religions churches, believe there is no sin and give generously to their leader. (
Read why de Jesus thinks his church is misunderstood
)
That brings us back to the money. The church is primarily made up of working class Latino immigrants who manage to give 10 percent of their earnings to the church. Other wealthier followers give more. Much more. Church records show that church members have given donations in the hundreds of thousands of dollars.
De Jesus says he is Jesus Christ reborn, but he does not seem very interested in any vow of poverty. He wears diamond encrusted Rolexes, drives in luxury cars and is followed by a team of bodyguards, all offerings from his followers. "This is all free," de Jesus says with a wide smile. "Gifts that they give me. I can't reject that."
That generosity may have de Jesus in hot water. The self-proclaimed messiah is divorcing his wife of five years and records coming out in a Miami courtroom paint a picture of a church leader's life of luxury.
According to his wife's attorney and court records:


De Jesus lost $46,846.36 gambling at the Seminole Hard Rock Hotel & Casino in Hollywood, Florida last year.



Jo-Ann De Jesus, the preacher's daughter and the church treasurer, testified that de Jesus' first wife receives $12,000 in monthly alimony paid for by the church.



Properties were purchased in South Florida, Texas and Colombia with church funds but are titled to De Jesus or his daughter Jo-Ann.
De Jesus would not talk to CNN about our story on his finances and divorce. But a church official said that they have done nothing wrong and are cooperating with a federal investigation that resulted from his bitter divorce case.

Whatever the result of the investigation it may not hurt de Jesus' standing with his flock.

Church members we spoke with said they will continue to donate and that they are happy if de Jesus lives well.


-- By Patrick Oppmann, CNN Producer
Murder in the Big Easy
Raw Politics: Money race
NEW YORK (CNN) -- Second quarter fundraising numbers are in for presidential candidates. Who are the winners and losers?
(Click image at left to play video)
Monday, July 16, 2007
Raw Politics: Democratic Presidential candidates
NEW YORK (CNN) -- Tom Foreman has the raw politics: Democratic Presidential Candidates, Sen. David Vitter, and Mike Huckabee.
(Click image at left to play video)
The Shot: Ramen Noodle bath