Thursday, June 28, 2007
Where's the Air Supply?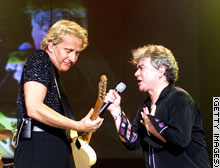 Don't all of us need a little more Air Supply in our lives?
I'm keeping a tally of the songs streaming in for our "360" political coverage theme contest.
While I'm happy to report you are sending us tons of great suggestions, frankly, I'm a little disappointed at the low turnout for Air Supply. "Lost in Love"; "All Out of Love"; "The One That You Love"; "More Love for Love" (I made up the last one) -- it's obvious that Russell Hitchcock and Graham Russell (he's the tall one) made some edgy music worthy of tough political issues.
And what about Biz Markie? Take a listen to the "Best of Cold Chillin" and you'll be surprised at the number of beat box tracks that are relevant to the race for '08.
Bottom line: we need more songs. So if you're a Van Morrison fan or a Spice Girls fanatic (they are getting back together ... sweet!) give us your best shot.
Hurry. We're keeping the contest open until the week after July 4th. Then we'll narrow the field down to the final three. That's when we'll ask you to vote on a winner.
Thanks, and don't forget Huey Lewis and the News.
-- By Anderson Cooper
Senators snub summer interns
Our interns are at it again tonight, this time polling members of the Senate asking them to release their earmark requests. And once again we are mostly being snubbed.
Most in the House refused to even answer our calls, and from the running tally we're keeping, the Senate is following the same strategy as the House: not giving us the time of day.
There are a few mavericks. Presidential contender Barack Obama was ahead of the pack, releasing his earmark requests last week. John McCain doesn't have any earmark requests, which I think is being the most maverick of all.
But offices of the other senators running for president -- Senators Clinton, Dodd, Biden and Brownback -- didn't bother returning our phone calls or told us they would get back to us and haven't.
Click here to see how your senator responded
The point of this exercise isn't to embarrass anyone or show how rude members of Congress and their staff can be. I really want you to know what your representatives are asking for, so you can see where our money is going.
Not naming names here, so I'm not accused of being political, but one congressman wants to spend money to make sure minorities are hired at an airport. Fine, except for one little detail that was left out of the earmark: the airport doesn't exist. It hasn't been built; it hasn't even been approved to be built. There is no airport. Congress is going to spend $231,000 deciding who is getting hired at an airport where no one is getting hired.
Lots of senators and congressman support the arts. So do I. But do you want $150,000 dollars to be sent to a museum that is so poorly attended it is only open two days a year? That actually was approved.
When I was born in the early 1960s, the quote ringing in my ear was from John Kennedy. And it stuck with me. "Ask not what your country can do for you; ask what you can do for your country."
Somehow, in the last four decades that great piece of wisdom has been twisted by John Kennedy's own Democratic Party and ignored by the Republicans. The rallying cry in D.C. today: "Ask often, ask for a lot and if you don't get enough, ask the taxpayers to give you even more."
Republican Senator Tom Coburn of Oklahoma told me he's disgusted by what he sees in Washington. He's one of the few who doesn't ask for earmarks for his state, telling me it shouldn't be a game about what Oklahoma can get from the federal government.
It's a game that has left the United States with a huge and still growing federal bureaucracy and a collective national debt that keeps getting pushed off to future generations.
"Both parties are equally guilty," he told me on the steps of the Russell Senate Office building. "How did we get to the fact that every kid born this year is going to owe $453,000 dollars on what we've already spent?"
Granted, earmark requests are just a small portion of that federal budget deficit. But I urge every one of you to look at the requests your congressional representatives have made on your behalf, and ask yourself: Is this really what the federal government should be paying for? Let me know what you find out.
-- By Drew Griffin, CNN Correspondent
Raw Politics: Bush without shoes
NEW YORK (CNN) -- Tom Foreman has the raw politics: Fred Thompson on a "war of will" and President Bush goes shoeless in a mosque.
(Click image at left to play video)
Wednesday, June 27, 2007
Madagascar's rare species threatened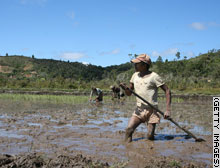 Peasant farmers work in Madagascar, where a delicate ecosystem is threatened by rapid deforestation and expansion of agricultural areas.
ANDRAFIAMENA, Madagascar -- The opportunity to get into the field and explore the wilderness of Madagascar has revived my spirit for adventure, despite what so far has been an exhausting journey.
I was last here approximately 10 years ago, and from our bird's-eye-view within the 40-year-old helicopter transporting the "360" crew and me, the landscape below is much changed. The fact that only 10 percent of Madagascar's pristine habitat is still around feels much more visceral and takes on new meaning upon witnessing it firsthand, both from the sky and on the ground. (
Watch Jeff Corwin meet Madagascar's unique wildlife
)
While Madagascar is in a state of environmental crisis -- the unique ecology here is in great jeopardy -- there is still a powerful echo of the wildness that makes this southeast African island-nation most profound. More than 90 percent of the species inhabiting Madagascar are endemic, meaning that they are found nowhere else but here.
While in the field, we came across extraordinary creatures, such as the black sufaka, a mysterious lemur that only dwells within remote dry forests of the north. It is quite likely that before our visit with the black sufaka it had not been previously documented by video cameras.
Another highlight was when one of the Malagasy biologists with the Conservation International team found a mysterious, one-inch long gecko that could very well be a new species. A taxonomist -- the biologist who classifies species -- could easily work 10 years in the field for a discovery as rare as this one. To be there in person for this find is a moment to cherish.
Perhaps the most memorable experience, though, was when we came across a tiny adult chameleon (a very strange lizard indeed) no bigger than a matchstick. Its genus name -- Brookesia -- is longer than the creature itself, which as of yet has no formal species title, as it was just discovered two months ago.
While celebrating the find, we were sobered by the fact that this tiny treasure only inhabits a small patch of quickly disappearing rainforest that's surrounded by fast-approaching cow pastures and banana plantations.
Whether or not this newly discovered life form will survive into the future is unknown. But what is certain is that Madagascar is still a great biological reservoir that, while precarious in regards to conservation, is far from a lost cause. I leave Madagascar believing that humankind has a rare and immediate opportunity to protect this almost magical place, a failure to do so would certainly affect many generations to come.
-- By Jeff Corwin, Wildlife Biologist
Tuesday, June 26, 2007
Inside an ICE raid
I was with a man named Almaraz Reveles Gonzalo as U.S. immigration agents literally handed him to Mexican immigration agents at the border fence where San Ysidro, California, meets Tijuana, Mexico.
Gonzalo is accused of being an illegal immigrant. But unlike other illegals who are brought back to Mexico, and then quickly try again to come back to the United States, its unlikely we'll soon see Mr. Gonzalo back here. That's because back in Mexico Gonzalo is an accused murderer, and the Mexican government encouraged the United States to find him and send him back home to meet justice.
Gonzalo is one of dozens of illegal immigrants accused of violent crimes in their home countries that the Los Angeles field office of the Immigration and Customs Enforcement (known as ICE) have tracked down. Finding dangerous criminals who have decided to hide out here is an assignment being given a higher priority nationwide by ICE. It's not known how many such suspects are in the United States, but ICE does say it is looking for 632,000 illegal immigrants who have broke some type of law while
in
the United States (usually a non-violent crime) and are considered fugitives.
Gonzalo is charged with killing his elderly uncle during a land dispute. In the pre-drawn hours, we watched California ICE agents raid the Los Angeles-area home that Gonzalo shared with his wife and children. When Gonzalo's wife opened the door, agents found Gonzalo still in bed with one of his children.
They took him away, but never told him about the murder charge. (They also told CNN that in order to observe the raid, we couldn't tell him either.) ICE says it is up to Mexican officials to inform Gonzalo of his murder charges. If U.S. officials were to tell him, it could complicate ICE's desire to kick him out of the country. After capture, Gonzalo is given a choice. He is told he can stay in jail in California or be brought back to Mexico. Going back home sounds like the better choice to him because he assumes he'll be free. But he assumes wrong.
U.S. authorities place him in the custody of Mexican authorities who prepare to fly him to his home state of Zacatecas and put him in jail. But as we walk with Mexican police to a waiting van, we notice they still haven't told him about the murder charge. They say that will happen before Gonzalo gets on the plane. But because we're no longer operating under our "agreed to" ICE guidelines, I break the news to Gonzalo.
"They say you killed your uncle," I say to him. "Did you?"
"No," he replies, not looking surprised at the question.
I ask him again. One more time, a nonchalant, "No."
And then he is loaded up in the van and gone. His wife and children remain in California, but Almaraz Reveles Gonzalo's quick goodbye to them just hours earlier might have been the last time he sees them as a free man.
-- By Gary Tuchman, CNN Correspondent
Raw Politics: Kennedy sings!
NEW YORK (CNN) -- CNN's Tom Foreman has the raw politics. Topics include Senator Ted Kennedy singing from the heart and Mayor Bloomberg's popularity.
(Click image at left to play video)
Monday, June 25, 2007
Chilled by words of hatred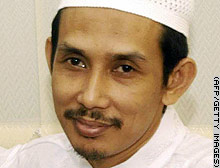 Abu Dujana laughed as he said Dan Rivers was himself an attack target.
YOGYAKARTA, Indonesia (CNN) -- I thought it was a joke when I first got the e-mail. CNN's Jakarta producer contacted me to say that the recently captured Indonesian terrorist suspect, Abu Dujana, was willing to do an interview. I felt like saying "Yes, well let's see if Osama's available too, and we can see if we can get them on Larry King as a double act."
But she insisted the police had sanctioned a face-to-face meeting with Jemaah Islamiyah's military commander, at a secret location somewhere in Java. We scrambled to the airport and less than 24 hours later I found myself nervously pacing up and down an empty, echoing corridor of a police building, waiting for a convoy carrying the most dangerous terrorist in Southeast Asia.
He appeared in silhouette initially. He was dressed in white and flanked by armed plainclothes police officers. As he approached I could see a slightly built, wiry man, who looked younger than the 37 years old police said he was.
Click here to read more
-- By Dan Rivers, CNN Correspondent