Friday, June 15, 2007
Raw Politics: Fundraising woes
NEW YORK (CNN) -- CNN's Candy Crowley takes a look at Thursday politics in brief.
(Click image at left to play video)
The Shot: cow skinny-dipping
NEW YORK (CNN) -- A cow decides to cool off in a Massachusetts back-yard pool in the shot of the day.
(Click image at left to play video)
Thursday, June 14, 2007
Raw Politics: Fight time
NEW YORK (CNN) -- Dennis Kucinich wants to impeach Cheney again and a flip-flop fight breask out between two candidates. CNN's Tom Foreman reports.
(Click image at left to play video)
Wednesday, June 13, 2007
San Fran kindergartners immersed in Chinese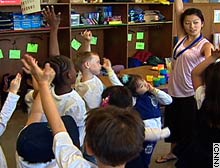 Angelica Chang teaches Mandarin Chinese to kindergartners at the Starr King Elementary School.
Every kid knows that feeling of the last day of school. It feels so liberating to know there won't be any classes on Monday. But for the kids I met at Starr King Elementary School in San Francisco, it was mostly sadness.
The children I met, all kindergartners, had just finished an entire year learning Mandarin Chinese, and they were sad it was over. The class was a year-long immersion course. The teacher spoke only Chinese to her students. That's it. All of the kids' normal subjects, like math and science, were taught in Chinese. Imagine how difficult that would be since none of the 26 children had ever before spoken Mandarin, considered one of the more difficult languages to learn. (For one hour a day, they worked on their English skills with a different teacher.)
Immersion courses operate on the premise of osmosis: eventually the child will get it. And the children I saw seemed to get it. (
Watch these American kids speak Mandarin Chinese
)
It was astounding to walk into a classroom full of American five-year-olds communicating in Chinese. They seemed to have little problem understanding their teacher. They also spoke in Chinese to each other. And during their free time, they even read children's books written exclusively in Chinese.
Parents we spoke to said they enrolled their kids in the program to give them a "leg up" for the future. Some of the children are of Chinese descent, but come from English-speaking families. The district said it offered the immersion program course because of China's growing status in the world.
As the children said goodbye to each other and their teacher, there were a lot of tears. Even though they're only kindergartners, these kids and their teacher seemed to forge a special bond over the course of the year. However, this is only the beginning of their Mandarin education. Next year, as first-graders, they'll be back for another year of classes taught in Chinese.
-- By Dan Simon, CNN Correspondent
Cancer blogger reaches high school graduation
Miles Levin's mom took this photo on a recent trip to New York City.
When we first met 18-year-old Miles Levin in May, he was losing his voice as a rare pediatric cancer, Alveolar Rhabdomyosarcoma, ran wild inside his body. He was also losing his life. His doctors weren't sure he'd even live long enough to graduate on June 8.
But during his battle with cancer, Miles has been writing a blog that seems so full of life, with wit and optimism and depth, that it was difficult to imagine him not making it. People wrote Miles back from across oceans and timezones. A woman declared that her daughter had died at peace because of Miles' words. (
Read a CNN profile about Miles
)
Last month, he blogged for CNN and said this:
"I accept what is to come, but I cannot rid myself of a deep mourning for all those experiences -- college, marriage, children, grandchildren -- that will probably never be mine to celebrate. What solace I do find is in the knowledge that I have done everything I can to transmute this terribleness into something positive by showing as many people as I can how to endure it with a smile." (
Read Miles' full post: 'Whatever life we get is bonus'
)
After Carol Costello did a story about him on "360," Miles traveled from his home in Bloomfield, Michigan, for a check-up at Sloan Kettering Cancer Center in New York and paid us a visit. He took his picture, smiling, with Anderson Cooper. It made his blog and in his next entry he declared himself thrilled to have touched so many people and reported some good news -- the doctors had said he was doing better.
He went home to Bloomfield for more chemotherapy, hoping to extend his life. His grandmother died, of cancer, as Miles grappled with the treatments, throwing up over and over again, shivering and shaking and nodding off into a deep sleep. His mother warned us that Miles' optimistic blog was sparing us the ugliness of cancer. His cancer faded into a generalized pain, a frightening crippling pain, that enveloped his body. He rushed off to New York to see his doctors, worried this might be it. We caught up with him at the pediatric cancer center where an amusement park of games and toys fight to amuse suffering, bald-headed children with cancer. He looked so big in that colorful room.
But, again, the news was really good. They didn't know what was causing the pain, but Miles was declared healthy enough to go to prom and graduation and put off chemo long enough to enjoy those milestones. He wakes up some days feeling well enough that he has to remind himself he has cancer. He raced off in a rush to enjoy this found time, to tie a knot in a formal tie, and find a suitable coursage for his girlfriend, Robyn.
He spoke at graduation on Friday along with Bob Woodruff, the ABC correspondent who suffered crippling injuries in Iraq. Miles met Woodruff on a plane trip. They graduated from the same private school in Michigan, Cranbrook, and share the experience of having lived the best of their life on time they borrowed.
After he graduates, Miles isn't certain what to do with the diploma. He has a college acceptance, won while studying under the influence of chemotherapy and by writing a persuasive essay. But he feels like it would be too optimistic to plan for something months away.
So, instead, he is planning for tonight, when he will graduate yet again, this time as one of the Sloan Kettering teenagers that has made it through high school on cancer. There will be a small ceremony at the hospital for him and the others.
"That's going to be an interesting experience," he predicted. "We're all going to have our hats fall off our bald heads. I'd imagine it will be meaningful in it's own way. Everyone graduating knows that they've achieved a milestone that they very well could have not made it to and there's not that awareness of any sort of school of generally healthy people."
But Miles says he's certain he will blog about it and let the world know.
-- By Rose Arce, CNN Producer
Editor's note: Miles Levin's blog is hosted at www.carepages.com. To see the full blog, you must register, and then in the page search field, type LevinStory.
Raw Politics: Where's the pork?
NEW YORK (CNN) -- Tom Foreman has the raw politics; topics include Congressional pork and the controversy over Bush's disappearing watch.
(Click image at left to play video)
Tuesday, June 12, 2007
National Guardsmen charged with smuggling immigrants
Imagine a young Texas National Guard soldier in uniform driving a van north along Interstate 35 out of the border town of Laredo, Texas. He crosses a checkpoint with the help of another soldier on duty at the post. Thirty miles later, Border Patrol agents pull the van over and discover 24 illegal immigrants hiding in the back of the van.
Federal authorities say that's what happened last week. And when they dug deeper, they say, they discovered three soldiers operating an illegal immigrant smuggling ring. The Texas National Guard soldiers were arrested and charged with "conspiring to transport illegal aliens."
The details we're learning about the operation are disturbing. There are text messages between the soldiers to coordinate the movement of the illegal immigrants. There are promises of big cash payouts too. But there are many questions left unanswered. Were these soldiers part of a bigger operation? How did they locate the illegal immigrants that were being smuggled?
This story will get a lot of people talking. On one hand, you have many people who will say this is just an aberration; that this is simply a story about a few bad apples among thousands of soldiers that are helping protect the United States' southern border. On the other hand, some critics say they fear the corruption could become more widespread as larger numbers of soldiers and federal authorities are sent to defend the border. That's just a fraction of the opinions this story is sure to generate.
-- By Ed Lavandera, CNN Correspondent
African lake shrinks 90 percent
Over the past several days, I have been in central Africa. Along with my colleague Anderson Cooper and Discovery Channel's Jeff Corwin, I have been working on a project called "Planet in Peril." The goal of this particular trip is to investigate climate change. It used to be called global warming, but as with many things, that was a little too simplistic.
In central Africa, I have been traveling through four countries, all of which border Lake Chad. You may ask, as I did, why Lake Chad? After all, isn't there evidence of climate change everywhere? The answer is yes, but Lake Chad, which used to be one of the world's largest lakes, has shrunk to just 10 percent of its size over the last forty years. Many people here in Africa do specifically blame climate change and more specifically greenhouse gases, produced by the industrialized world. But as we are learning, that is only part of the equation.
As I visited fishing villages in Chad, Cameroon, Niger and Nigeria, it seemed just about everyone had an explanation as to why the water had disappeared. Besides climate change, people pointed to the numerous dams built in the 1970s to improve irrigation for farmlands. Those dams greatly restrict the inflow of water from rivers to the lake. Some say local governments have badly misallocated the water supply that previously kept the lake full of water. Some remind us that the population has increased in some of these areas, along with consumption of water. Others place it in the hands of God. But most say it is a combination of all these things.
If you look back even further, as we did, we learned that the lake has shrunk dramatically at least once before. At a time when the term greenhouse gas didn't exist, water levels receded and no one was exactly sure why it happened. Eventually, the water came back. No one was sure why that happened either. "It may just be a long term cycle," the project manager of the Lake Chad Basin Commission told me during an interview. No surprise then that he is confident one day the water will return.
On the days we were shooting this story, it was 113 degrees in the shade. The case for global warming seemed pretty easy to make as I literally watched water evaporate from the lake in front of me. Still, it is worth taking a deeper look at the ebbs and flows of our planet and what is really driving them.
The topic of climate change or global warming tends to invoke strong emotions in people and I am curious what you think. Do you think greenhouse gases and carbon pollution in the United States, or China for that matter, are causing water to disappear in Africa?
-- By Dr. Sanjay Gupta, CNN Chief Medical Correspondent

(Tomorrow, I will describe the direct impact of losing one of the world's largest lakes on the villagers who were so dependent on it.)
Raw Politics: Poll vaulting
NEW YORK (CNN) -- CNN's Tom Foreman reports on Hillary Clinton's mixed numbers in New Hampshire, Fred Thompson's rise and Harry Reid's new target.
(Click image at left to play video)
Monday, June 11, 2007
New Orleans' dead still not resting in peace
Last year on this blog, we told you about a warehouse in New Orleans down the street from the Superdome that housed the unidentified and unclaimed dead from Hurricane Katrina. At the time, there was no plan for the 101 bodies sitting in airtight coffins in the nondescript warehouse. Fifty were unidentified and 51 unclaimed by families too poor or otherwise unable to claim their relatives.
Bodies have come and gone since our last report, but today, 21 months after the levees broke, the warehouse still holds 100 bodies. Seventy of them are identified and 30 remain nameless.
The bodies are in the charge of Dr. Frank Minyard, the city's coroner. Minyard won't let anyone inside the warehouse because he says it would be undignified, but he did show us pictures of the inside. The caskets are wrapped in plastic and sit on a raised platform behind a chain link fence. He says the fence is there as an extra layer of security. Above each casket is a white plaque with a black number, one through 100. Minyard wouldn't give us the pictures to broadcast, but we got our own video from inside the warehouse.
Minyard is trying to raise $1.5 million to build a group of mausoleums for the bodies and a memorial in the swirling shape of a hurricane. But as the second anniversary approaches, it's unlikely those bodies will find a permanent resting place anytime soon. The coroner has raised $250,000 so far, and Charity Hospital has donated an old cemetery for the memorial. But Minyard says they won't be able to break ground until they raise another $150,000.
-- By Eric Marrapodi, CNN Producer
FEMA finds trailers trashed
FEMA site manager Josh Davis and I were soaked with sweat from the east Texas heat. Too bad the FEMA trailer we were standing in didn't have an air conditioner. The people who used to live there stole it. They also took all the lights, every appliance, all the locks and door knobs. They even took the toilet.
Turns out, almost one out of every ten FEMA trailers loaned rent-free to victims of hurricanes Katrina and Rita are returned so badly trashed they can't be used again, according to FEMA. The government then tries to get what it can at auction. Trailers (what's left of them) that cost taxpayers upwards of $20,000 sometimes sell for just pennies on the dollar.
And what happens to the former trailer occupants who trashed them? So far, not much. FEMA has the authority to send a letter demanding payment for damages, that is, if the offending residents can be found. FEMA doesn't have the authority to prosecute and officials say trying to punish someone for ruining a trailer may cost more than it's worth.
-- By David Mattingly, CNN Correspondent
The Shot: A "360" pizza