Friday, June 08, 2007
Gang ready to kill over busted window
Calvin Buchanon is a convicted criminal and former gang member.
"Stop the violence!" he bellows to a group of young toughs.
On Chicago's west side, Calvin is working his way toward a staff position with Ceasefire, an organization dedicated to reducing shootings and killings.
"Because I'm tired of seeing little kids get killed and dying out here for something that's not even worth it," he told us.
The problem is very real here. In the past year, 30 Chicago public school children have been killed on the streets, largely because of gang warfare. Those numbers represent a small portion of the violence that's plagued certain neighborhoods in the city. Yet, Ceasefire staff tell me, street violence would be worse if not for their efforts.
To demonstrate the point, Calvin and other Ceasefire members called "violence interrupters," showed me how they stopped a problem before it got out of control. They introduced me to members of the Vice Lords, a well-established gang that had recently been disrespected by another gang. Someone had smashed-out the window of their car.
"We were ready to kill someone," said Rio.
"You're gonna shoot a kid cause he kicks out your window?" I asked.
"I ain't gonna say necessarily kill him," answered Jim, another Vice Lord, "But you gonna mess somebody up."
I asked: "What do you get out of it if he's dead?"
"Relief," Jim answered. "No one else will kick out the windows thinking they're gonna get away with it."
Calvin is one of the messengers chosen to cool things down, someone with street credibility who's trying to prevent a murder from happening.
"They speak the same language," said Ceasefire's director, Gary Slutkin. "They use the same cuss words, and they can get into their minds."
Ceasefire's staff says the organization's approach to fighting violence is similar to how other organizations fight epidemics such as AIDS. The only way to stop the killing, they believe, is to send in credible messengers, like Calvin Buchanan, who can help relate to the people involved. In this case, Calvin's mission is to convince the Vice Lords that murder just isn't "worth it."
-- By Keith Oppenheim, CNN Correspondent
30th school-age kid murdered in Chicago
Chicago resident Soccoro Toscano has given birth to five children. Tonight, "her baby" of the five will be laid to rest.
Fourteen-year-old Enrique Chavez was her youngest child, and also perhaps the most complicated. He didn't much like 8th grade, and often did not go to school. His family says when he was in school he was often rebellious. But Soccoro says her son was good and respectful to her and her family.
On Monday, Enrique was viciously killed, adding to an unfathomably tragic string of murders in this city. The overall murder rate in Chicago has gone down over the years, but this academic year, 30 school-age youngsters have been killed. Police keep records by calendar years, not by school years, but regardless, this spree in this 2006-2007 school year has been horrifying. Anderson hosted a live program in Chicago last week to bring national attention to this sad story; since we did the program, two more kids, including Enrique, have died. (
Read Anderson Cooper's take on Chicago's deadly school year
)
The murder of Enrique is hard to believe even by these sorry standards. His family says he did not go to school this past Monday, instead taking his uncle's van and two friends out for a joyride. As the 14-year-old was driving, somebody started shooting at the van. The vehicle overturned; Enrique and his friends jumped out and ran. His friends got away, but Enrique was shot in the head and then viciously beaten. He died in a hospital the next day. Police believe the killing was gang related; and that nine or ten males were involved. Nobody has been arrested.
Enrique's mother told me in Spanish her son wasn't in a gang. There's no way for us, or police for that matter, to know for sure. But it doesn't change this terribly sad outcome for a boy who had his whole life in front of him, and a family that still can't believe this happened.
-- By Gary Tuchman, CNN Correspondent
Raw Politics: Stem cells ... again
WASHINGTON (CNN) -- Congress passes another stem cell funding bill, which President Bush vows to veto again. Candy Crowley reports.
(Click image at left to play video)
Thursday, June 07, 2007
Key days loom for three American hostages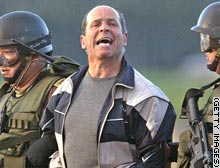 Simon Trinidad, aka Ricardo Palmera, is on trial this week in Washington, D.C., for kidnapping.
When I first heard this story I was simply blown away by one fact: Three government contractors, employees of Northrop Grumman, have been held for years in narco-terrorist guerilla camps somewhere in Colombia and America isn't up in arms and screaming about it.
It isn't on the evening news every night. There aren't yellow ribbons on every street corner. These guys are pretty much rotting away somewhere out there and they are not household names. For the record, their names are Thomas Howes, Keith Stansell and Marc Gonsalves.
It just seemed to me that if these guys had gone down in a plane in Iraq near an insurgent training base, or whatever, and got kidnapped you would never hear the end of it. Our producer Steve Turnham thought this was a very important story. He spearheaded our coverage and he came back with some extremely strong elements.
The private contractors were in Colombia as part of the U.S. government's drug eradication program. In 2003, they were flying low over rebel-held territory on an anti-drug surveillance mission when their plane crashed. The first thing they knew, they were surrounded by gunmen. And not just any gunmen. They were in the hands of the Revolutionary Armed Forces of Columbia (FARC), basically the largest armed rebel force in the Western Hemisphere, according to the US
The last four years have been frustrating for the families of the hostages and the company they work for, because the U.S. government prohibits negotiating with terrorists. Since FARC has been designated a terrorist group, there is little room for the U.S. government to get involved in active attempts to negotiate a release.
As it turns out, this is a story whose time may have come. A top FARC leader, Simon Trinidad, whose real name is Ricardo Palmera, is on trial this week in Washington, D.C., charged with kidnapping the Americans for his role in trying to bargain them away. Also, Colombian President Alvaro Uribe has just released a bunch of FARC prisoners in hopes of securing the Americans' release. And Uribe just happens to be making the rounds in Washington today to meet with top leaders of the U.S. government.
The families are more hopeful than they've been in years. At the same time, they are trying not to get their hopes too high, given how long FARC has held Howes, Stansell and Gonsalves.
-- By Joe Johns, CNN Correspondent
Hiker's death prompts policy change
I doubt there's a more uniquely beautiful setting in the entire world than the red rock canyons of Utah. They draw you in, but once you're inside those arid canyons you realize they're as grueling as they are inviting. You better bring your "A" game, be rested and HYDRATED!
It should have been a breeze for Dave Buschow. He'd hiked tundras, climbed mountains, jumped out of airplanes. This guy epitomized adventurousness. Why then did he die at a survival course near Boulder, Utah, last summer? The coroner's report says he died of thirst ... imagine that. (
Watch a report on Buschow's death
)
The Boulder Outdoor Survival School, or BOSS for short, says they didn't give Dave Buschow water because they wanted to help him pass their rigorous course, which teaches people how to survive in extreme wilderness. Their rules at the time stated you could only drink what you find along the way.
Dave Bushchow's mother says that's "macho stupidity." She says when he began showing signs of severe dehydration they should have given him water.
Dave Buschow dropped dead July 17th of last year. According to witnesses, he was cramping and delusional. He died an ugly death in a beautiful place, but it's not without consequence.
BOSS officials refused to answer our questions, but because of the incident, the school's permit for using federal land was partially suspended by the U.S. Forest Service. To get it back, the Forest Service said the survival school must change its course policy to include, among others things, that students carry water in a 32 ounce bottle. CNN has learned from Forest Service officials that the school will change its survival course policy.
The hope is that what happened to Dave Buschow won't happen again.
-- By Rick Sanchez, CNN Anchor
Raw Politics: No show for Iowa
WASHINGTON (CNN) -- CNN's Tom Foreman has the raw politics -- candidates backing out of the Iowa straw poll and Fred Thompson's new Web site.
(Click image at left to play video)
Wednesday, June 06, 2007
God hits the campaign trail
Loyalty isn't really up there in the book of political virtues. Just ask President Bush, who was mentioned a scant seven times in last night's Republican debate.
But even though politicians have never been the most loyal bunch, there's one guy they always seem to want in their corner. Someone whose poll numbers are so consistently stellar, it's almost a miracle. Someone who never makes mistakes and whose actions are always fraught with purpose and meaning. I'm talking about God. He was mentioned a whopping 21 times by the Republican candidates last night ... and I'm not even counting "God bless yous" and "I hope to Gods."
This week, the campaign trail turned into an old-fashioned camp meeting, with Republicans and Democrats alike declaring Jesus Christ as their personal savior.
At the Sojourners Conference on Monday, Hillary Clinton and John Edwards gave deeply personal testimonies of how the Lord saw them through their darkest hours. At last night's Republican debate, Arkansas Governor Mike Huckabee, an ordained Baptist minister, delivered a moving sermon on the glory of creation. John McCain spoke about the "hand of God" moving in the world today. And Mitt Romney, the only Mormon in the contest, said no man would tear him from his church.
What are these people running for, anyway?
This year, possibly more than any other in modern American politics, presidential candidates of both parties are posting their faith credentials right alongside their policy positions.
George W. Bush and Karl Rove have a lot to do with it. They proved that millions of Americans are very comfortable hearing their leaders speak openly about faith. In 2004, 1 out of 4 voters was a white evangelical and they voted overwhelmingly for Bush. The current crop of Republicans is fighting hard to win over that powerful coalition.
The Democrats, meanwhile, are desperate to shake-off their image as a party of secular elitists. In the 2006 Congressional elections, a number of conservative, anti-abortion Democrats proudly declared their faith and scored some impressive victories.
Maybe that's why this week feels a little like Church Chat.
What do you think? Do you like to hear political candidates discuss their religious beliefs? Does it give you a window into the kind of president they would be?
-- By Claire Brinberg, CNN Producer
Climatologist: World is no longer 'normal'
When a climatologist tells you the only thing that's going to reverse the effects of global warming is a "good old-fashioned pandemic that wipes out millions" your ears perk up. Mine sure did when climatologist Bill Patzert of NASA's Jet Propulsion Laboratory told me that, even if he was saying it mostly in jest.
We came to California to see what is making this state so darn hot and to take a look at what the summer may bring. It's not good.
Patzert got a rare glimpse into the future by studying the past. He found that in the last 100 years the average daily temperature in this state jumped 5 degrees; average nightly temperature jumped 7 degrees; and the annual number of extreme heat days, those over 90 degrees farenheit, multiplied by 12. Even heat waves are up, he said. They are three-to-five times more likely with each passing summer.
"Now I realize normal is just a cycle on a washing machine. We're no longer living in a normal world. We're living in a warmer world," he said.
So what does all that mean for Californians? It could mean a steamy, smoggy, hot, fiery summer is around the corner, with myriad consequences.
The Los Angeles County Fire Chief for the Forestry Division John Todd told me that with the ground so hot, brush fires no longer occur just a few months a year, but all year long.
A heightened demand for electricity could tax power companies and their ability to deliver a consistent flow of energy. Last year, when temperatures soared well over 100 degrees, more than one million Californians lost power for more than a week. But Southern California Edison's Pedro Pizarro tells us the company is prepared with extra power generating capacity on standby.
We were the first TV crew invited to take video inside the company's "war room." It is packed with monitors that are tracked 24 hours a day, 7 days a week. They show how much electricity is actually being used by the company's 13 million customers as compared to what had been predicted for the day. The goal is to avoid blackouts.
The problem is that megawatts don't go as far as they once did. Before it got so hot in California, one megawatt could power 750 homes. Now it only powers 650 homes. And people are building bigger and bigger homes, megahomes if you will, in inland areas like San Bernardino Valley, which are hotter. Many here say urban sprawl should get some of the blame for the extreme heat.
"All this population urban/suburban development has definitely done an extreme makeover on the surface of Southern California," Patzert told me.
It's getting so bad that California Attorney General Jerry Brown has sued San Bernardino County, one of the fastest growing inland areas in the United States, for failing to account for greenhouse gases when updating its 25-year blueprint for growth.
Infectious disease experts, such as William K. Reisen at University California Davis and Microbiologist Stephen Morse at Columbia University, suggest extreme heat this summer may even bring tropical diseases to southern California. The flu, which circulates year round in the tropics, could do the same here. And the mosquitoes -- look out! They bite more often at night, so the warmer nights are sure to keep them busy.
This isn't how I pictured Southern California.
-- By Randi Kaye, CNN Correspondent
Raw Politics: Candidates step away from Bush
WASHINGTON (CNN) -- CNN's Tom Foreman has the raw politics on the run for the White House, foreign policy and a plan for Iraq.
(Click image at left to play video)
Tuesday, June 05, 2007
Stormy night in New Hampshire?
Hi everyone.
The storm clouds are building in New Hampshire. No, I mean literally. It's pouring rain and lightening is streaking across the sky. We're back at the Sullivan Arena on the campus of Saint Anselm College in Manchester. On Sunday, we heard from the Democratic presidential candidates. Tonight, the 10 Republican White House hopefuls will take the stage for our second live debate.
Given what happened in Washington today, I'll be interested to hear the candidates offer their opinion on Scooter Libby. If they were President, would they pardon the Vice President's former chief of staff? Also, while Rudy Giuliani is in the lead, will his pro-choice stand hurt him? We will also keep a watch out for the debate within the debate - the growing battle between John McCain and Mitt Romney. They've been raising the rhetoric in recent days, especially over illegal immigration.
It should be an interesting night. I'll be doing post-debate analysis with our team starting at 9pm eastern, and then from ten to midnight we'll have a special edition of "360". We hope to offer you something very different with our coverage, to cut through the spin and the sound bites and give you the facts on the candidates and where they stand on the issues: Iraq, immigration, the economy, abortion, health care, education. Given what the Democrats talked about we'll also see where the Republicans stand on "don't ask, don't tell." So often we hear politicians talk in circles. Tonight, we are keeping them honest.
The last time the Republicans met, they barely mentioned the name of our current President. Well, we think it's important that we get them on the record about the Bush agenda, his strategy in Iraq, and his ability to lead the nation.
The candidates will also have to face the big X-factor, Fred Dalton Thompson. His name and presence are already casting a wide shadow over the candidates. He may enter the race in early July, and that's guaranteed to shake things up.
Like I said, it will be an interesting night.
What questions would you want to ask? Let us know.
See you later.
-- By Anderson Cooper
Raw Politics: Who's in the lead?
WASHINGTON (CNN) -- CNN's Tom Foreman has the raw politics -- topics include health care and immigration"
(Click image at left to play video)
Monday, June 04, 2007
Raw politics: Democratic candidates get raw
WASHINGTON (CNN) -- CNN's Tom Foreman with an inside look at the Democratic debates.
(Click image at left to play video)
The Shot: Bling bling skull