Friday, May 11, 2007
Virginia Tech student lucky to be graduating
Three-and-a-half weeks after a crazed gunman killed 32 innocent people at Virgina Tech, we are walking around the campus as the university gets ready for commencement.
Proud parents stroll alongside their graduating children on a day where they all deserve to laugh and have fun. But understandably, there is a solemn feeling on campus. Instead of the normal string of frivolities during a graduation weekend, most families are subdued and paying respect at the various memorials around campus.
One such family is the Walsh family of Binghamton, New York. Theresa Walsh is getting her bachelors degree in math and her family is proud. There are also oh, so grateful.
That's because Theresa had a gun pointed at her by Seung-Hui Cho. She was in class in Norris Hall when she heard gunshots. She told me she then went into the hallway. Seconds later, Cho came out of a classroom and saw her. She says he raised his gun and fired at her from about four feet away.
Cho missed, and Theresa ran back into the classroom and warned everybody. Students held the door and Cho fired through the door twice. He then left Theresa's class alone, she says.
Nobody in that class was hurt. Theresa told me her frightening story on Virginia Tech's drillfield as her parents watched and winced. They know how lucky they are that their daughter is graduating tonight.
-- By Gary Tuchman, CNN Correspondent
Raw Politics: Did Bush blink on Iraq benchmarks?
Thursday, May 10, 2007
Hot Links: "360" stories on CNN.com
The following stories were reported and written for tonight's program. Two of them are based on reporting done during Anderson's recent trip to Afghanistan, which was cut short by the Virginia Tech shooting. The other one is an enterprise story by Producer Jim Spellman and Correspondent Andrea Koppel.
Raw Politics: Republican candidates' hidden talents
Wednesday, May 09, 2007
Whatever life we get is bonus
Editor's note: The following post is written by Miles Levin, a young cancer patient profiled on tonight's "360." Miles' personal blog can be read at www.carepages.com, page name "LevinStory."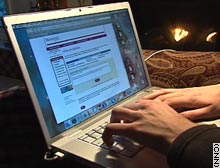 Through his blog, Miles has talked about cancer and life with tens of thousands of readers around the world.
Looking through my living room window, I suspect being outside would feel wonderful, but I really wouldn't know. As I write this from my bed, my entire body feels saturated in a sticky, toxic nausea, with chemotherapy pumping through my 18-year-old veins. Like Michael Jackson's moonwalk, chemotherapy has this strange way of moving a person another step towards life and death at the same time.
Twenty three months ago, I was diagnosed with stage IV rhabdomyosarcoma, a rare pediatric muscle cancer affecting only 350 children a year. With odds like that, and with a 20 percent chance of survival, I can only deduce two possibilities about the universe: God's plan is evident in every little shifting of the breeze, or it's totally random. I don't see how there could be much middle ground.
I remember my first chemo round, staring at the ceiling and trying not to cry. The agony was stunning. I've long since learned to go ahead and cry. How could this have happened? Yet as with anything that happens, it happens, and then suddenly you find it has happened, and more things keep continuing to happen. Chemotherapy has instilled in me a visceral understanding that all bad things will pass in time ... but that all good things will too.
I set out on a 19-month course of treatment, chronicling the journey on an online blog. Little did I know that my little Web site intended to keep extended family and friends informed would find readers all across the country and even the world, including such countries as Japan, Australia, Germany, Brazil.
My journey became
our
journey, with treatment finishing last December. For a brief, hopeful month in January, it appeared to have been successful. My scans were clear. But, as is so common with cancer, there were still sub-detectable rogue cells lurking in distant corners of my body. Within weeks, they swarmed forth again and my body was infested once more.
A recurrence of my kind of cancer has been hitherto incurable, although I still cling to a slim ray of hope. But in all likelihood, I am in the last few months of my short life.
Unlike many cancer patients, I don't have much anger. The way I see it, we're not entitled to one breath of air. We did nothing to earn it, so whatever we get is bonus. I might be more than a little disappointed with the hand I've been dealt, but this is what it is. Thinking about what it could be is pointless. It ought to be different, that's for sure, but it ain't. A moment spent moping is a moment wasted.
I accept what is to come, but I cannot rid myself of a deep mourning for all those experiences -- college, marriage, children, grandchildren -- that will probably never be mine to celebrate. What solace I do find is in the knowledge that I have done everything I can to transmute this terribleness into something positive by showing as many people as I can how to endure it with a smile.
I don't believe you can ask for any more, but if I could ask for something, it would be to be able to go outside into the glorious spring air, feeling healthy and blissfully clueless as to how lucky I was for it, if only just for an hour.
-- By Miles Levin, Guest Blogger
Missouri town deserted after flooding
Sunrise over the swollen Missouri River.
Correspondent Sean Callebs, photojournalist Ken Tillis, and I arrived in Big Lake, Missouri, at about 3:45 a.m. local time.
Flooding caused by the swollen Missouri River and several levee breeches has made much of this area impassable. When we got on the ground, it was pitch black.
Sean and I put on our waders and ventured into the belt-high water. It felt like that scene from Star Wars where Luke Skywalker is in the Death Star trash compactor. You can never tell when your next step is going to drop off. You can also feel things moving at your feet but have no idea what they are.
Corn washed up on Highway 159.
This is corn country, so a lot of the debris that's washed up near Highway 159 (where our camera is stationed) is comprised of corn husks and cobbs.
About 150 people live in Big Lake, Missouri, year round and they've all left town. Most of the houses we can see from here are either under water or surrounded by water.
-- By CNN Producer Eric Marrapodi
Tuesday, May 08, 2007
Thrift-store 'Pollock' riles art world
So, I've met a lot of colorful characters over the years, but Teri Horton is high on the list.
A few years back, this former truck driver bought a painting at a thrift store. The price was $8. Teri got it for $5. She didn't particularly like the painting. In fact, she bought it as a gag for a friend. Now she thinks she could sell it for $50 million. Why? Teri believes she purchased a Jackson Pollock painting. The abstract expressionist was one of the most influential American painters of the 20th century. His pieces have recently sold for more than $100 million.
Teri is convinced she owns a Pollock. But the art world disagrees. Tonight, we'll show you the interview, which originally ran on 60 Minutes, and let you decide if her painting is a Pollock or not.
Also tonight, we're introducing a new segment, "America Divided," where we look at an issue that is splitting the country apart. This evening, we'll focus on evolution vs. creationism. It came up, of course, most recently in last week's Republican presidential debate. It's one of those issues where you really see the differences that exist in our country. Where do you stand?
We're following a few other stories as well, including the alleged plot to kill soldiers at an army base and how tornadoes have given way to flooding in the Midwest. We will also have an exclusive interview with one of the main suspects in the growing pet food scandal. He's being held in a detention center in China, accused of selling tainted protein to American companies. Tonight, find out why he says he did nothing wrong.
Plus, on the lighter side, it's now the queen's turn to host the president and first lady. CNN's royal expert, Richard Quest, will once again give us a play-by-play of tonight's get-together. It should be insightful and entertaining.
By the way, we noticed last night's White House dinner in honor of Queen Elizabeth II featured this dish on the menu: Arugula, Savannah Mustard and Mint Romaine with Champagne Dressing and Trio of Farmhouse Cheeses. I don't know about you, but in New York, we call that "salad."
-- By Anderson Cooper
Raw Politics: Edwards defends 28K square foot home
Monday, May 07, 2007
The deal with the duck...
An image of Greensburg after the tornado hit.
I hope you all had a good weekend. I'm sure by now you've seen the images from Greensburg, Kansas. Even though I've seen tragedies like this before, each time, I find the images so startling, so sad.
We will of course have the latest from Greensburg on tonight's program. The city was literally wiped-off the map. The tornado was at least a mile wide and the wind speed was more than 200 miles per hour. We'll talk to survivors and see what was behind this monster Midwest outbreak.
We'll also bring you
the tornado video
taken by a man named Reed Timmer. He is a storm chaser. He's also a hell of a lucky guy. On Friday, his pursuit of a tornado nearly killed him. The video he shot is incredible, and shows perhaps some the most remarkable images ever taken of a tornado. Have you ever been close to a tornado? I'd be interested in hearing from you what it was like.
In Washington, it's a busy day and night for President Bush and his royal guest. Queen Elizabeth II is in town for her fifth visit to the United States. The president and first lady will host the queen for a state dinner tonight. (Remember don't shake hands with her unless she offers her hand first. As for pats on the back? Not a good idea. If you have an extra ticket, let me know.) By the way, we noticed that while the president's approval rating continues to be rather low, the queen is polling pretty well. She continues to win fans in America. Check out
this poll
.
We will also bring you senior legal analyst Jeffrey Toobin's inside look at the real CSI. In the NYPD crime lab, you won't find Gary Sinise. But you will find some interesting characters who explain why the reality of forensic science is much different than what we see on TV.
And finally, the deal with the duck. "The Shot" on Friday was some adorable video of a duck and dog that have become best friends in China. In case you missed it, you can
watch it here
. I made a lighthearted remark about what may happen to the duck in the future, and while a lot of you had a laugh about it, apparently some of our viewers were offended. I am certainly sorry if you were. And to the duck, I'd like to take the time to issue this personal apology: quack, quack, quack.
-- By Anderson Cooper
Hot Links: Stories we're watching today