Friday, April 20, 2007
CNNer/Tech grad struggles with emotion
More on CNN TV: Experts answer your calls and e-mails on this tragedy tonight on "Anderson Cooper 360," 10 p.m. ET.
I'm a journalist, and a 1996 Virginia Tech graduate. I'm also a native of the Blacksburg area. It's been a tough week for me -- the pang of emotion between being a journalist and a Tech grad. It's almost too hard to put into words.
I work for CNN's assignment desk in Atlanta. My daily assignment for the past year has included working with our affiliate TV stations in Virginia, including Roanoke, which covers Blacksburg.
I never would have dreamed that my work, and my small-town heritage, would come so full circle during the course of a week.
Those affiliate stations gave us our first gripping pictures from campus. Imagine helping bring in pictures to the world of such a tragedy -- video from the same campus I used to walk across.
Today, I'm working to cover the story in every way our network dictates, while I also think about my hometown and the people that I so identify with. Everyone is still grieving four days later.
Journalists are to be objective even in the face of stories that hit particularly close to home. I know colleagues have faced similar situations: New Orleans natives working Hurricane Katrina and its aftermath. New York City natives during and after 9/11.
It is a challenge not allowing my emotion over the tragedy to affect my responsibilities here at CNN.
As I sit in our newsroom today and see so many colleagues from all over the world wearing Burnt Orange and Chicago Maroon (or colors kind of similar), I'm made aware that my alma mater's previously unknown fight song, unique mascot name, and large Corps of Cadets contingent aren't so misunderstood or unknown anymore.
We all learn things through life experience that impacts every facet of life. Let's go Hokies!
Podcast: Behind the scenes at Virginia Tech
For an insider's look at how CNN covered the tragic shooting at Virginia Tech, check out this behind the scenes podcast:
All Access
'How do we go on from here?'
The tone among reporters and Virginia Tech representatives inside the Inn at Skelton Hall was markedly different Thursday afternoon. No longer were reporters attacking the speaker with a barrage of questions, shouting over one another to get answered first. Perhaps it was because they were tired, their tone much softer.
Perhaps it was empathy for the man responsible for our briefings: Larry Hincker, Virginia Tech associate vice president for university relations.
Hincker walked up to the podium. He leaned on his weary right hand as it shook and he spoke. Sometimes it was difficult to hear him even a few rows back. He addressed the media as friends, some now very familiar to him.
"How do we go on from here?" he asked quite literally in terms of how to logistically best go about relaying information to the news media from then on. The room fell into total silence.
It was clear we were taken aback by his sincere frankness and effort to work with us as much as he felt possible -- even despite his tired, beaten demeanor. Maybe 20 seconds passed until someone replied, "You're doing a good job."
The room broke out into applause.
For a few minutes inside the presser, we all reminded ourselves that though we are aggressive, we can and must appreciate one another -- mostly perhaps, because no one knows what might happen to them next.
-- By Michael Sefanov, CNN National Desk Assignment Editor
Thursday, April 19, 2007
Horse lover robbed of her Monday ride
At the far end of the Virginia Tech campus, some horses graze peacefully outside. A half dozen more are in their stalls in the neatly kept stables. A clipboard hangs in a far corner -- a few pages blowing in the breeze -- containing an eerie reminder of how Monday was supposed to play out here.
It is a riding schedule, and for Monday, under 3:30-4:30 p.m., there is the name Emily Hilscher, and a penciled in notation that she is to ride Ed, one of the thoroughbreds with a stall a few feet away.
Hilscher was gunned down at approximately 7:15 a.m. Monday, one of the first two victims, shot and killed near her dorm room across campus.
She was a popular member of the VT Equestrian Club, an animal sciences major who loved horses and loved to ride. The club's Web site now includes a moving tribute.
For me, it is that clipboard in the stables that provides a poignant, sad reminder of Monday's events -- how she must have been looking so forward to riding that day. A ride she was ruthlessly robbed of.
-- By John King, CNN Chief National Correspondent
Editor's note: Read about all 32 victims: In their honor
Plot hatched behind cinder block walls
A sealed door at the end of a narrow hall is where police believe the gruesome plot was hatched. It is 2121 Harper Hall, and an orange, fish-shaped name plate outside the door notes it was the campus home of Cho Seung-Hui.
CNN visited the suite Thursday afternoon, including a common area Cho shared with his five other suitemates. Its cinder block walls have those suitemates convinced at least part of his angry videotaped statement about the massacre was recorded in their dormitory area, while they were likely off at classes.
"The backdrop of the video looks exactly like our suite's white bricks," Karan Grewal told CNN in an interview outside Harper Hall.
Grewal said Cho could not have recorded the manifesto with anyone around because it is such a small space, but he said his loner suitemate often sat quietly while the others came and left.
"Maybe he just figured out our schedules," he said.
Grewal says he and the others were handcuffed and questioned when police served a search warrant Monday night hours after the shootings. He says they all gave up months ago even trying to make small talk with Cho, and that Cho would look down when walking around the suite or in the hallways to avoid eye contact with others.
"He never spoke," Grewal said. "I never saw him with anybody else. Ever. I just thought he was very lonely."
Grewal says police asked him if Cho had any disturbing posters or clothing, and that he said he did not believe so. The search warrant inventory indicates computers, notes, a digital camera and CDs were among the items seized as police search for clues as to whether Cho knew or contacted any of his victims, or any more information as to why he carried out the massacre.

-- By John King, CNN Chief National Correspondent
Strangers: We want Hokie gear
I was shopping in Target in Virginia when a nice man came up to me and randomly asked if I knew the colors for Virginia Tech. He and his wife were buying clothes for their daughter to wear to school tomorrow because her class was wearing Tech's colors in honor of those killed.
I helped them out, and the couple proudly bought burnt orange and Chicago maroon clothes for their daughter -- happy to help her mark the day for the fallen students and professors. It was another moving example of how this tragedy has touched so many people.

-- Elise Labott, CNN Producer
Korean-Americans' backlash fears lessen
Given that Cho Seung-Hui, the Virginia Tech killer, was Korean, we decided to ask some Korean-Americans if they are worried about a potential anti-Korean backlash here in the United States.
We first tried reaching people in Fairfax County, Virginia, which is a half-hour drive from our bureau from Washington, D.C. This county has a large Korean community, but as we called restaurants and other Korean-owned establishments for interviews, no one wanted us to talk to their patrons. Too sensitive, they said. Our customers won't want to talk about it, they added. Many of them don't speak English, others said.
So through friends we got in touch with 36-year-old Christian Oh, a "budding" (as he puts it) filmmaker, IT contractor and president of an Asian-American film festival. Christian's next video project is on Asian identity. He tells us that when he first saw reports the Virginia Tech shooter was Korean he was worried about what he calls the "Asian-American male stereotype."
"That we're nerds, we're geeks, we're socially not skilled, you know, in terms of the whole social scene. We're also portrayed in movies and film as the kung fu, karate, chop saki guy, so I was, like, thinking 'Oh great! So there's another thing we can add to the Korean or Asian-American image.'"
Oh says Korean-Americans often are considered a "model minority": well-educated, hard-working, raised to be successful but not to stand in the limelight. That sounds positive, but Oh claims the media and the film industry often portray Asians negatively.
We join Oh at an organizing meeting for a film festival. The room was filled with well-dressed 20- and 30-something Asian-American professionals, including an attorney, a financial analyst and a software developer. They, too, initially worried about a backlash, but as more details of the Virginia Tech shooter's twisted psyche emerged, they began to lose some of that fear.
Annabel Park, a 39-year-old who works with a non-profit organization that helps the Korean-American community, said the shooter "really sounds almost like the stereotype of that sociopath who would go on this killing spree. It's almost like he's following this script and it's so non-Korean specific. I think that's one reason why eventually people will not see him as Korean, but just as a psychopath."
"Why should we feel any shame?" Benjamin Lee, a 29-year-old financial analyst, asked. "That's one thing I haven't been able to understand. Why should we as Korean Americans feel some sort of shame or feel that we need to perhaps feel as if he is one of our own? Yes, he was Korean-American, but this is a lone wolf."
"The only people who have been talking about backlash are really the Korean community," Haesung Han, a 28-year-old lawyer, tells us. "The Americans," she said, "From the media, they haven't been reporting anything about racial profiling."
And yet everyone in the room says early fears of a backlash brought back thoughts of the 1992 Los Angeles riots in which Korean businesses were targeted. They said that made them and their families feel vulnerable.
Benjamin Lee said many Asian-Americans feel that the acts of the children are a reflection of the parents. "And for that reason, I can't imagine or even fathom the guilt that the parents must feel for this tragedy," he tells me.
Annabel Park said her organization is discussing whether it should set up a national hotline for people to call if they are harassed. She said they also have consulted with Arab-American groups that faced retaliation after the 9-11 attacks.
Their advice, she said: "Don't overreact. This is going to pass. Don't talk about it so much that it actually becomes a self-fulfilling prophesy."
-- Jill Dougherty, U.S. Affairs Editor for CNN International
Student: I'll miss my 'brilliant' mentor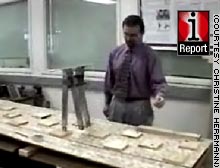 Christine Hermann, one of Granata's former students, shared a video of Granata teaching in Norris Hall in 2003.

I-Reporters continue to enhance and provide context to the Virginia Tech tragedy story.
This video
, which was sent in by Christine Herrmann and Scott England, pays tribute to Kevin Granata, one of the top engineering researchers in the United States.
England writes: "That video shows Dr. Granata very true to life, teaching others and loving what he did. Several people have asked how I knew him, so I'll use the same simile I told them.
In graduate school, your advisor is like your father. They fund your education, introduce you to the field, correct you when you make mistakes, and show you how to be an outstanding academian. For the rest of your life your work reflects on their's and their work weighs on you. Dr. Granata was a brilliant and prolific, young researcher who's hard work and ambition enabled dozens of students to pursue graduate degrees, and Monday we all lost a father."
See more I-Report
tributes to the victims here
.
-- By Tyson Wheatley, CNN.com Producer
Cho's former roommates react to manifesto
I've stayed in touch with John and Andy, Cho Seung-Hui's former roommate and suitemate, since CNN Correspondent Gary Tuchman interview them on Tuesday. After the images of Cho were released yesterday, I contacted them to see what they thought.
John told me that he was pretty surprised. He told me that hearing his voice and seeing the photos were not the Cho that he knew last school year. He said that the rantings of Cho on the video are what struck him the most. They were eerily similar to what Cho had written on his desk and on the walls of their dorm room.
Andy told me late last night that he couldn't look at the pictures without getting angry. He told me that he was shaking when he saw them for the first time.
During Gary's initial interview on Tuesday, we found out that John and Andy are the ones that informed the university that Cho had suicidal tendencies. As Gary put it on "360" last night, they should be considered heroes.
-- By Kay Jones, CNN Producer
Short walk from post office to Norris Hall
The Main Street post office where Cho is believed to have mailed his package is small and dingy. There are no security cameras; just a small counter where people can fill in envelopes before heading to the window. An older postal clerk sorts letters early each morning, slipping them in rows of post office boxes.
Cho apparently arrived there half an hour after it opened, handing the clerk his envelope. The walk to Norris Hall is less than 15 minutes through the main gates and past the chapel.
-- By Deborah Feyerick, CNN Correspondent
Wednesday, April 18, 2007
'We are family'
People continued to flock to Virginia Tech's Drill Field today to write messages on makeshift memorials -- large boards set up on either side of 32 stones, one for each victim -- arranged in a semi-circle.
Students and visitors walked slowly along the boards, many of them crying as they read the messages.
Some of the messages:
-- "Reema - this is so hard to take in. You choreographed part of our last bellydance. I'm so glad I hugged you at our last practice ....
Always, Kristina"
-- "Dr. Loganathan- I regret not telling you that you were the best teacher I have ever had. You were an inspiration. Your student, Shannon"
-- "Always remember the 4/16 32. -Billy"
-- "Concord University sents (sic) its blessings and prayers to all"
-- "We weren't friends but we were family. I didn't know you but we are family. We love you all because we are a family. We are Virginia Tech. We are family."
-- "Proud to have called you a friend, Stack. Love always, WAJ"
--By Brianna Keilar, CNN Correspondent
Cho's metamorphosis
What does it mean? "Ismael Ax." Sources close to the investigation say those words were written on Cho's arm as he went on his murderous rampage. "A. Ishmael" also appears to be the name on the return address of that package sent to NBC.
Ishmael is, of course, a major character in Christianity, Judaism, and a founding figure in Islam. In his rambling videotape to NBC, Cho mentions religion and Jesus time and again, seeming to somehow blame his state in life, at least partially on religion.
As an English major he could have picked the name up elsewhere. In Moby Dick, that great tale of obsession, the narrator is Ishmael. A popular series of inspirational books feature a wise gorilla by that name.
What some criminologists say really matters is not what the name means but that Cho appears to have created some sort of alter-ego for himself. Like the fictional Travis Bickle in the movie "Taxi Driver," they say, mass killers often take grand steps to change themselves before they strike.
Roommates say Cho was lifting weights and got a very short haircut in the weeks just before the shootings. It now appears he may have been developing a new name as well. This metamorphosis, psychologists say, can be essential: the killer has to break utterly free of the real world, and his own, natural identity before he can act.
-- By Tom Foreman, CNN Correspondent
Collective Soul: It's not about the song
The rock band Collective Soul told CNN Wednesday that they were startled to learn that their song "Shine" was a favorite of Cho Sueng-Hui, the Virginia Tech killer.
His roommates said Cho listened to the song over and over, even inscribing the lyrics on the wall of their dormitory room.
"It is an enormous tragedy and we deeply regret the loss of life," the band members said in a statement given to CNN by band manager Jordan Feldstein.
"The issue is not about the song," he said. "It is about the innocent lives that were lost that we regret deeply, as do all Americans."
"Shine" was written by Ed Roland, the band's lead singer.
Some of the lyrics that the taciturn student pored over include:
"Teach me how to speak
Teach me how to share
Teach me where to go
Tell me will love be there (love be there)
Oh, heaven let your light shine down."
-- From CNN's Wynn Westmoreland
Scream that can't be shaken
Producer Kenya Friend and I are booked in rooms at the Inn at Virginia Tech next to several family members of one victim.
At about 9:00 a.m. Wednesday, we were awoken by a scream. It was the sound of a woman crying hysterically in the hallway outside our hotel rooms. This wasn't an ordinary cry. I've heard this type of cry before. She had lost someone, someone she loved. And it was a cry of torment, of a physical and emotional nature. We couldn't go back to sleep.
As I move through this day, that scream rings in my ears. Perhaps it's because I feel some guilt being so close to such tragedy, perhaps my guilt is some inexplicable shame that the shooter is Korean, as I am. But I can't stop hearing it, feeling that scream not just in my head, but also in my heart.
-- By Kyung Lah, CNN Newsource Correspondent
Hokies gear flying off shelves
"Hokies Headquarters," reads a huge, white banner that stretches across a clothing section in the Christiansburg, Virginia, Wal-Mart. Below it, one finds dozens of maroon and orange shirts, sweaters and pins.
A salesperson says Hokies merchandise has been in high demand this week, and another shipment is expected tonight. Even at 7 a.m., there are people thumbing through the racks and purchasing Hokies gear.
Walk down the streets in this area and it seems almost everyone is wearing Hokies apparel. It's somber on campus, without a doubt, but the sense of community is just as undeniable.
-- By Kristi Keck, CNN.com Writer
Victim grew up 2 minutes from Cho
We've come to Centreville in northern Virginia to see what clues we can find that might unlock the mystery of why 23-year-old Cho Seung-Hui would turn killer, ruthlessly mowing down his fellow students and teachers in cold blood. I half expect to find something abnormal in his hometown but I am struck by its absolute normality.
At first glance, Centreville looks like a newly minted American suburb, with clusters of brick townhouses nestled in tree-lined cul-de-sacs and small shopping malls designed with faux-early American touches. Look closer and you see signs of the new American melting pot.
We stop at the Grand Mart, an Asian food store where the signs, some of the food and even the music is Korean. The place is huge and spotless. Koreans, Indians, Chinese -- they're all here. A well-dressed engineer, Rosemary Hsu, an immigrant from China, tells me there is pressure here on young people to succeed. It's not just the well-known striving of Asian families to get a good education for their children, she tells me, it's something any family here feels.
We drive to Westfield High School where Cho, a resident alien from South Korea, graduated in 2003. A school official emerges and lets us shoot pictures of the yearbook. On one page she blots out the faces of the other students with yellow "stick-it" notes, leaving the small photo of Cho looking completely unremarkable.
The yearbook is from 2002, she notes, when Cho was a junior. He never appeared in his senior book. No clubs, no activities. A loner.
As we finish shooting video of the yearbook, the police herd us across the highway away from the high school. The students are being let out for the day and they don't want us talking to them on school property. Several police cars are parked near the entrance.
As the kids swarm out the doors, they board a row of yellow school buses. We wave and call to them, hoping some might talk with us, maybe someone knew Cho or his family. A few look our way, but most climb aboard the buses and begin to drive away. From a distance, they look so vulnerable -- young people on their way home to parents who love them and now, perhaps, think more anxiously of whether they will come home safely.
We set off for Cho's home. It is a small but pleasantly bland townhouse painted beige. The FBI, state police and local police searched it Monday night. Cho's parents, Cho Sung-tae, 61, and his mother, Cho Hyang-ai, 51, both employees in a dry cleaning business, have left for an undisclosed location and the street is surrounded by TV live trucks and police cars.
A mail carrier who delivered mail to their house describes the parents as "super nice." Cho had a sister who graduated from Princeton University.
We get word that one of Cho's victims lived in Centreville, and as we drive to her house, we realize she lived just two minutes away by car. Reema Samaha, a student at Virginia Tech, was among those killed at Norris Hall. She was a talented dancer and her parents had watched her perform over the weekend. Now, friends gather outside their house, protectively huddling near the front door.
Another sad twist of fate: Samaha had graduated from the same high school as Cho.
In a Virginia state police photo, Cho stares straight ahead, peering through wire-rimmed glasses with dull, expressionless eyes. He reportedly rarely talked with people, even with his college roommates. His only expression of emotion came in macabre, violent plays he wrote for an English class. "Like something out of a nightmare," a fellow student called them.
Then something happened. Whatever was boiling inside Cho exploded with lethal fury. In the ultimate act of hatred, he destroyed even himself, leaving others to decipher the ultimate question: Why?
-- By Jill Dougherty, U.S. Affairs Editor for CNN International
How do I tell my son?
Earlier this morning, my almost five-year-old son and I were waiting at a red light on North Capitol Street in Washington, D.C., on our way to pre-school and work when my son noticed something.
"Look, mommy," Demetri shouted, "That flag is falling!"
"Actually," I responded, "That man is lowering the flag."
"Why is he doing that?"
"Well, sometimes the president asks everyone to lower their flags to show we care when something very sad happens to someone."
"Oh," Demetri said, "The president must have heard that I fell down and hurt myself at soccer practice yesterday."
"That must be it, my darling," I said, quickly changing the subject.
We live in Virginia and have been consumed by the Virginia Tech tragedy since Monday. But I have managed to keep the TV and radio news off when my son and I are together. We watched "Dancing with the Stars" Monday night and switched channels during the commercials as reporters came on the air with updates on the tragedy.
Last night, we went to soccer practice and watched "The Incredibles." Of course, you can't control everything. And when you least expect it, the truth smacks you in the face. That's what happened this morning.
-- By Virginia Nicolaidis, CNN Producer
Remember our 'fallen Hokies'
State troopers stood outside Burruss Hall around 9 a.m. ET, staring at a wide expanse of grass in the center of Virginia Tech that is typically buzzing with students and professors rushing to class. But the university was quiet Wednesday.
Many students have left. Some others, determined not to let a madman change their life, remained.
Paul Travers, a 21-year-old senior, took his dog Spin out for a walk around campus. He paused to read four 5-feet wide sandwich boards that have been painted white and covered with students' messages to their "fallen Hokies."
"God has a plan & he gladly accepted his Hokie Angels into Heaven," one read.
Another: "This will be remembered as the darkest day of my life. Ryan, Reema, Emily, and the other 29 victims, you will be in my heart forever."
"It's eerie here now," said Travers. "You look at Norris and think about what happened there. It's still uncomprehensible."
-- By Ashley Fantz, CNN.com Producer/Writer
'Unfounded' threat provides scare at Tech campus
Virginia Tech junior Terryn Wingler and her mother and 9-year-old brother were walking across campus Wednesday when suddenly a number of police cars and officers swarmed toward Burruss Hall.
Wingler said that police officers shouted, "'Take cover! Get back!'" She said her brother Nathaniel ran across the street and took cover behind a tree.
"I thought, 'Wow! Something's happening right now,'" she said.
Wingler's parents, Randy and Marta Wingler, came down from Shell Lake, Wisconsin, after the Monday shootings, and she was retracing her steps from Monday as part of her healing process when today's scare happened.
"It's so unreal," she said minutes after Wednesday's scare. She related "how mad I'm getting that someone would trash our school like this."
Authorities said Wednesday's incident turned out to be an "unfounded" threat.
-- By Ashley Fantz, CNN.com Producer/Writer
South Korean: 'I am ashamed'
Here in Seoul, the reaction among South Koreans is shock and shame that the Virginia Tech killer came from this country. Local news programs and papers are filled with news on the deadliest shooting in U.S. history.
One shipping company worker told us, "It's a tragic incident. But to find out that he is a Korean, I am ashamed and confused."
This South Korean added, "I keep asking myself what would have made him do such a thing. It's a very bad day."
A bank employee said she was surprised by the news and said it is the only thing people at her bank are talking about.
The story of the shootings is of great interest to South Koreans not just because of
Cho
's connection to the country, but also because of the number of Koreans that have ties to the United States, including a large number that are studying in the United States.
The U.S. embassy in Seoul told me that more than 90,000 student visas were issued for South Koreans to go study in the United States, more than any other country in the world.
There's concern among some here that there could be a backlash against Koreans in the United States. We took a call at the bureau here from a parent with a child studying in New York who was very concerned that all the coverage would affect things.
She told us she was home with her friends, who like her have kids studying in the United States, and they are watching the TV coverage. Their children are worried that American students are looking at them differently now and "seems like they are avoiding them." She said she and her friends are also worried the news makes all Koreans look bad.
A newspaper here also reflected that concern.
"Now we find out that the criminal behind the massacre is Korean. It is shocking," said an editorial in Seoul's
Hankyoreh
newspaper. "But we are also hoping that this incident does not create a reason to discriminate against Koreans or Asians."
-- By Adam Levine, CNN Producer
Tuesday, April 17, 2007
News of death via IM
What happened on campus Monday is starting to sink in with students. It's also starting to sink in with me.
I was scrambling to get my story out this evening when I received an instant message from a student I previously interviewed. Here are excerpts from our conversation:
Student: (5:52:26 PM): hey, kristi
Student: (5:52:34 PM): do you know anything about ross alameddine?
Me: (5:56:08 PM): hey, no what's up?
Student (5:56:54 PM): I just found out he died
Student (5:57:07 PM): and he and I were really good friends
Me (5:58:12 PM): wow, i am so sorry -- how did you find out?
Student (5:58:23 PM): a friend of mine IMed me
Student (5:58:36 PM): and I found out on facebook when a reporter figured it out and asked me to tell him about ross
Student (6:00:43 PM): he was in the french class
Student (6:01:26 PM): we used to hang out all of the time
Student (6:02:03 PM): and I was thinking about seeing if he wanted to hang out this weekend
Online communication is something I do every day. I never imagined a conversation like this one.
-- By Kristi Keck, CNN.com Writer
Friend's message: 'Hokies 4 Life!'
(Click image to play video)
We walked into the heart of campus on college avenue, a place where Virginia Tech students can relax and have fun. But Tuesday, it seemed a place of nothing but sorrow. Inside a Hokie sportswear shop, we met Roya Tavalokian. Her eyes welled with tears as she approached the clerk to buy some Hokie t-shirts. Shortly before talking to us she received a call saying one of her closest girlfriends was killed.
-- By Ashley Fantz and Paul Chase, CNN.com
Killer's gun purchase was 'unremarkable'
The owner of Roanoke Firearms said Cho Seung-Hui bought a Glock pistol just over one month ago.

Cho Seung-Hui bought a Glock 19 9 mm pistol 36 days ago, paying $571 for it with a credit card in an "unremarkable" purchase, the owner of Roanoke Firearms said Tuesday.
John Markell, the store's owner, said Cho was very low-key when he purchased the gun and 50 rounds of ammunition.
Even though Cho is a resident alien, Markell said, it was legal for him to purchase a firearm and he presented three forms of identification: a driver's license, a checkbook with an address matching the driver's license, and an insurance card.
State police conducted an instant background check that probably took about a minute, the store owner said. Cho did not say why he wanted the gun, Markell said.
He said the transaction -- which was with one of his associates, not Markell himself -- was "probably the most unremarkable sale ever" and he was shocked when three ATF agents arrived at his store Monday with the receipt for the weapon.
The Glock 19 is one of his biggest sellers, Markell said. It's used mostly for competition and self-defense. Markell said he is shocked and saddened by the shooting at Virginia Tech.
-- From Drew Griffin, CNN Correspondent
Some dorm residents surprised they heard nothing
As we stood outside Virginia Tech residence hall where two students were killed yesterday, we heard a wide range of stories.
Many of the students related where they were -- some in the shower, others asleep -- when the shooting took place. We didn't talk to anyone who heard the shots. Many were surprised they hadn't. We were told the sounds of laughter from an outside patio and a sand volleyball court often made their way inside. The students couldn't understand why didn't hear something as loud as gunshots in the dorm.
Another student told us she first learned there was a shooting in her building when someone instant messaged her and asked her if she was going to class. "Why not?" she responded, not knowing that two people just had been killed.
Other students told us of their memories of the victims.
Most people we interviewed knew Ryan Clark, one of the victims. Several students talked about his sense of humor and his work as a resident advisor -- an RA -- on the fourth floor. We met one freshman who remembered Clark helping her learn marching band drills. Clark played baritone and was a band officer. After we talked to her, she went to pick up her band uniform so she could wear it to the convocation service this afternoon.
Emily Hilscher was the other victim in the dorm. She was majoring in animal and poultry science. The people who knew her said she and her roommate lived just down the hall from Ryan. He was their RA.
Despite the killings, the dorm appeared far from empty. Many of the students who lived in the residence hall said they spent Monday night in their rooms. One student told us the trip home was too long to make. He wasn't bothered by being in the building. He said the evening was quiet, and most people stayed in.
-- By Aaron Cooper, CNN Producer
Unanswered calls to a slain friend
Phil Viana, a student at Northeastern University in Boston, said when he heard the news of the shooting at Virginia Tech, he and other friends immediately began trying to reach Tech student Ross Alameddine.
They "kept calling and calling Ross to see if he was OK," Viana told CNN, as he took a break from studying for midterms.
They never reached him.
Alameddine, 20, of Saugus, Massachusetts, was among those killed in the shootings that have shocked the nation.
Amy Mastrangelo, a 19-year-old student at Boston University, grew up in Saugus with Alameddine. They even carpooled to school together.
"There's no one else like him. That's what we've all been saying -- there's just no one else like him," she said.
She described him as a very gifted, intelligent individual.
Mastrangelo and Alameddine went to elementary school together at St. Mary of the Assumption and then went on to Austin Preparatory School. "He was a very unique individual," she said. "Very confident, self-assured, friendly with everyone."
Alameddine played multiple instruments, including the piano and was a member of the high school debate team, she said.
However, Mastrangelo said, he was best known for his dance skills.
"He was a gifted dancer ... at school dances, everyone would crowd around and watch him. He was very talkative, was very accommodating, very friendly."
--By Katy Byron, CNN Assignment Editor
Tragedy brings home war zone reality
Jim Gorman, 53, stood outside his modest home on the edge of the Virginia Tech campus Tuesday morning and took a moment to digest what had happened less than 24 hours earlier.
The part-time Virginia Tech security guard was off-duty Monday morning tending to other business at the student center when he saw several security personnel run past him with walkie-talkies.
"I assumed it had something to do with the bomb threats," he said.
Then he overheard students talking to their friends about the shooting.
"In a typical day in Baghdad, there are 30, 40 people killed and it's a blurb on the news," he said. "We had 30 people killed and the whole world is here. It kind of helps you relate to what's going on in a war zone -- if only a little."
-- By Ashley Fantz, CNN.com Producer
Some students anxious to get home
As students and parents waited to file in to Lane Stadium to watch the convocation on the Jumbotron, President Bush's motorcade drove by. Many students took pictures, but the quiet that initially greeted us as we arrived on campus yesterday, was still there.
As we waited together, two Virginia Tech sophomores (they didn't want to give their names) said they were anxious to get home to their families and were leaving as soon as the convocation was over. They both said they chose to come to Virginia Tech in part because it was considered a safe place to live. They said they're now going home to reevaluate that decision.
-- By Kay Jones, CNN Producer
Mourners wear school colors to ceremony
A few students who live in West Ambler Johnston Hall say they will no longer stay at the dorm. The first shooting took place yesterday on the dorm's 4th floor. Students left the dorm trailing suitcases and backpacks. One teenager left with friends, one of them carrying a pillow and a stuffed animal.
The dorm is across from the coliseum, the site of today's ceremony to honor the slain students. Thousands of people are lining up, most wearing school colors -- orange and maroon. Some have orange ribbons pinned over their hearts.
The line stretches all the way around the stadium, we're told. It is so long some students are giving up and leaving.
-- By Deborah Feyerick, CNN Correspondent
Cell phones of dead still rang
It was a tearful, lonely drive for Brian Horne.
The Christiansburg, Virginia, resident was called to the Virginia Tech campus Monday morning as a member of the local volunteer fire and rescue squad. Horne did not see the carnage; he was stationed at a command post on campus.
But as authorities began to comprehend the scope of the disaster, Horne volunteered to take care of a sober task. His family owns a funeral home about 10 miles from the campus, and Horne drove back to collect 36 body bags.
"We knew then there were at least 30 dead and possibly more," Horne told CNN in a brief interview outside the funeral home, where a giant American flag flies at half staff in honor of the victims.
Horne said he has responded to many tragic events in the past, but nothing anywhere comparable to the scope of the campus massacre. "It is difficult to comprehend, but at that moment I knew I could assist with what we needed to do," he said.
Horne would not speak on camera out of respect for the victims. He also said he did not want to overstate his role in the rescue operation, saying many friends had it much worse. He recounted their stories of helping collect and count the bodies, even as the victims' phones and PDAs rang and vibrated.
-- By John King, CNN Chief National Correspondent
Tech students mute sounds of gunfire on TV
A group of teary-eyed Virginia Tech students gathered in a room near where a news conference was being held on campus. They stared at the television with their arms interlaced. Each time they were approached for an interview about the shootings, they gave a frustrated "No." They told other students in the area to stop talking to reporters.
Another student beside me said they were waiting to hear about a friend, and no one wanted to talk to anybody. It was still Monday, just hours after the nation's deadliest shooting.
CNN started showing I-Report footage of the shooting. You could hear gunshots and a student say, "Whoa." The students I was sitting with didn't want to hear it. They didn't want to see it. They scrambled for the remote saying, "Can anyone mute this? Where's the volume?"
One girl's phone rang. She started crying and left.
The student beside me made a phone call.
"It doesn't look good," he said.
-- By Kristi Keck, CNN.com Writer
'Tremendous sense of shock'
As I talk to students, faculty, staff, and also a lot of alumni, there is a tremendous sense of shock that this could have happened to Virginia Tech.


I am sure that anyone would say that no matter where something like this happened, but it seems even more so here in Blacksburg. I graduated from VT almost a decade ago but still keep in contact with many friends and professors and I admit it, I still keep up with the news on campus as much as someone 10 years out of school and in D.C. can.


Alumni and students take great pride in and are fiercely loyal to their school (we have to spend the rest of our lives explaining what a Hokie is -- which can be done in a separate setting!) But Tech has always been such a relatively calm and quiet place.


There's usually some small controversy or talk of the campus/town, but in the grand scheme of things, nothing is that big of a deal. In recent days, there were of course the bomb threats that were serious stories but in general, the hot topics on campus have been:
The men's basketball team had a stellar season, (a complete rarity) making it to the second round of March Madness
The missing Hokie Bird statues throughout campus (artwork in the style of the party animals or pandas in D.C. or the cows in Chicago) which were apparently taken as a prank by students from another university
"Girls Gone Wild" was scheduled to be in town this week to tape a segment, and there was a growing movement organizing a boycott. University officials were doing everything they could to discourage any student's participation.

Of course, none of that matters anymore, but I just say all that to reiterate that this was the last thing that students expected to happen on campus in this small college town.


From everyone on campus I've been talking to, I don't think the enormity of it all has really sunk in. There is definitely a profound sense of shock in absolutely everyone I've talked to that probably won't go away anytime soon.
-- By Becky Brittain, CNN Producer
Wal-Mart visit reveals the day's stories
It's 1 a.m. in Blacksburg. The farmland surrounding the school is pitch-black, and dozens of restless people, weary of endless hours of news coverage or hospital vigils are at Wal-Mart.
I'm here looking for socks, pj's and food (after living off the hard candy provided by Virginia Tech staff at their impromptu press center). But moving around the 24-hour superstore, I see the stories of the day.
Three workers from the Salvation Army are shopping for breakfast food for displaced students. Richard White of the Roanoke office is smiling in his Salvation Army uniform but his eyes are turning red.
Two young women are buying fruits and veggies for friends waiting at the hospital, which is just a few miles away.
A cashier tells me another young woman came in just 45 minutes earlier from a hospital, looking for a break from her vigil. The cashier says that while the girl was at Wal-Mart she got a call saying her friend had died. The officials from the hospital are asleep and I can't confirm the story. But the cashier and others working agreed the girl they saw was in pain. One has tears in his eyes, too.
A few aisles away, four 20-somethings are looking at racks of Virginia Tech jackets, hats and shirts. Only one is a student at the university but the two men and two women insist they had to do something, had to show some support for the school. They buy burgundy and orange shirts and pledge to wear them to their jobs Tuesday.
Dozens of people are here, but none of them look like they can sleep.
-- By Lisa Goddard, CNN Radio Correspondent
The worst kind of waiting
When I first arrived today at Virginia Tech, I was directed by campus staff through a large hallway off a ballroom at the Alumni Center. It had already become the worst kind of waiting room. This was where many students and parents were gathering -- pockets of people who hadn't heard from their friend or child since the shootings.
A group of engineering students was looking for some friends who might have been in Norris Hall during the second shooting. One was optimistic that he probably couldn't reach some of them because of how people scattered from the campus. Many were on their cell phones. I heard one say, "Yes, I'm trying to locate ..."
When I came back a couple hours later, the change in mood was palpable. I have never seen that look on a person's face before, let alone on so many faces.
Shock. The realization that today and every day after will be so, so different.
-- By Brianna Keilar, CNN Correspondent
Monday, April 16, 2007
Shaken by the shooting half a nation away
It's incidents like the Virginia Tech shooting that remind you how close to home -- and how far from home violence can hit. My son's best friend is a senior at Virginia Tech. My son is a senior at the University of Colorado.
He hadn't heard about the shooting until my wife phoned him at around 11:45 this morning. He dropped off the line almost instantly, frantically dialing his friend. There are 26,000 students at Virginia Tech, but you just never know.
He got through; his friend was alright. Shaken up like every other student on campus, but alive and well. Half a nation away, my son was as shaken as the students at Virginia Tech. In addition to his friend, he told his mother, he knows about 100 other students in Blacksburg. Many of them were friends from high school, flung far and wide across the nation -- now drawn together by fear and grief.
-- By John Roberts, CNN Anchor
Professor concerned about campus security
With my bag in one hand and a ticket in the other, I ran to catch the plane en route to Virginia Tech's campus. CNN Correspondent Elizabeth Cohen and I were joining the throngs of reporters converging on Blacksburg, Virginia.

The plane was small and it seemed everyone was talking about the shootings at the university. A mother sitting next to me was talking on the phone to her daughter who has friends at Tech.
"This is so bizarre," she said. "Is everyone OK?"
The mother added: "Good. Honey, you take care. I love you and will talk with you when I land."
She hung up and took a deep breath. This mom teaches at a small women's college in Virginia and many of her students date people at Tech. She says it makes her worry about the security at her school. But she also said: Who would ever think this would happen at a college?
Tragically, we now know it can.
-- By Jen Pifer, CNN Producer
Tragedy caught on camera
This picture was taken from Tech student Jamal Albarghouti's cell phone.

Virginia Tech graduate student Jamal Albarghouti was on his way to see an adviser when police officers ran past him. The police told him to hit the ground. Albarghouti took cover, then took out his cell phone and captured some of the first images from the scene.
"When I saw the policemen taking their guns out, then I knew that this was serious," Albarghouti says. His dramatic video shows police closing in on Norris Hall. Gunfire can be heard in the background. Albarghouti quickly downloaded his video to his computer and sent it to CNN I-Report. (
Watch Albarghouti's video of shots fired on campus
)
Within minutes, his video was aired on CNN.
-- By Tyson Wheatley, CNN Producer
Tech student: How did shooter get across campus?
At LaGuardia Airport, Virginia Tech freshman Megan Pendergast, 19, was on her cell phone trying to speak to friends on campus. She said she was scared and nervous and couldn't understand how someone so heavily armed could have walked from the first building to Norris Hall.

"He would have to walk past a dining area and dorms," she said.
Kidnapping threat grows in Afghanistan
An image from a videotape shows a French aid worker held hostage in Afghanistan wearing a headscarf.

Every time I come to Kabul, Afghanistan, there's an explosion. In September, a suicide bomber attacked a military convoy in downtown Kabul moments after I arrived at the airport. Yesterday, an IED exploded soon after I got to my hotel. Thankfully, no one was hurt.
When a blast occurs, we try to get to the scene as quickly as possible. We have to be careful, of course. In Iraq, there's often more than one attack at a time. A suicide bomber detonates a device, and then minutes later, after a crowd has gathered to help the wounded, another suicide attacker blows himself up. We haven't seen that in Afghanistan yet, but many here fear what is coming next. There's been a steady increase in IED attacks, suicide bombings, and now kidnappings.
Last month, the government of Hamid Karzai released several Taliban prisoners in exchange for a kidnapped Italian reporter. (So much for not negotiating with terrorists...) By all accounts, the Italian government put severe pressure on Karzai to make the deal. The Taliban know there are fractures in the NATO alliance, and kidnappings are a way to put stress on that alliance. In the case of the Italian journalist, the Taliban hoped to turn Italians against their government's involvement in Afghanistan and make the Karzai government look weak for giving in to their demands.
Many Westerners in Afghanistan now feel like they could be targeted by the Taliban. Some French aid workers were kidnapped recently and are still being held, and intelligence briefings we've received seem to indicate the risk of kidnapping is greater than it's ever been before.
When we were here in September, many American soldiers told us they felt forgotten. So much money and manpower has gone into Iraq, and yet in Afghanistan, there have not been enough troops to beat back the Taliban and there are even reports of shortages of equipment. In September, we were embedded with soldiers from the 10th Mountain Division. They have had their tours extended, and most military planners expect an increase in violence in the coming weeks as the weather warms.
Over the last several months, I've received a lot of letters from the parents of soldiers serving here, and I promised many of them we would not forget about what their sons and daughters are doing in Afghanistan. So we've returned here, in part, to bring attention to this often overlooked war.
We've also come to shine a light on the drug trade here. Afghanistan now accounts for more than 90 percent of the world's supply of heroin. Most of the heroin found on America's streets comes through Mexico, but just about everywhere else, Afghan heroin is dominant. Last year, there was a bumper crop, and this year, it is expected to be even bigger.
The poppies that are farmed here and turned into heroin bring billions of dollars to drug traffickers, and all that money leads to corruption. The corruption is corrosive -- its tentacles reach into all echelons of government, experts say, and the democracy of Afghanistan is under real threat from it.
As you can see, there's a lot for us to cover this week, so I'm pleased to be joined here by CNN Terrorism Analyst Peter Bergen and CNN Senior International Correspondent Nic Robertson. I think you'll be surprised by what we've found so far. Peter interviewed a would-be suicide bomber two days ago, and Nic has filed a number of fascinating reports for us. We will focus on Afghanistan all week. I hope you watch.