Saturday, March 10, 2007
Army's 'dog and pony show' surprises
I went up to Seattle a few days ago to investigate claims of crumbling buildings and other poor living conditions for wounded soldiers recovering at the Fort Lewis Army base. In the days prior, there had been reports of soldiers being exposed to asbestos and lead paint there. We thought these reports needed to be checked after all that's been learned about the ugly conditions at Walter Reed.

Sensing the PR implications, Fort Lewis commanders made a decision to hold a news conference and offer a tour to those who might be interested. They were basically saying, "Hey, we've got nothing to hide. Why don't you guys come and have a look yourself."

Not to be a cynic, but it's been my experience that these press tours sometimes amount to a "dog and pony show," meaning you're only shown the good parts, and the officials handpick soldiers they know will only say positive things. Although CNN did send a crew to the media event, my crew and I chose a different strategy to report the story. The general public is not allowed on an Army base without proper escort, so we hooked up with a soldier's spouse. She has the ability to bring guests onto the base.

We took a small DV cam with us, so we wouldn't attract a lot of attention. I consulted with a CNN lawyer to make sure we weren't breaking any laws.

Here's what we found: While some of the buildings are a bit old, they appeared to be clean and safe. We did notice some cracks in some asbestos pipes, but there were no obvious hazards. The Army assured us that those pipes are safe.

The real story is difficult to capture on camera. That's the story of the day-to-day care and treatment for injured soldiers. Many complained to us about the inefficiencies and red tape associated with getting their disability compensation. While a few talked to us on camera, several told us they were afraid of doing so in fear of retaliation from their superiors.

As for the Army's press tour, it turned out a bit differently than we might have expected. One of the handpicked soldiers spoke about the difficulties in his recovery. He complained as well about the bureaucratic headaches and the long wait time in getting his benefits.
Friday, March 09, 2007
Inside a world where 'old' means mid-20s
Editor's note: This post gives the backstory to a one-hour CNN documentary, "Homicide in Hollenbeck," that airs tonight on "360."

The scale of the gang problem in Los Angeles and other major cities is, in a way, too big for television. Narrowing our scope to one police district, the Hollenbeck Division, in the heart of L.A., gave us the vehicle to take viewers into a subculture most of us try to avoid.

The big question: How do we open Hollenbeck's front door?

Our first step was to listen. For background interviews, we met with police officials, social workers and former gang members. Their different perspectives helped us understand the neighborhood's dynamics, the long history of Hollenbeck gangs, the frustrations of police in gang suppression, the efforts at prevention and the overwhelming impact of intimidation by violent gangsters.

Each expert led us to others. Eventually, we were being introduced to active and former gang members willing to tell us about their lives. The younger ones were typically boastful and impulsive. The older ones ("old" meaning mid-20s) had an outward self-confidence that commanded respect. In this case, being respected and being feared were one and the same, because "respect" in the world of Hollenbeck gangs is earned through violence. A gang members willing to fight are "riders." The ones who are not are "bitches."

A high-ranking official in the Los Angeles Police Department tried to discourage our access, openly fearful that our report would stigmatize Los Angeles as a combat zone. Fortunately, rank and file officers and their immediate supervisors were open to telling us about what they do and why they do it. Several gang cops in Hollenbeck had grown up around Latino gangs. Some had relatives who were members.

Was our work dangerous? It was always in the back of our minds and sometimes at the forefront. One gang member came to an interview carrying a gun and a belligerent attitude. My colleague, Stan Wilson, persuaded him to leave. Other gang members, seeing our camera out in the neighborhood, were simply curious. One smoked grass during the interview; we were aware that if he misconstrued an innocent remark by us as disrespect, it could lead to violence. Still other gang members were hospitable and escorted us to their most impressive gang graffiti. One even offered to have "the little homies" tag an overpass so we could film the action. We thanked him for the offer, but declined.

One veterano seemed to pop up wherever we went. John was in his 40s, drove an old red convertible and some mornings drank from a bottle in a brown paper bag. The last time I saw him, he was coming out of a laundromat with a tiny Chihuahua tucked inside his shirt. The incongruous image of this heavily tattooed vato sheltering the vulnerable puppy symbolized one of the questions we had about what gang-bangers call la vida loca - the crazy life: Why do they join the gangs when it so clearly leads nowhere? To this day, I do not have a complete answer.

We went into Hollenbeck with an open mind - not about the criminal behavior, but about the people who do it. Are they predators or misguided youth? Sociopaths or victims of society? Weak-willed drug abusers or people who need help?

We met gang members from each category. Gang banging is for the young guys. By their mid-to-late-20s, many gang members say they "get tired of being tired" and want to settle down. But the strong pull of the gangs - "homie love," they call it - makes breaking away difficult. Their education had come more from the streets than the classroom. And their horizons have been limited to what they saw in the confines of their gang turf. In some way, these were among the saddest stories in Hollenbeck: gang members who wanted to change their lives but lacked the skills to do it.
Notes on the death penalty and Florida juries
Rick Freedman, a criminal defense attorney in Miami, e-mailed to say that I made a mistake about Florida law on Wednesday night's (March 7, 2006) "360." He's right.

In discussing the upcoming penalty phase in the trial of John Couey, I said that Florida law required juries to be unanimous to impose a death sentence. In fact, Florida is the only state in the country that allows the death penalty to be imposed by a majority vote of the jury; it also allows a judge to override a jury's determination, though the judge is supposed to give great weight to the jury's determination.

This is a controversial and fast-changing area of the law. In the 2002 case of Ring v. Arizona, the Supreme Court said that trial judges alone, without the input of a jury, could not impose the death penalty. All the other states which have the death penalty (and the federal government) have complied with that ruling by holding that a valid death sentence can only come from a unanimous jury finding.

In a recent case, the Florida Supreme Court took the unusual step of asking the state legislature to change the law, writing, "The bottom line is that Florida is now the only state in the country that allows the death penalty to be imposed . . . by a mere majority vote." The Florida legislature hasn't acted -- yet. And the U.S. Supreme Court may yet decide that the juries have to be unanimous in death penalty decisions. Still, for the moment at least, Rick Freedman's point is valid: it will only take a majority vote of the jury, with the trial judge's concurrence, to sentence Couey to death.

Anyone interested in the death penalty should check out the Web site of the Death Penalty Information Center -- www.deathpenaltyinfo.org -- which contains an extraordinary amount of information on the subject.
Thursday, March 08, 2007
Preview video: 'Sins of the Father'
In this video clip, Headline News Anchor Thomas Roberts discusses hearing the Catholic priest who sexually abused him as a teenager admit his guilt. The clip comes from an hour-long special report that will air on "Anderson Cooper 360" on Monday, March 12 at 10 p.m. ET, called "Sins of the Father."
Wednesday, March 07, 2007
Can sexual predators ever be cured?
A couple of thoughts.....
First, last night we had a really interesting voice on the growing scandal at the Walter Reed Medical facility -- Tammy Duckworth. You probably remember her as a decorated Iraq war veteran. Duckworth's Blackhawk helicopter was shot down by a rocket propelled grenade. The attack left Duckworth a double-amputee. She later became an outspoken critic of how the Bush administration has prosecuted the war. In the mid-term elections, she ran for the 6th congressional seat in Illinois and lost. Last night, in the context of the growing scandal about the quality of care and conditions at the Walter Reed Medical Center, Duckworth talked to us about her 13 months of care. She had praise for her physicians and therapists at Walter Reed, but did say the number of war-wounded is overwhelming the under-staffed facility. She's now director of the Illinois Veterans' Affairs Department.
Next, can we really keep our kids safe from monsters? Given the thoughtful
three-part series
on sexual predators in the New York Times this week, we've been mulling whether predators are hard-wired to be predators and whether they can ever really stop. More and more states (New York could be the 20th) have passed civil commitment laws which effectively keep convicted predators off the streets even after they've served their prison time. The idea is to commit them to rehabilitation programs in secure facilities. It is nearly 5-times as costly as incarceration. But perhaps more to the point: There seems virtually no evidence predators can actually be "cured." Discussions about this sound like alcoholism in that you can never be cured but the key is to control the urge. Today, when a Florida jury convicted John Couey in the monstrous murder and abuse of 9-year-old Jessica Lunsford, we realized we should pull all these strands together for tonight. After all, Couey has a history of preying on children. He couldn't stop. With everything we know now, our special tonight is called, "Monsters Next Door, Can They Be Stopped?"
Iraqi baby gets life-changing surgery in Texas
I recently met a little Iraqi baby boy named Karm, a baby who could easily steal your heart. He is unusually charismatic for an 8-month-old child. He makes eye contact with everyone in the room, smiles widely and tries to speak to you. His mother says he rarely cries and has already learned to say "Ma-Ma" and "Da-Da." He seems like the perfect baby. It's not until he laughs and reaches out to you that you notice that something is wrong.

Karm, both of whose parents are doctors, was injured during birth, leaving his right arm is paralyzed. On the night she went into labor, Karm's mother was shot at while trying to pass through a police checkpoint on the way to the hospital where her husband was working. She had to turn back and give birth in her house with the help of a midwife. The labor turned out to be long and difficult. During the birth, vital nerves in Karm's right shoulder were torn and he was unable to move his arm.

Without some highly specialized surgery, the injuries Karm sustained can be permanent. But there were no doctors in Iraq who could do the surgery. So Karm's father sent out a desperate e-mail and video message to doctors around the world who he thought might be able to do the surgery. Exactly one doctor said, "Yes."

We went to Houston, Texas, to witness Karm's surgery. His family told us that just getting Karm into the doctor's hands took a series of legal, financial, bureaucratic and logistical miracles. We also learned that the surgery to restore the use of Karm's lifeless arm may have been the biggest miracle of all. The doctor who performed the surgery said he saw just how extensive the damage was when he opened the kid up.

We were given a rare front row seat to the surgery. Standing next to the operating table and dressed in sterile coveralls, masks and caps, we watched the surgeon go to work on this loveable little boy. Fortunately, the doctor was able to repair the nerve damage in Karm's shoulder. And he is expected to regain some use of his right harm and hand.
Tuesday, March 06, 2007
The Shot: Prison break gone wrong
Monday, March 05, 2007
Give 'The Shot' a shot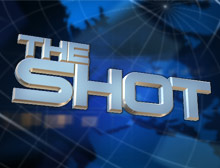 Why share video clips with your friends when you can share them with the world? Help us choose The Shot! Tell us about the amazing video or image you saw and where you saw it. Or if you have the footage on your computer, send it our way. We'll go through all the submissions each night, and put some of the best ones on the air. Here's hoping one of them will be yours.