Friday, January 26, 2007
Border battle moves to Arizona's sewers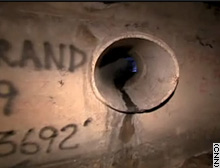 Illegal immigrants use tunnels like this one to enter the United States.
The cities of Nogales, Arizona, and Nogales, Mexico, are separated by a huge wall.
Many people illegally come into the United States over the wall or through broken portions of it. But the U.S. Border Patrol has gotten increasingly aggressive at patrolling this area, so illegal immigrants are increasingly adopting a subterranean tactic -- they are sneaking through the sewer system that sits under both cities.
This story attracted our attention when we heard that over a recent three month period, more than 1700 illegal immigrants were apprehended in the tunnels that act as sewers and storm drains for the city. They were captured by a specially trained U.S. Border Patrol unit that works within the pitch dark confines of the tunnels.
We spent a day with them recently in the muck and utter darkness of the sprawling sewer system. There is no way to see anything without night vision goggles. For the first 15 minutes of patrolling all was quiet.
We passed smaller tunnels in the sides of the wall with welded grates that are often broken by smugglers and illegal immigrants. Everything seems relatively routine, except for the vermin we hear scampering around. But then, the agents command us not to make a noise.

Watch Border Patrol agents take to the sewers
They hear something a few hundred feet away; on the other side of the line that separates the U.S. from Mexico. They get their weapons ready. Their night vision goggles make it clear that at least six individuals are hovering in the darkness.
They ask in Spanish, "Who is it?" There is no response.
"We are American police," an agent yells. "Slow down."
We hear the mystery people responding, but their soft voices make it hard to understand what they are saying. Minutes go by where we do not move. Down here, there is always concern that smugglers with nothing to lose will fire first, then agents tell me.
And then we see bright lights.
It turns out they are the lights of Mexican authorities, who the Border Patrol called to help out on their side of the tunnel. By then, the six people in question disappeared; not into the United States, but somewhere back in Mexico.
The mission is over. The agents consider it a routine day; we on the other hand, are still struck by the tension in the sewers.
Our clothes soaking wet, we climb through a side tunnel to get out, and exit through a sewer cap on a downtown Nogales, Arizona, street. I am struck by how none of the people passing by seem surprised to see a man climbing out of the sewer.
Within 30 minutes, we see four illegal immigrants arrested above ground in two different incidents after they get by the border fence. Just another normal day in Nogales.
Thursday, January 25, 2007
Nicholas Kristof journeys into Cambodia's sex trade
Nicholas Kristof of the
New York Times
tracks down a young sex worker he helped free three years ago.
Wednesday, January 24, 2007
Invisible chains: Sex, work and slavery
Tonight on "360," we're digging a little deeper into an issue many Americans probably thought was resolved almost 150 years ago -- slavery. But in reality, certain forms of slavery (or forced labor) still occur around the world, and even, right here in the United States.

According to the United Nations, more than 12 million people worldwide are forced to work against their will. They work in fields and sweatshops, in homes and factories; many of them are caught up in the sex industry.

Tonight, we'll have reports on this issue from around the world: Randi Kaye is in Atlanta reporting on U.S. sex slavery, Anderson Cooper brings us the story of New York Times Columnist Nicholas Kristof's journey to Cambodia to track down a teenage prostitute that he bought and freed three years ago, Dan Rivers is in Cambodia to report on a former sex slave who has helped free many other women and children, and Jeff Koinange is in Uganda to report on children forced to be soldiers.

If you're interested in learning more about these issues or looking for a way to help, here are some links to organizations mentioned or featured in tonight's program (by no means is the list exhaustive, but it's a way to start):


Atlanta struggles to fight child prostitution
In this business, we cover a lot of great stories and a lot of really tragic ones. A story I just did on child prostitution falls into the latter category and -- I must say -- made me sick to my stomach.

Here's why: In the city of Atlanta, girls as young as 9 years old are being sold for sex, according to interviews with the girls themselves and the women who try to help them.

Pimps shower them with gifts, lure them away from their families, and then force them to have sex with strangers, often men old enough to be their father, for just $10 a trick.

Many of the pimps are drug dealers looking to make some extra money, according to LaKendra Baker, a counselor for current and former child prostitutes.

"You can only sell a dime bag once; you can sell a 10-year-old girl over and over again," Baker said.

Amazingly, pimping a minor wasn't even a felony in Georgia until 2001 - it was a misdemeanour. But even heavier penalties and some high-profile convictions are not enough to put pimps out of business.

How many have been arrested? I wish I could tell you, but none of the authorities in Atlanta could tell me how many pimps or underage prostitutes had been arrested, or how many pimps have been convicted.

What Fulton County District Attorney's office did tell us was this: "We need to be much more organized and we need many more resources to adequately combat the plague of child prostitution. While the Georgia law making pimping or pandering a child a felony has helped us secure tougher sentences, the shift from street activity to internet transactions has made it harder to get at the source of the problem."

LaKendra estimates that hundreds of girls are prostitutesof Atlanta, but she doesn't have a firm number.

With a crime so disturbing, you'd think somebody would keep a close track of the numbers.

Numbers on the national level are tough to come by too. According to the advocacy organization Standing Against Global Exploitation (SAGE), 200,000 to 300,000 children are involved in prostitution in the United States and an estimated 10 million children worldwide. But these are just rough estimates.

I spent some time in Atlanta with a girl named Shantique, who had been on the street for a time when she was twelve.

She said that her pimp, known as "Batman," tied her spread-eagled to the bed posts in the bedroom of a home he shared with his family. He threatened to kill her and her family if she didn't have sex with another pimp he knew. Sometimes he'd take her out and see if anyone was willing to pay to have sex with her.

Luckily her aunt found out where she was and got her home. But other girls aren't so lucky. Some of them stay on the street for years.

Shantique is now 19 years old and a freshman in college. She struggles with what she went through, but is getting good grades. She's also counseling young girls about how to stay off the street.

Tuesday, January 23, 2007
The war that swallowed a presidency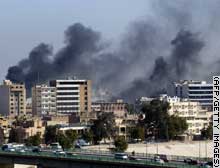 Smoke rises from twin car bombings Monday that killed scores of Iraqis in Baghdad.
Americans have a lot of issues that concern them these days: Immigration, health care, the environment, personal debt, housing prices. That's just to name a few.
But there is only one real issue in front of President Bush right now: Iraq.
Polls of Americans and foreigners alike show that majorities disapprove of the way President Bush is conducting the war in Iraq and question whether the United States is still a positive influence in the world.
The president is planning to send more troops, talking about the need for stabilization and a promise of better times, but in Washington, even members of his own party are skeptical. And the newly empowered Democrats are circling like dogs around a soup bone.
Sure, President Bush is engaging other topics. The White House is talking about "bold" legislatives initiatives and the need for bipartisan support to the keep the nation moving forward. The State of the Union is supposed to be the moment for a president to discuss such things, to weave a grand tapestry of his visions for the nation.
But Iraq is relentless. Some Republicans fear that unless the White House can somehow turn Iraq around or defuse it as a political time bomb, worry about the war will undermine every idea put forward by their party. They worry, quite openly, that if President Bush wants to protect his legacy, he may have to compromise on all sorts of other issues to get Democratic support.
Saddam Hussein was undeniably a terrible guy. He imposed unspeakable suffering on his own citizens and ruled with the despicable force of all tyrants. President Bush put an end to that. But in the process, the war he launched became something more. It morphed into the definining characteristic of his presidency for both good and bad.
So with two years left before he leaves office, here's my question: Can the president get any traction on any other legislation while the future of Iraq remains up for grabs?
Hot Links: State of the Union
Monday, January 22, 2007
Inside Obama's alleged madrassa
The call from the news desk in Atlanta came at 4 a.m. Sunday. It was about a report that presidential hopeful Barack Obama may have attended a madrassa, an Islamic religious school, as a boy. That seemed an odd claim; at 4 a.m., downright bizarre.
A day's travel later, cameraman Brad Olson, producer Andy Saputra and I were in Jakarta, Indonesia, outside the school in question. A hotbed of radical Islamic extremism it was not. Moms and dads dropped their kids off for school, kids played soccer, expensive houses lined the street, including the U.S. ambassador's residence.
We went in and spoke with the deputy headmaster, other officials, even some of Obama's old schoolmates. There were boys and girls singing and dancing, Christian kids next to Muslim kids.
This was nothing like the madrassas I had been to in Pakistan, where young boys learn the Koran by rote, memorizing every word, where no other religion is tolerated, where the teachers are men with long beards dressed in traditional garb.
To be honest, I felt embarrassed to ask the school about the controversy in the United States. The deputy headmaster was surprised, and I think a little taken aback that some had made the assumption his school was a hotbed of radicalism.
An old classmate of Obama's was more blunt. He said it was a racist assumption that every school in a Muslim country is a hard-line extremist madrassa.
I spoke with the bosses back in New York and Atlanta and outlined the facts, not entirely sure what they would want me to do next. The response was pretty simple: Do the story, report what you find, nothing more, nothing less. So that's what I
did
.
Strategists: Clinton must settle 'Billary' issue
Observers on both sides of the political aisle say that after all these years what Hillary Clinton needs is a separation agreement from her husband. No, not that kind, a political separation, where she gets his assets, without the liablities.
Former President Bill Clinton's political assets are of course considerable: He's considered by many to have the finest political mind in the Democratic Party, his ability to connect with voters is as impressive as ever, and he remains the biggest draw on the Democratic money circuit.
But being so closely identified with Bill is not without its drawbacks for Hillary, according Anita Dunn, a Democratic strategist, and Scott Reed, a Republican strategist.
They say that one reason around 40 percent of U.S. voters have an unfavorable opinion of Senator Clinton (according to CNN polling) is that they don't like her husband, and that because Bill and Hillary originally came as a package, she gets saddled with the mistrust directed toward him.
Her challenge? Reintroduce herself, drop the baggage, move past the soap opera, become a candidate of the future, not the past.
As Anita Dunn told us today, Senator Clinton's problem is that the voters don't know her, but they think they do. New Yorkers now know her apart from her husband, and reelected her overwhelmingly. It's her job now to take that separation national.
Hot Links: Stories we're watching today