Thursday, December 21, 2006
Your top stories of the year
Unless you are David Letterman, making Top Ten lists can be a tricky business. Fortunately, we didn't have to pick a top story when putting together our "Anderson Cooper: Unforgettable Stories 2006" special for tonight. We left that to you.

And this Democratic process ended with a Democratic result: You chose the "Democratic Takeover of Congress" as the top story of 2006. Thanks for the input. And check out the results below to see how your choice stacks up against those of your fellow voters.

Question: What was the top story of 2006?

Sago mine disaster
7% - 515 votes

Darfur crisis in Sudan
15% - 1115 votes

Democratic takeover of Congress
28% - 2047 votes

Israeli-Hezbollah fighting in Lebanon
13% - 957 votes

Iraq war: Donald Rumsfeld's resignation
11% - 792 votes

Immigration debate
8% - 593 votes

Nuclear concerns over Iran
4% - 279 votes

John Mark Karr's false confession
3% - 213 votes

Warren Jeffs' capture
1% - 40 votes

Scandals: Congress, the Rev. Ted Haggard
3% - 222 votes

North Korea nuclear scare
7% - 506 votes

James Frey's fictional nonfiction
0% - 28 votes

Celebs' bad behavior
2% - 129 votes

Total: 7436 votes

(Disclaimer: This QuickVote is not scientific and reflects the opinions of only those Internet users who have chosen to participate. The results cannot be assumed to represent the opinions of Internet users in general, nor the public as a whole. The QuickVote sponsor is not responsible for content, functionality or the opinions expressed therein.)
Next available flight: Christmas Day
Getting back to
"getting there"
... we're still going nowhere, at least for the moment.
Five of us from CNN are here in Dallas. We can't get on any commercial flight to Denver, Ft. Collins, or anywhere near where the big snowstorm has struck. We were all set to charter a plane yesterday after our commercial flight was cancelled, but the weather made it too unsafe to fly. Airports in the snowy region are all closed.
Adding to our problems, when planes do start to take off, they have a whole lot of back-up, so getting seats seems impossible. Our travel agents told us we could make a reservation for Christmas Day. Honestly.
How about driving? The interstates going to eastern Colorado are closed.
As I said in my last post, a big part of covering the news is just getting there. And this is one of those weird weather stories where, like a lot of other people, we are stranded.
10:44 a.m. update:
We're getting steady phone calls and messages from CNN staff in charge of planning and logistics, folks who are wracking their brains trying to figure out how to get us into Denver.
It's reminding me of one of my Dr. Seuss favorites: "Green Eggs and Ham." Pardon the paraphrasing:
Would you, could you, on a plane?
Would you, could you, on a train?
I could not, would not, on a plane!
I'm stuck right now. It is just insane!
OK, maybe I'm no replacement for the great author of children's books.
But I am eating eggs at the Dallas Marriott.
Wednesday, December 20, 2006
Vote for the top story
Please vote in the "top story" poll on the right rail of this blog. Voting ends today at 5 p.m. The results will be a part of the show's year-end special.
5:00 p.m. update:
Voting is now over. We'll publish the results tomorrow. A big thanks to the more than 7,000 of you who participated.
To-do list: Call mom; chase snowstorm
This is about the challenge of getting to a snowstorm.
But first, indulge me, and hear a little confession from a 46-year-old man: Just about every morning, when I can manage it, I call my mother. I tell her where I am going.
This time, I said, first I thought I was going back to the Chicago bureau. That got changed to an assignment near Texarkana. That got changed to a story in Amarillo. Then to Dallas. Finally to Denver.
She's incredulous. "Your job is nuts!" she tells me.
I didn't argue with my mother.
The truth is -- my job at CNN is to be flexible, to move with the news as it changes, and most importantly, to get there. As Woody Allen is reputed to have once said, 90 percent of life is just showing up.
Sometimes, that ain't easy.
Currently, a powerful storm system is about to blanket the nation's mid-section with rain, ice and snow. We've got crews coming together from at least four different cities. We're coordinating with our travel department so we can all meet up and get to the story. Everybody is Blackberrying everybody. We've got a plan. We're on the move - at least in theory.
I had been stuck in the airport all morning, but as I text message this blog, the pilot tells me we are about to take off ... got to go.
3:41 p.m. update:
Now in Dallas. The commercial flight we booked to fly to Denver got cancelled due to bad weather.
The latest plan is to hop on a charter with four co-workers. But first, I need clothes. My team makes a mad dash to a Bass Pro Shop near the airport. I pick up a fleece jacket, thermal underwear, waterproof gloves. The things I just didn't bring to Texas.
Now a Blackberry message arrives from one of our West Coast crews. They're heading to the storm, too. The producer who writes the e-mail issues a challenge: Which team will get there first?
My mother continues to be accurate.
Hot Links: Stories we're following today
Tuesday, December 19, 2006
Man mourns slain prostitute ... his wife
In Atlantic City, a town known for its gambling, the biggest risk-takers aren't in the casinos, they are on the streets. Prostitutes who sell sex for money or trade it for crack cocaine risk their lives every time they sit in a stranger's car or walk into a hotel room.

Late last month, everyone was reminded just how dangerous this life could be as the bodies of four women (three with criminal records for prostitution) were pulled out of a dark and smelly New Jersey marsh. I walked through that marsh Monday struck by the sheer inhumanity of these murders.

Some of the details of the crimes suggest the women may be victims of a serial killer or killers, although authorities will not confirm that suspicion. The victims were placed facedown in a shallow watery ditch; they were fully clothed but their shoes had been removed; and they were arranged so that they were facing east, toward the lights of the casinos.

I came here to learn more about one of the victims, in particular -- Kim Raffo. She was a homemaker, a wife and a loving mother of two; that was before crack took over her life.

I met Raffo's estranged husband, Hugh Auslander. He's a carpenter used to building things with his hands. But despite his best efforts, he couldn't keep Kim from falling apart and destroying their happy home.

Auslander refused to divorce Kim, not even when she told him that she had begun selling herself on the street. He always hoped that if he showed her that someone still loved her, she would clean up and come home to stay.

That dream ended in late November, and now his only wish is to have her remembered as the caring, smiling woman with whom he fell in love, and not the victim whose life spiraled out of control on the streets of Atlantic City.
Reporter's notebook: Behind the sugar story
In this piece, I explain how we got the idea to report on the conditions of sugar production in the Dominican Republic.
Monday, December 18, 2006
Is sugar production modern day slavery?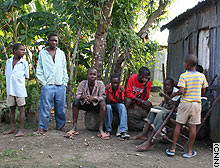 Haitian children in a sugarcane worker settlement in the Dominican Republic.
Is the sugar you eat a product of slave labor? That's the accusation leveled by one of the readers of this blog, who pointed us to the Dominican Republic, where, she said, Haitian migrant workers are kept in slave camps, forced to work in the fields under armed guard, for a pittance.
It was a powerful charge, and some human rights groups say the accusation has merit. With the United States slowly increasing the amount of Dominican sugar sold here, we thought we'd check it out. What we found there was not slavery by any definition, but working conditions that were not acceptable by U.S. standards.
One of the nation's most powerful sugar families, the Vicinis, had decided to open its doors to a U.S. congressional delegation heading there on a fact-finding mission. We suspected the company would put its best face forward, but we tagged along anyway.
Sugar cane workers live in what are called bateys, small settlements of a few hundred people dotted among the cane fields. The Vicinis showed us one of the bateys. It appeared to have plumbing and electricity; the people seemed happy, and there was a shop, and a school.
But just down the road, we came across another batey, where other Vicini workers lived, that was not on the official tour. No running water, no electricity, too little food. The old or infirm looked like they were starving. One old man told us he hadn't eaten in four days. Children told us they planted cane in Vicini fields for three pesos a row. It takes a half day to plant a row.
The company says it doesn't hire children, but that it can't always control what unscrupulous subcontractors do. And it said it is trying to improve the lives of the workers, with an ambitious plan to build hundreds of new houses.
Along a roadside near the batey, we found people in some desperate straits: One man in his 50s was working on a Sunday, all day, to earn the equivalent of about $5, some of which he sent home to his children in Haiti, who he said were starving. And that's the problem: the reason these people work for so little is that there's even less where they came from. They're out of options, and without the legal rights of Dominican citizens, they're effectively voiceless.
Under terms of the Central American Free Trade Agreement, the U.S. government is slowly increasing the amount of sugar that can be imported from the Dominican Republic. The members of Congress told the Dominican government that they would need to improve conditions for the workers. According to a Reuters report, the Dominican government told them to stop interfering.
Have you climbed Mount Hood?
Are you a climber? We want to see photos and videos any peaks you've scaled, especially Mount Hood, and hear why you did it. Did you narrowly escape trouble or have a problem-free adventure?

Christian CEO brings faith into workplace
When I visited Bart Azzarelli's construction company north of Tampa, Florida, it was almost like going to a church. The day began with prayer and bible study in a standing-room-only conference room. At lunch, employees lined up for grilled hamburgers and hotdogs while they listened to personal testimony of a man who had accepted Christ. There is a large painting of a cross in the lobby and the mission statement is posted for all to see. It reads, "The purpose of our company is to glorify God."

Azzarelli, the company's owner and CEO, is part of a new wave of executives who view their businesses as ministries. He brought his faith overtly into the workplace and actively keeps count of how many souls are saved on the job. So far, he says, four hundred have accepted Jesus Christ as their Lord and Savior. He will also tell you that business (the dollars and cents kind) is good, and he attributes that success to God.

But while Azzarelli believes that the only way to God is through Christ, he knows there is a line he cannot cross in the workplace. Federal law prohibits any act that might make an employee feel coerced into participating in this kind of religious activity. To avoid complaints about discrimination by non-Christian workers, he says he tries to make sure everyone is treated equally. So far, he says, there have been no complaints.

Azzarelli believes that part of the reason he been able to walk this tightrope is because he bases his management style on Biblical principles. He says that to him, this means genuinely caring for his fellow man. He says he wants his employees to know he loves them and treats them with care and respect. Employees told me they've never worked at any construction company where they felt more appreciated. Some even told me that working for Azzarelli had turned their lives around.

What I didn't know going into this report was just how many Bart Azzarellis there are today in American business. Azzarelli is one of about 20 members of just one chapter of C12, an association for Christian business leaders with franchises all over the country. And there are a number of other business organizations with a similar focus and membership throughout the United States.
Hot Links: Stories we're watching today
Editor's note: Please vote in the "top stories" poll you see on the right side of the 360 Blog. The year's top story, as chosen by you, will be announced on on air during a special show about the most interesting stories of 2006. Voting ends Wednesday.