Thursday, June 01, 2006
Congo doctor heartened by Americans' response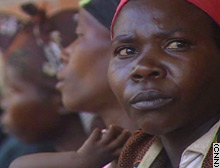 Thank you all for the tremendous outpouring of emotion, anger, disgust and concern over the unspeakable crimes against women being committed in the Democratic Republic of Congo. Believe me, it makes my job all the more rewarding when these stories get such a huge response.
Please tune in to Anderson Cooper 360 on Friday at 10 p.m. ET, when my latest story on the crisis will air.
I've been back in touch with Dr. Denis Mukwege Mukengere, the lone physician at Panzi Hospital in Bukavu, the only center for victims of sexual violence in eastern Congo. He tells me he's been getting hundreds of calls from concerned Americans since
our story
went out on CNN and CNN.com.
"The response has been amazing," he says. "Americans have opened their hearts and are prepared to open their wallets as well. I'm humbled by their generosity. Whoever once said miracles do come true was right in every sense. God may have closed a door on the women of Congo, but he's opened a window and the sun is shining through."
I'm humbled by the strength of this man, and I'm glad he has a renewed sense of energy. He confirms the number of new patients continues to go up. "Just [Tuesday] we had 15 women arrive, all of them raped and mutilated less than 24 hours before."
I also heard from Marie Walterzon of the Swedish Pentecostal Mission, one of the few NGOs providing some much-needed assistance at Panzi Hospital. "God bless America," she told me.
I seek answers for these barbaric and medieval crimes from Congolese President Joseph Kabila, who rose to power almost by default when his father, Laurent Desire Kabila, was assassinated in an attempted coup in 2001. He is filling the position on a transitional basis.
I want him to see the story we did last week on the victims in Bukavu on the women who were raped and mutilated by soldiers. I hand him headphones and he watches the piece in silence. Occasionally his large, piercing eyes narrow into tiny slits. His jaw tightens when he hears the atrocities his former colleagues are accused of committing.
Kabila asks me to play the piece again. Does he really want to see the piece again? He seems interested, angry, disappointed at the crimes his former colleagues are accused of committing. He watches again, lips pursed, his head shaking every now and then.
He removes the headphones and pauses -- pin-drop silence.
"It's shocking," he finally says. "These kinds of acts are simply unforgivable. I'm not saying it's anything new. It's just shocking when you hear their terrible stories. These are innocent victims being terrorized by soldiers. This is not right. This has got to change."
I'm determined to get more answers for
my story
. "Mr. President, you have a six-year-old daughter, a twin sister, a mother. What if this happened to them? What would you do?"
He stares at me for an eternity then says, "You definitely have my answer right there, you definitely have my answer."
I press on.
"Isn't it shameful that men in uniform in your country are allowed to perpetrate such atrocities with such impunity?" I ask.
"It's shameful that soldiers anywhere are allowed to do such things," he says. "That's why I want to be president [on a permanent basis]. I want to change this. I want to make security one of my first priorities so that these and other acts come to an end once and for all."
If you would like to help, please contact:
The Swedish Pentecostal Mission -- PMU
Contact person: Marie Walterzon
Telephone in Congo: 011-243-81-318-6246
E-mail:
vsvbukavu@kivu.on-line.com
Tearfund
Contact person: Tilly Leuring
Telephone in Congo: 011-243-997-089-850
E-mail:
dmt-drc-pd@tearfund.org
Dr. Denis Mukwege Mukengere
E-mail:
denismukwege@hotmail.com
FEMA rules force Biloxi to exploit rebuilding loopholes
Before this week, I hadn't been to Biloxi, Mississippi, since Katrina hit. Nine months ago, this community looked like it would never be able to recover. But driving around here, the first thing I noticed this place smells different; that "smell of death" that hung in the air for weeks after the storm is gone. Also, the streets are clear. We could actually drive around without detours and rebuilding is in full swing.

We came to Biloxi to meet Bill Stallworth. He is a city councilman who has figured out a way for residents to rebuild their homes without meeting the Federal Emergency Management Agency's new height requirements.

He found a loophole where residents can be grandfathered in even if they don't meet the new standard, which is 22 feet above sea level. This means they can qualify for federal flood insurance even if the home is rebuilt on the ground. Stallworth has already repaired 120 homes with the help of volunteers and he has another 160 partly finished.

Stallworth is an ex-schoolteacher with determination like I've never seen. He is angry at the government for forcing new rules on his community members that they can't afford to follow. Stallworth tells us that 40 percent of residents make less than $15,000.

And it will cost them, FEMA admits, as much as $50,000 in some cases to build their homes higher to meet the new elevation requirements. The new elevation is anywhere between 18 and 25 feet. They simply can't afford that.

One resident, who is 93, even told me she'd never be able to get in and out of a home so high -- too many steps. But FEMA says Stallworth and others are building the homes too low, which is putting residents in jeopardy. Stallworth counters that homes here have survived floods before and they will again, built just the way they are.
Wednesday, May 31, 2006
French Quarter bar making final 'last call'
New Orleans, with its famous French Quarter is still loud, wild and rambunctious. People are still allowed to drink alcohol in the streets and they party accordingly. But there is a different feeling here since Hurricane Katrina. Somehow, it feels the like fun and frivolity have been minimized. There are not as many people vacationing here, and therefore, not as much business. As a result, many clubs, bars, and restaurants are in trouble, if they haven't closed already.

Case in point, the Deep South Lounge, a bar in the French Quarter. The owner, Louis, opened it up a few years ago. Business had been booming. He bought a mechanical bull, encouraged bachelor and bachelorette parties, and was having the time of his life with jam-packed weekends in his business. But then came Katrina, and with it, an exodus of locals and the disappearance of tourists. Louis told me he would gross about $4,000 on a good weekend night. Last weekend, he only grossed about $600. He can no longer afford to stay open, so this week he decided to shut the doors on his dream business.

Other businesses are also having a tough time making a buck, but some are sticking it out due to deeper pockets or deeper resolve. The Voodoo Barbecue's business is down 50 percent from last year, according to the owner, and she's now digging into her financial reserves to keep it open. But she and her employees say they believe the city -- and their business -- will come back.

City officials tell us they expect a rebound and are encouraged that conventions are starting to return to New Orleans. But it could be three or four years before the comeback is considered complete, providing there are no more Katrinas.

And that is the underlying fear here. Odds are there won't be another Katrina-magnitude storm here for a long time to come. But as we enter another hurricane season, you'd be hard pressed to find anyone here who doesn't think about that possibility.
Need to see a doctor? Hurry up and wait
One of my professors in medical school once told me that "the very measure of a society is how well they take care of their sick." His words have stayed with me throughout my medical career, and I heard those words again as I reported from New Orleans hospitals this week.
Nearly nine months after Katrina, it is as dangerous as ever to get ill or injured in New Orleans. In a city that once boasted the famed Charity Hospital, a mammoth trauma center that took care of the indigent and the ignored by the thousands, there are now only hastily thrown together emergency centers with limited beds and dangerously low staffing.
As I surveyed the hospital situation, I calculated that at noon on Tuesday, there were only eight hospital beds available in the entire metropolitan New Orleans area. One bad pile up on I-10 and New Orleans would in crisis mode again.
Charity is still standing, but it is empty and devoid of any life. And there are no plans to resuscitate it. When I asked one man sitting out in front of the hospital what he thought of the situation, he looked up and said, "A lot of people were born in Charity and a lot of people died there." So true, but now it is the hospital itself that has died. While there are plans to build a new Charity, a sort of Charity 2.0, it may take more than seven years for that to happen.
If there was one word to describe the hospital system in New Orleans today, it would have to be "waiting." If you are riding your bike and fall and break your collar bone, you will wait at least 12 hours. Step on a rusty nail in the morning and you shouldn't plan on seeing a doctor until the late evening. Swallow 100 Tylenols in an attempt to kill yourself and the doctors will act more quickly to save you, but then you will have to wait.
Ambulances roar up to the hospitals with sirens blaring, but I was stunned to learn it may take up to three hours to even bring the patient into the emergency room. Many patients simply lie on gurneys in the hallways that line emergency rooms throughout New Orleans with no place to go.
I wish I could say things were going to get better and that there was a master plan to improve medical care in New Orleans. Truth is, after interviewing haggard doctors at a few different hospitals, most think it is going to get worse before it gets better. As the city repopulates, there will be even more injured and ill with the same lack of resources.
My professor from medical school would be disappointed in New Orleans today. The frustration is palpable and it seems the only thing everyone agrees on is that something has to change. So, what would you suggest to try and take care of New Orleans' neediest?