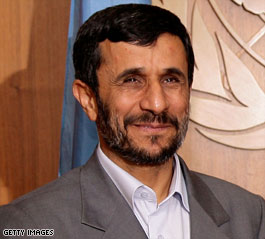 Iranian President Mahmoud Ahmadinejad got a less than welcome reception at Columbia University.
Call me crazy, but there's something fascinating about that firebrand in the tan jacket from Iran.
Mahmoud Ahmadinejad sat stoically yesterday at Columbia University while its president, Lee C. Bollinger, lit into him with a barrage of attacks. By the time Bollinger was finished, he had called the Iranian president cruel and petty and finished him off with this: "Mr. President, I doubt that you will have the intellectual courage to answer these questions, but your avoiding them will in itself be meaningful to us. I do expect you to exhibit the fanatical mind-set that characterizes what you say and do."
Ahmadinejad remained silent and stone-faced during Bollinger's relentless cross-examination. But when he did walk up to the podium, he had a rebuttal ready. "In Iran, tradition requires when you invite a person to be a speaker, we actually respect our students enough to allow them to make their own judgment, and don't think it's necessary before the speech is even given to come in with a series of complaints to provide vaccination to the students and faculty," Ahmadinejad told the audience.
It was an interesting reply. And some would argue an effective one for a man who is a master at avoiding questions or spitting them back.
But that is just part of what makes Ahmadinejad an interesting player on the world stage. He knows his rhetoric about the Holocaust and Israel will make headlines. But what is his motive? And should we fear him? Juan Cole is wary of that notion. In an article in Salon, Cole says neo-cons are casting Ahmadinejad as our main enemy as an excuse to wage war with Iran. Here's his story:
Turning Ahmadinejad into public enemy No. 1
Tomorrow, Christiane Amanpour will interview Ahmadinejad on "360." What questions would you ask of him?
-- By Gabe Falcon, "360" Writer