Editor's note: Miles Levin, a young man profiled recently on "360", passed away yesterday. Over the course of his battle with cancer, Miles became know for blogging about his experience, even contributing a post to the "360 Blog" (Miles: Whatever life we get is bonus). What follows is a short tribute to Miles written by his mom, Nancy.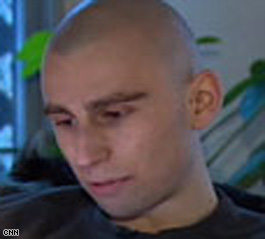 Miles Levin blogged about his experience with cancer; readers from around the world found him.
In a certain sense, Miles Levin's life had become "The Truman Show" in cyberspace. In that movie, Truman's life was chronicled for all the television world to follow. Miles' life, or more accurately, Miles' life and death infiltrated the hearts and minds of people all over the world, even though most never met him and relate to him only through the Internet.
Miles fell just short of his 19th birthday, which would've happened this week, after succumbing to the cancer that invaded and overtook his body. Diagnosed in June of '05, Miles waged a chemical war against these aggressive and relentless cancer cells, a type known as alveolar rhabdomyosarcoma, a pediatric cancer that attacks soft tissue muscle. Miles endured nearly 18 months of different chemotherapy drugs and two rounds of radiation, finally achieving a "clean scan" in December of '06.
Hoping to return to the normal life of a high school senior, Miles jumped into his life with both feet. His freedom was shortlived; the cancer returned in full force in March of '07. With additional treatment, Miles was able to push the cancer back once more, just long enough to attend his graduation, where he gave the student address alongside Bob Woodruff, and his prom, where he enjoyed the company of his delightful girlfriend, Robyn. The cancer, which had become resistant to any intervention, continued to proliferate, until it took over Miles' body, taking his spirit with it. Miles' physical presence departed yesterday, August 19.
Throughout Miles' 26-month fight, he maintained a blog describing his cancer experience, his thoughts, and showcasing his gift of writing. He attracted the media, with newspaper articles and a spot on "360", which increased his readership and popularity. (
Teen cancer patient's blog celebrates life
)
By the end of his life, Miles had become like a guru to many and loved by all who knew him. He carried and expressed gems of wisdom which he imparted in periodic updates on his site. His sweet and innocent disposition reflected more than simple platitudes of truth and wisdom; he carried and projected a wisdom well beyond his years. He seemed to be delivering a message that many in our time long to hear. It's difficult to state his message simply, though he did develop a motto, "Keep fighting, stop struggling."
"People like to construe that every day is a blessing and that's not true. There's nothing wrong with having a bad day; they do happen. But (what's important is) that there's enough good out there -- even if you have cancer or something terrible happens to you -- you can still find it," Miles said in his final interview.
What touched me, as his mother, was how fully human he was, and with such honesty and acceptance. Even with his desperate situation, he maintained a sense of balance, optimism, and spirit. When asked how he'd like to be remembered, he said: "Someone who maintained their light through their darkest journey."
That's exactly who Miles was, and precisely what he inspired in others; accepting his life on its own terms, yet retaining control of his outlook. He said many times, it's not dying he's afraid of, it's dying without impact. He clearly has had impact, the degree to which remains to be seen. At the end of his life, he felt a deep satisfaction of knowing that his life had purpose and that he fulfilled his mission. That's rare for anyone, but even more so for an 18-year-old.
-- By Nancy Levin, Miles Levin's mother