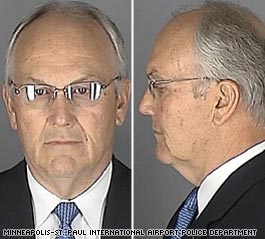 A police mug shot of Sen. Larry Craig after he was arrested at the Minneapolis-St. Paul airport in June.
Senator Larry Craig says he's sorry ... sorry for pleading guilty to a misdemeanor disorderly conduct charge he says he did not commit.
"At the time of this incident, I complained to the police that they were misconstruing my actions," the Idaho Republican said in a statement. "I was not involved in any inappropriate conduct."
But an undercover cop tells a much different story. The plainclothes officer arrested Craig in an airport bathroom after, he says, the senator tried to engage in lewd conduct. According to the officer's report, "Craig would look down at his hands, fidget with his fingers, and then look through the crack in my stall again."
The report goes on to say, "The presence of others did not seem to deter Craig as he moved his right foot so that it touched the side of my left foot which was within my stall area." When the police interviewed him later, the senator said that "he has a wide stance when going to the bathroom" and that was why his foot may have touched the officer's, the report said. (
Read the arrest report
)
Craig, who is married with three children and nine grandchildren, has had to answer to allegations he is gay. Always strongly denying it, he calls the stories "completely ridiculous." A lengthy investigation by the Idaho Statesman newspaper chronicles the allegations by unnamed men and the congressman's repeated denials. (
Read the Idaho Statesman story
)
Sen. Craig is not the first politician to get caught up in a sex scandal. He won't be the last. But for now, his case is making headlines.
If he is gay (and he says he is not), should it matter? And do you feel he needs to resign?
Tell us what you think.
-- By Gabe Falcon, "360" Writer