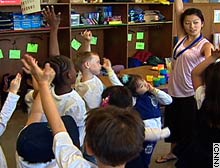 Angelica Chang teaches Mandarin Chinese to kindergartners at the Starr King Elementary School.
Every kid knows that feeling of the last day of school. It feels so liberating to know there won't be any classes on Monday. But for the kids I met at Starr King Elementary School in San Francisco, it was mostly sadness.
The children I met, all kindergartners, had just finished an entire year learning Mandarin Chinese, and they were sad it was over. The class was a year-long immersion course. The teacher spoke only Chinese to her students. That's it. All of the kids' normal subjects, like math and science, were taught in Chinese. Imagine how difficult that would be since none of the 26 children had ever before spoken Mandarin, considered one of the more difficult languages to learn. (For one hour a day, they worked on their English skills with a different teacher.)
Immersion courses operate on the premise of osmosis: eventually the child will get it. And the children I saw seemed to get it. (
Watch these American kids speak Mandarin Chinese
)
It was astounding to walk into a classroom full of American five-year-olds communicating in Chinese. They seemed to have little problem understanding their teacher. They also spoke in Chinese to each other. And during their free time, they even read children's books written exclusively in Chinese.
Parents we spoke to said they enrolled their kids in the program to give them a "leg up" for the future. Some of the children are of Chinese descent, but come from English-speaking families. The district said it offered the immersion program course because of China's growing status in the world.
As the children said goodbye to each other and their teacher, there were a lot of tears. Even though they're only kindergartners, these kids and their teacher seemed to forge a special bond over the course of the year. However, this is only the beginning of their Mandarin education. Next year, as first-graders, they'll be back for another year of classes taught in Chinese.
-- By Dan Simon, CNN Correspondent