Rep. Frank responds to travel story...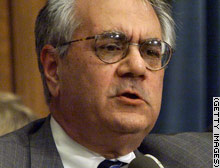 Rep. Barney Frank and some colleagues took a military jet to Europe at a cost of $160,000.
Earlier this week, we
ran a report
on members of Congress using expensive military chartered jets for their trips abroad. The report pointed out that members of Congress could fly business class on commercial planes for a lot less money than the estimated $10,000 an hour spent on military charters.
One of the trips we reported on was Massachusetts Rep. Barney Frank's trip to London and Brussels. We estimated his flight cost $160,000. He and his group of 10 could have flown commercial business class for about for $80,000. Why did he take the charter? His press officer told us on May 1st the congressman was too busy with Iraq war funding issues to talk to us, but said that the charter "made it a lot easier in terms of transportation."
We also pointed out Rep. Frank's trip apparently violated two U.S. House of Representatives rules for using a military charter: he did not include five members of Congress on his trip (required minimum is five) and he did not include any Republicans (trips must be bipartisan).
When the report aired, Rep. Frank felt CNN treated him unfairly. He had refused to sit down in front of our cameras and even canceled an interview earlier this week, but yesterday afternoon he sent us his response in writing. Here it is:
"Congressman Barney Frank, the Chairman of the House Financial Services Committee, today released the following statement after CNN's Drew Griffin filed a recent news report on CNN's "Anderson Cooper's 360":

"CNN recently ran a report on Congressional travel which distorts the reasons and the justifications for the use of military aircraft for a recent Congressional delegation trip I led to London and Brussels. We fully complied with verbal guidance from the military and with the Speaker's January 23, 2007, memo on travel, which states that trips must be bipartisan. CNN expressly criticized me for not including Republicans on our trip. I made several efforts to ask Republican members, some personally, but no one could attend due to scheduling conflicts. In fact, invitations were extended to all Republican members of the Financial Services Committee, and the Republican leadership of the Committee designated two high level staff members to attend the trip, something CNN failed to report. The Office of Interparliamentary Affairs (OIA) advised my staff that as long as a "good faith effort" was made in asking Republicans to travel with us, the delegation could proceed. There was no attempt by me or my staff to exclude Republican members of our committee on this trip.

"Going into the last two weeks before the trip we had five Members scheduled and interest by more members, but two members dropped off for professional and personal reasons -- with one member dropping off just days before we departed. CNN never sought to talk to me about this, nor did they give me a chance to respond to people who were reportedly critical of our efforts before the report aired.

"Use of military aircraft, while limited, does give us the ability to maximize our schedule and get more done in a shorter amount of time. We flew mostly at night in order to have more meetings during the day. It also allows us to work on the aircraft to further manage the time we are spending away from home.

"I noted with interest that CNN did not report on the details of our schedule. The delegation met with government officials, legislators, trade unionists and financial firms and private firms to better understand issues related to the financial services regulatory structures of the US, the UK and the EU. The delegation focused on issues surrounding the increasing global reach of financial services on markets and what it means for the future of financial regulation. In London, the delegation held meetings with financial regulators, investors, EU Commissioner Charles McCreevey and visited with the leaderships of the London International Financial Futures Exchange and the London Stock Exchange. The delegation then continued to Brussels, Belgium, on a one day visit where they met with members of the European Parliament, the European Banking Federation, and with representatives of the international trade union community who have raised concerns about the growing role of hedge funds and private equity pools of capital. The House Financial Services Committee has jurisdiction over US securities regulation and the banking industry."
So what's next? Congress is about to begin its next rite of spring, the Memorial Day break. I'm sure the engines on those Boeing jets at Andrews Air Force Base are already warming up. We'll let you know where your tax dollars are flying this time around.
-- By Drew Griffin, CNN Correspondent