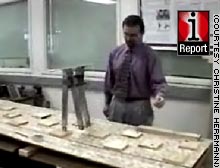 Christine Hermann, one of Granata's former students, shared a video of Granata teaching in Norris Hall in 2003.

I-Reporters continue to enhance and provide context to the Virginia Tech tragedy story.
This video
, which was sent in by Christine Herrmann and Scott England, pays tribute to Kevin Granata, one of the top engineering researchers in the United States.
England writes: "That video shows Dr. Granata very true to life, teaching others and loving what he did. Several people have asked how I knew him, so I'll use the same simile I told them.
In graduate school, your advisor is like your father. They fund your education, introduce you to the field, correct you when you make mistakes, and show you how to be an outstanding academian. For the rest of your life your work reflects on their's and their work weighs on you. Dr. Granata was a brilliant and prolific, young researcher who's hard work and ambition enabled dozens of students to pursue graduate degrees, and Monday we all lost a father."
See more I-Report
tributes to the victims here
.
-- By Tyson Wheatley, CNN.com Producer