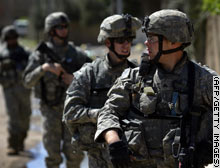 U.S. troops conduct a foot patrol through southern Baghdad last week.
Meeting a deadline to pull out of Iraq is no small feat. Regardless of how much some people may want it and putting aside the question of whether it is a good idea, the numbers tell the tale of its difficulty.
The Pentagon says right now about 143,000 American troops are there, and soon that number will be pushed up to 160,000. And the military does not travel light. There are tens of thousands of airplanes, helicopters, tanks, armored vehicles, strykers, you name it, spread all over the country. Sure, there are concentrations of troops and equipment in Bagdhad and Al Anbar province, but everyone will have to come home, and that means some will come from every corner of that country.
Military analysts say many thousands may well fly out of Bagdhad's airport, but most will get out the same way they got in: overland through Kuwait.
But here's the tricky part. All along the way, former military leaders say, American troops can expect to be dogged by insurgents trying to drive up casualties even as the United States withdraws. And that's why some of those same military minds say this is a terrible idea. Some accept the notion that withdrawal may be the right plan, but they say announcing the deadline is simply a dangerous folly that no one in war can afford.
Sure, it's the same argument we've heard all along, but now it is getting closer to a test of reality. So what do you think? Is the idea of a deadline dangerous? Or is it the only way to make the politicians in Washington get serious about ending the war?