Friday, February 23, 2007
The writer's block: Should news groups air Taliban threats?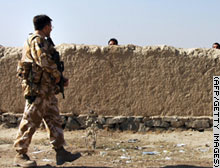 A British soldier stands guard at a ceremony in Kabul.
We heard from the Taliban today, vowing to launch a massive offensive against U.S. forces and other foreign troops in Afghanistan beginning this spring. According to Reuters, one Taliban commander said this year will be the bloodiest yet.

That's disturbing, but really nothing new from the Taliban and other extremists. Their threats stream across the Internet and into our newsroom on a regular basis.

Tonight, we're going to take a closer look at the Taliban warning and what it may mean for the thousands of American troops in Afghanistan. We're also going to have new video of what is purported to be an al Qaeda attack filmed by the militants themselves.

As we discussed how to tell these stories, the following questions were raised: Are we giving the Taliban and other radical groups a venue to air their propaganda? Or are these newsworthy topics involving the war on terror -- and American lives -- that must be told?