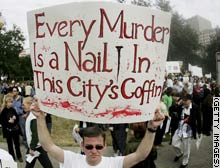 A man displays a sign during a recent rally against crime in New Orleans.
Thirteen years ago, I was mugged in my New Orleans driveway.
I remember being told to turn around, with the gun at the back of my head, and thinking, "What a stupid way to die."
Crime was bad in New Orleans back then. In the mid-90s, the Big Easy edged out Gary, Indiana, for the title of "Murder Capital" of the United States. But a new mayor and a new police chief brought crime under control, and it stayed under control, until Hurricane Katrina.
After the hurricane, most folks thought the criminals had been blown away permanently. Where would they live? In FEMA trailers? What kind of market would they find for drugs or guns in a city preoccupied with gutting houses?
But the criminals have come back, and they are terrorizing people who never felt afraid before. Although the city's population is less than half of what it was before the storm, the number of murders per capita is so high that New Orleans is again the murder capital of the country.
I always tell out of town friends that the "jewel" of the city -- the French Quarter -- is completely safe. It's so romantic to stroll in the Quarter at night, sipping chicory coffee and eating beignets in Jackson Square.
Bill and Betty Norris are 17-year homeowners in the Quarter who just won't go out any more at night. They were almost killed in a mugging in January, and now they say that if the police can't lock up more criminals, then they'll continue to lock themselves in.
They say they moved to the Quarter for the freedom to walk everywhere they want to go -- to the store, to church, to see friends. Now, they drive, even if it's only two blocks.
As Bill puts it, "Our plan now is to reduce our exposure." A 15-year-old who held a gun on Betty was later captured, but the teenager who held a gun on Bill was never found.
Betty says unless the city gets better policing, she and Bill will remain "prisoners" in their home.