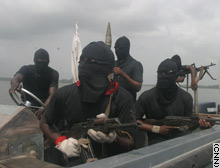 These militants say they are fighting to get Nigerians their fair share of oil profits.
Splashing across the murky waters of southern Nigeria in a speedboat, I suddenly found myself in one of the scariest positions of my journalistic career: masked militants firing machine guns at me and my crew.
We hit the deck, shouting, "We are press! We are press!" Eventually, the bullets stopped flying and the gunmen approached our boat, demanding to know who we were.
As I stared down the barrels of some very big guns, being held by angry young men, I began to have doubts about our trip here.
The waters are so dangerous in these parts that the Nigerian navy doesn't even dare patrol the region. In a word, it's a no-go zone for outsiders.
"How many times do you people come here with your cameras and nothing is done? We don't want you guys to come here again," one of the gunmen shouted.
But we weren't about to leave so easily.

Click here to read the rest of Jeff's story