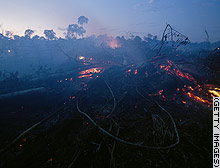 The aftermath of deforestation in the Amazon rainforest. The trees are pushed over with a bulldozer and left to dry before being burned.
We're launching a really cool and ambitious undertaking I want to tell you about....it starts tonight with Anderson in the Amazon rainforest. But I want to begin with what I think is an interesting disconnect.
We've all seen the disturbing stories of polar bears drowning because the ice floes they depend on are melting. We've also heard about the very recent emergence of a new island on the tip of Greenland. It had been thought to be a contiguous part of Greenland, but the receding (melting) ice sheet over Greenland has revealed it to be an island.
All of this seems to be heading toward the final round in the global warming debate: Are warmer conditions in the Arctic and elsewhere due to a cyclical climate pattern or are we (the "we" all over the planet) actually causing it?
The UN Intergovernmental Panel on Climate Change recently pointed a big finger at "us" when it issued a comprehensive assessment on global warming and rising sea levels. Here's the bottom-line: The report concludes it is 90 percent certain that human activities are the primary cause of global warming.
So where is the disconnect? It largely seems to be political. While 57 percent of the general public believes global warming is a proven fact, according to a recent poll, roughly 61 percent of Republicans believe global warming has not been proven.
And that brings us back to this new undertaking for our show. Over the weekend, Anderson and team flew from New York to Miami to the city of Belem in Brazil and then to Araguaina in the Amazon rainforest, where we expect Anderson to broadcast from tonight.
This marks the first of a series of reports called "Planet in Peril" that we plan to produce throughout the year from all over the world. Anderson may well turn up in Madagasgar, China, the Arctic, Cambodia, the Florida Everglades, and perhaps some other locations as well. Animal Planet's Jeff Corwin is joining Anderson on most of these trips.
Our plan is to go and examine in person many of the places and issues Al Gore mentioned in his film, "An Inconvenient Truth." If his film is a classroom lecture, this is the field trip.
We don't think you can understand one piece of this environmental puzzle without also looking at the surrounding pieces. They are all interlocking: global warming, deforestation, population growth and species loss. This project promises to generate a mass of information on these subjects that we'll try to sort out as we go along.
As we follow these issues around the world in the next few months, we very much welcome your thoughts.