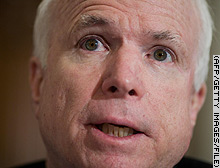 Sen. John McCain, Arizona Republican.
Excerpts from Anderson Cooper's interview with Sen. John McCain at the Brooke Army Medical Center today in San Antonio, Texas.
On the possibility of genocide in Iraq:ANDERSON COOPER:
Some argue ... If the United States is taken out of the equation, it's a Sunni-Shia war basically ... The war happens and it happens and at least the United States is not the central focus of it.
SEN. JOHN MCCAIN:
Well, maybe that's what we decided in Rwanda, but...
COOPER:
You think full-on genocide is possible?
MCCAIN:
Of course. Of course, I think there would be ethnic cleansing on a massive scale. But as importantly, when you see Iranians asserting their influence in the region, which is already significant. When you see Sunnis, particularly Saudi Arabia, feeling they have to do something to protect the Sunni, when you see uh, Turkey becoming more and more nervous about what happens with Kurds, you have a very volatile situation. And not to mention the Syrian involvement as well. So, the scenario is not good. There are no good options.
COOPER:
Any scenario where withdrawing is acceptable to you? Or re-deploying?
MCCAIN:
Not until we have a situation under control to the degree the Iraqi government can exert its influence through most of country that you start, you move forward with a political and economic process. That's what the goal is.
COOPER:
Success is crucial before the United States can pull out?
MCCAIN:
That's my view, and that view, by the way, is held by the majority of experts I know about the region. Now, if you want to pull out, set a date, one week, five months, six months, whatever it is. Then I think you have the obligation to say what happens when we leave. We hear all the talk about leaving. ...But I'd respect it more if they said, and then, what's going to happen. Everything will be quiet and peaceful? I don't think so. And I think that again, our national interest, our vital national security interest, resides in the Middle East certainly at this time.
COOPER:
Sen. Clinton is proposing cap on troop levels at the January 1 level; Obama says January 10. Does that make any sense to you?
MCCAIN:
First of all, I think I'm fairly well versed in military matters and tactics and strategy. I've been involved in it literally all my life in one way or another, but I can't tell you how many troops are needed. I think it's pretty clear the number of troops we have isn't getting the job done. I think there's almost universal acceptance of that. So you put a cap on it? So the status quo remains? Which is a steadily deteriorating situation? Again, intel sources tell me, by the way, public not classified, that if this present situation continues, within six months you'd see absolute chaos in Iraq. So cap on troops? There's a certain lack of logic associated with that position. But I respect it. And I think we need respectful dialogue and debate on this issue.
On government care for injured veterans: COOPER:
Do you think the full cost of this war is really known in terms of what it's don to young people -- lost limbs, PTSD?
MCCAIN:
Probably not, because good news is that our ability to save lives is enormous, and yet it leaves us obviously with many, many people who are injured permanently. But again, when you look at some of the state-of-the-art artificial limbs, it's pretty remarkable. And they're able to do many things that even a few short years ago they weren't able to. And the indominable spirit is incredible.
COOPER:
This center was built with private funds. This Fisher House we are in was built with private funds. Why isn't the government doing this?
MCCAIN:
I think we probably should get into that. I do think that it's a partnership. Once these facilities are built, such as rehab center, then the military takes over. It is a partnership. It's federal law, etc. But probably we should do more and the Fisher family is probably an example to all of us.
But i also would point out, it's nice to see this symbol of generosity. Thousands and thousands of americans donated to this facility. That's a sign of support. No matter how people feel about the conflict, it's clear how they feel about the men and women who are serving.
COOPER:
A lot of our leadership says our veterans are important -- they deserve the best treatment possible. Yet it took a private organization to build this. Why hasn't the government spent $50 million on a center like this?
MCCAIN:
In reality, we are spending billions, and we should for the care of our injured and veterans. I'm proud of many of the veteran facilities that we have. Can we do more? Always do more. Because the reality is we can never do enough for people who have served and sacrificed in this fashion.