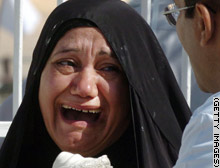 An Iraqi woman mourns the death of a relative killed during a battle between U.S. soldiers and insurgents.
The terrible news out of Iraq today: At least 70 people people died in a sectarian attack at a university. Plus, the United Nations released a report finding that 34,000 Iraqi civilians died in Iraq in 2006. Most of those civilians were killed in Iraqi-on-Iraqi violence, but not all of them.
The U.S. military has been involved in a number of civilian casualties, and we wondered, what does the United States do when that happens? Do they make reparations for the families who've lost loved ones?
We checked, and in fact, the Pentagon does have a program to compensate victims of so-called "collateral damage." But as we found out, it's pretty haphazard, and there are those both in and out of the military who think it would be a good idea to set up an official policy to compensate civilian victims of U.S. military actions.
One of those is the new chairman of the Senate Judiciary Committee, Patrick Leahy of Vermont, a Democrat. He wants the Pentagon to replace the old system of leaving the amount of so-called "condolence payments" up to the discretion of field commanders with a formal program where the Defense Department would need to come to Congress to ask for money, and Congress could then ask questions about civilian deaths. The idea hits on fairness and transparency.
A significant side effect of that kind of program would be to, for the first time, give the public an idea of how many Iraqis have died under U.S. fire. Because right now, no one is counting.