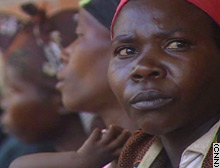 Thank you all for the tremendous outpouring of emotion, anger, disgust and concern over the unspeakable crimes against women being committed in the Democratic Republic of Congo. Believe me, it makes my job all the more rewarding when these stories get such a huge response.
Please tune in to Anderson Cooper 360 on Friday at 10 p.m. ET, when my latest story on the crisis will air.
I've been back in touch with Dr. Denis Mukwege Mukengere, the lone physician at Panzi Hospital in Bukavu, the only center for victims of sexual violence in eastern Congo. He tells me he's been getting hundreds of calls from concerned Americans since
our story
went out on CNN and CNN.com.
"The response has been amazing," he says. "Americans have opened their hearts and are prepared to open their wallets as well. I'm humbled by their generosity. Whoever once said miracles do come true was right in every sense. God may have closed a door on the women of Congo, but he's opened a window and the sun is shining through."
I'm humbled by the strength of this man, and I'm glad he has a renewed sense of energy. He confirms the number of new patients continues to go up. "Just [Tuesday] we had 15 women arrive, all of them raped and mutilated less than 24 hours before."
I also heard from Marie Walterzon of the Swedish Pentecostal Mission, one of the few NGOs providing some much-needed assistance at Panzi Hospital. "God bless America," she told me.
I seek answers for these barbaric and medieval crimes from Congolese President Joseph Kabila, who rose to power almost by default when his father, Laurent Desire Kabila, was assassinated in an attempted coup in 2001. He is filling the position on a transitional basis.
I want him to see the story we did last week on the victims in Bukavu on the women who were raped and mutilated by soldiers. I hand him headphones and he watches the piece in silence. Occasionally his large, piercing eyes narrow into tiny slits. His jaw tightens when he hears the atrocities his former colleagues are accused of committing.
Kabila asks me to play the piece again. Does he really want to see the piece again? He seems interested, angry, disappointed at the crimes his former colleagues are accused of committing. He watches again, lips pursed, his head shaking every now and then.
He removes the headphones and pauses -- pin-drop silence.
"It's shocking," he finally says. "These kinds of acts are simply unforgivable. I'm not saying it's anything new. It's just shocking when you hear their terrible stories. These are innocent victims being terrorized by soldiers. This is not right. This has got to change."
I'm determined to get more answers for
my story
. "Mr. President, you have a six-year-old daughter, a twin sister, a mother. What if this happened to them? What would you do?"
He stares at me for an eternity then says, "You definitely have my answer right there, you definitely have my answer."
I press on.
"Isn't it shameful that men in uniform in your country are allowed to perpetrate such atrocities with such impunity?" I ask.
"It's shameful that soldiers anywhere are allowed to do such things," he says. "That's why I want to be president [on a permanent basis]. I want to change this. I want to make security one of my first priorities so that these and other acts come to an end once and for all."
If you would like to help, please contact:
The Swedish Pentecostal Mission -- PMU
Contact person: Marie Walterzon
Telephone in Congo: 011-243-81-318-6246
E-mail:
vsvbukavu@kivu.on-line.com
Tearfund
Contact person: Tilly Leuring
Telephone in Congo: 011-243-997-089-850
E-mail:
dmt-drc-pd@tearfund.org
Dr. Denis Mukwege Mukengere
E-mail:
denismukwege@hotmail.com