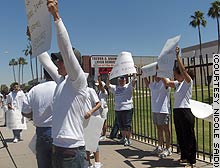 "Aqui estamos, y no nos vamos!"
"We're here, and we're not leaving!"
Thousands of people delivered that message during four separate demonstrations held in and around Phoenix, Arizona.
More than 1,000 people formed a half-mile-long human chain stretching around the block from the Home Depot store near 75th Avenue and McDowell Road.
Two Home Depot stores were targeted for the demonstrations to document the importance of immigrant workers, said Alan Hanson, 30, of Phoenix, a volunteer for the group Somos America (We are America), which organized the chain.
"We don't see this as fighting," Hanson said. "We see this as workers exercising their rights in this country."
In another demonstration, people chanted and cheered "Si se puede!" -- loosely translated as "Yes, we can" -- in front of Trevor Browne High School in southwest Phoenix, where many students are immigrants.
Jesus B. Alvira, 58, of Phoenix, said he came out for the Trevor Browne demonstration because he wants to show that people are sometimes wrongly thought to be illegal immigrants. A seventh-generation Arizonan, Alvira said his family lived in the area before the city even existed.
"Just by looking a little dirty and taking off my cap, you'd think I'm illegal," Alvira said.
He added that the Latino vote is to be reckoned with when considering immigration reforms, because many Latinos are U.S. citizens and are part of a group with growing political clout.
"When November comes, they're really going to put the vote on," Alvira said.