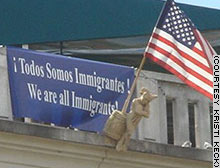 A banner waves from the second story balcony of Top of the Hill, one of the most popular restaurants in Chapel Hill, North Carolina -- "Todos somos Immigrantes! We are all Immigrants."
Proprietor Scott Maitland decided to close shop on Monday and forego about $12,000 in sales to support "A Day Without Immigrants," hoping to draw attention to the debate about immigration policy.
"Immigrants have always been an important part of our society," Maitland said. "Our willingness to open up makes us American."
Maitland said immigrants play an integral role in his restaurant, with many of them working there for more than five years, advancing from the dish room to the floor.
Sam Kenworthy, a college freshman, read a notice on the door explaining why the restaurant was closed, but paid more heed to a handwritten addition from his friends telling him to "Go to Spanky's" -- a restaurant across the street.
Dozens more would-be patrons also read the notice, pausing for a moment before rattling off other dining options.
But it also got some of those people talking. "I think it sends a positive message that boycotts like this work," said Sara Ward. She said the closed restaurant made more of an impression on her than anything she had seen in the news.