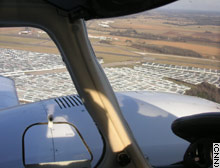 I've lived in New Orleans 13 years now, a Yankee who got sucked in by the smell of gardenias in February and couldn't pull away.
My house is in the part of New Orleans we've started to call the "sliver by the river," the narrow strip along the Mississippi that didn't flood. So I'm typing this from the study of my 100-year-old home, with its hardwood floors and high ceilings, feeling lucky and guilty and numb.
The failure of the levees wiped-out 217,000 homes in New Orleans. Tens of thousands of people are desperate for any kind of temporary housing that will allow them to stay here while they rip the moldy sheetrock out of their homes and try to start over. But there's little housing available.
Apartment rents have doubled, FEMA-paid hotel rooms are being phased-out, and FEMA trailers are in short supply. Then this past week, I saw -- like an oasis in the desert -- 11,000 FEMA mobile homes, real homes, 3-bedroom, 2-bath beauties (comparatively speaking) -- sitting in an Arkansas cow pasture.
FEMA says these mobile homes aren't allowed in a flood plain, which pretty much rules out most of southeast Louisiana. Why did FEMA order them in the first place if they can't be used in areas where people need them? That's what I asked, but nobody seems to know. So the mobile homes sit there, immobile, 450 miles away from the Gulf Coast.