STORY HIGHLIGHTS
AirAsia investigation unlikely to be as frustrating as MH370 case, analysts say
For one, AirAsia disappeared over shallower, more heavily traveled waters
AirAsia disappearance is lacking many of the mysterious hallmarks of MH370 case
Experts expect plane will be found soon, maybe in next 12 hours of daylight
What happened to Malaysia Airlines Flight 370, and will we ever find it? Watch "Vanished: The Mystery of Malaysia Airlines Flight 370" tonight at 9 p.m. ET.
(CNN) -- An airliner vanishes over the waters of a Southeast Asia ocean. There's no distress call, no wreckage, nothing but water and questions.
So far, the story of AirAsia Flight QZ8501 sounds remarkably similar to that of Malaysia Airlines MH370, which remains missing nearly 10 months after it disappeared from radar screens on a flight between Kuala Lumpur, Malaysia, and Beijing.
But it isn't, analysts say.
Here are four ways the two incidents appear to differ:
1. There's not anywhere near as much intrigue.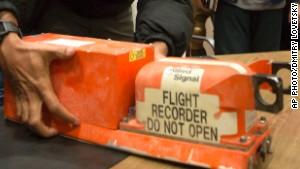 What is a black box anyway?
When MH370 disappeared, the plane's identifying transponders appeared to be intentionally shut off, its pilots stopped making radio transmissions and the airliner made a mysterious turn before possibly traveling for hours until all traces vanished.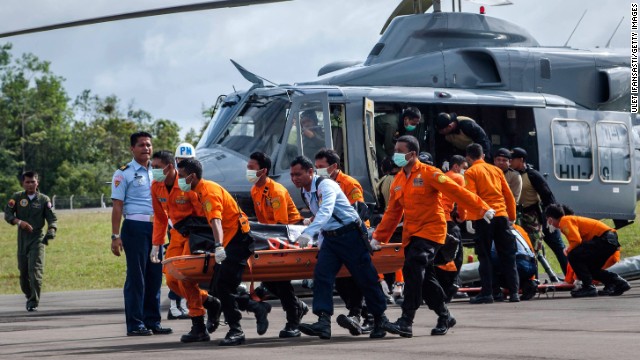 Members of a search and rescue team carry the body of a victim of AirAsia Flight QZ8501 at Iskandar Airbase in Pangkalan Bun, Indonesia, on Thursday, January 1. A massive recovery operation has begun following confirmation from Indonesian officials that remains and debris found in waters off Borneo were from the missing plane.
Marine divers prepare their gear on the deck of a ship before searching for passengers and debris from AirAsia Flight QZ8501 on January 1 at Kumai port in Pangkalan Bun.
Indonesian soldiers carry a coffin containing a victim of AirAsia Flight QZ8501 upon arrival at an air force base in Surabaya, Indonesia, on Wednesday, December 31.
Indonesian soldiers carry coffins of crash victims on December 31.
Relatives of passengers pray together inside a holding room at Juanda International Airport in Surabaya on December 31.
Indonesian navy divers inspect their gear in Pangkalan Bun, Indonesia, before a search operation December 31.
Indonesian Air Force personnel on Tuesday, December 30, show debris, including a suitcase, that was found floating near the site where AirAsia Flight QZ8501 disappeared on Sunday.
Debris floats in the Java Sea on December 30. Flight QZ8501 was carrying 155 passengers and seven crew members.
A member of the Indonesian Navy monitors a radar screen during a search operation over the waters near Bangka Island, Indonesia, on December 30.
A piece of debris floats in the Java Sea on December 30.
Family members of missing passengers react at an airport in Surabaya, Indonesia, after watching news reports on December 30.
Debris floats in the Java Sea on December 30.
Relatives of the flight's pilot, Captain Iriyanto, gather at his house in Surabaya on December 30. Second from right is his wife, Rr. Widiya Sukati Putri.
Indonesian Air Force personnel scan the sea from plane windows on December 30.
A member of an Indonesian search and rescue team gestures as the team is ferried out to a ship to conduct search operations on December 30.
Relatives of missing passengers comfort each other December 30 at Juanda International Airport in Surabaya.
Relatives gather at Juanda International Airport as they wait for news on December 30.
An Indonesian search and rescue team prepares for a search on December 30.
An Indonesian military airman looks out the window of an airplane during a search over the waters of Karimata Strait on Monday, December 29.
Indonesian Army personnel read a map during a search operation on December 29.
Members of Indonesia's Marine Police pray before a search operation on December 29.
Military personnel perform a search operation on Sunday, December 28.
Sunu Widyatmoko, CEO of Indonesia AirAsia, announces December 28 that the flight lost contact with air traffic control.
Members of the Indonesian Regional Disaster Management Agency walk at a beach as they search for the missing plane on December 28.
Jiang Hui, whose relatives were on board Malaysia Airlines Flight 370, watches the news about the missing AirAsia flight at his house in Beijing on December 28. Flight 370 went missing on March 8 and has yet to be found.
An official from Indonesia's national search and rescue agency points to the position where AirAsia Flight QZ8501 went missing.
The aircraft went missing as it flew over the Java Sea between the islands of Belitung and Borneo, according to Indonesian authorities. It was bound for Singapore.
An official checks a map of Indonesia at Juanda International Airport.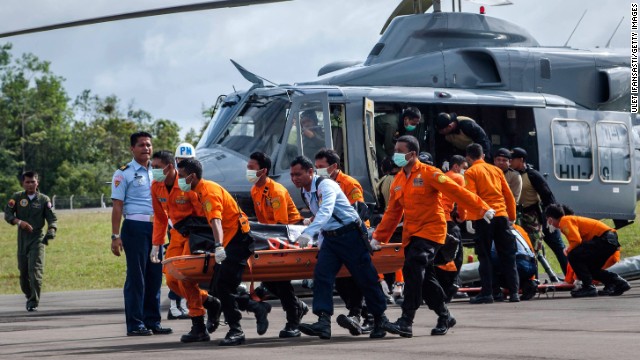 The search for AirAsia Flight QZ8501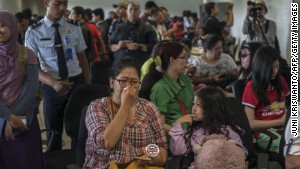 AirAsia CEO: We are 'very devastated'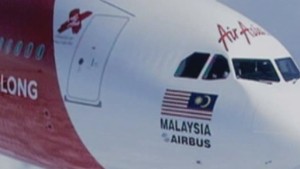 Former pilot: Thunderstorms pose risks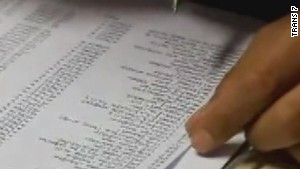 Families of Flight 8501 wait for news
Concerns over hijackings and terror permeated that case, but so far they haven't come up in the AirAsia case.
"In this case you had normal communications with the pilot, a line of weather that appeared to be pretty difficult, severe, and he was asking to climb as high as he could to get out of it," said Peter Goelz, an aviation expert and former National Transportation Safety Board official.
2. The water is much shallower and a commonly used shipping channel, making wreckage easier to find.
The area where MH370 is believed to have gone down features extraordinarily deep water. It's also relatively mysterious -- the seabed had never been charted in some places, making getting a fix on the plane's pingers very difficult.
In the AirAsia case, if the plane went down in the water, it likely rests in no more than a few hundred feet of heavily traveled ocean, making the task of locating and recovering it much simpler, analysts say.
3. Airlines and governments have learned a lot since MH370.
In the hours after the Malaysia Airlines jetliner vanished in March, confusion reigned. When officials spoke at all, the information was often contradictory or confusing, and families of passengers and crew complained about how they were treated.
In this case, both government and airline officials appear to be striking a more appropriate tone.
Families of AirAsia flight passengers given support through the 'nightmare'
AirAsia CEO Tony Fernandes tweeted that his "only thought" was the passengers and crew and pledged to do "whatever we can."
Malaysian Defense Minister Hishammuddin Hussein also tweeted his support: "I will be there with you," he said.
And the search appears to be getting off to a more efficient start. Indonesian officials quickly posted a search plan, indicating ships from its navy, as well as assets from Malaysia, Singapore and Australia, were being called to help.
CNN's Will Ripley said the way Fernandes is handling the crisis is notable.
"What he's doing is something that Malaysia Airlines did not do in the initial hours, the initial days and weeks, which is being very transparent, acknowledging this is a terrible situation," Ripley said.
Goelz agreed.
"In this case, it appears as though the airline and the authorities are in sync, and they really are putting the families first, which is the way to do it."
4. We almost certainly won't be searching for this plane in 10 months.
With a more precise fix on where the plane was when it lost contact, a smaller search area and shallower seas, the airliner almost certainly will be much easier to find, said Steven Wallace, former director of the Federal Aviation Administration's Office of Accident Investigations.
It's "very unlikely that we're going to see anything remotely close to what we saw with Malaysia 370," he said.
"It will not surprise me if this airplane is found in the next 12 hours of daylight, because they know to a fairly high degree of certainty where it was, the water is 150 feet deep as opposed to 10- or 20,000 feet deep in the Indian Ocean."