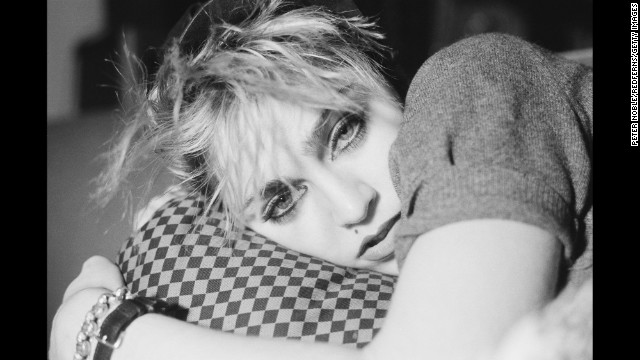 Over her long career, Madonna has been a genius at reinventing herself. Take a look back at how her style has evolved over the years, starting with this shot of her as she was first emerging on the music scene in New York in December 1982.
Madonna's look in 1984: Layered tops, dark makeup and bracelets, bracelets and more bracelets
During the first MTV Video Music Awards in 1984, Madonna set the bar with her performance of "Like a Virgin" wearing a low-cut wedding gown.
The "Material Girl" performs to a sold-out crowd during the Live Aid concert in Philadelphia on July 13, 1985.
Ever a fan of the bustier, Madonna struts her stuff during the 1987 "Who's That Girl" tour.
Then-husband Sean Penn shields Madonna from the paparazzi during a lunch break in New York City on August 13, 1986.
Madonna and director James Foley work on the set of "Who's That Girl" on November 24, 1987, in Los Angeles.
Back to the bustier: Madonna and her backup dancers perform in Los Angeles in September 1989.
The Blond Ambition Tour took Madonna to Tokyo on April 4, 1990.
Madonna "strikes a pose" during her performance of "Vogue" on the MTV Video Music Awards in September 1990.
Younger brother Christopher Ciccone, left, Madonna and director Alek Keshishian attend the "Truth or Dare" premiere in Los Angeles on May 6, 1991.
Madonna evokes old-school Hollywood glamor in a publicity still for "Bedtime Stories" in 1994.
A pregnant Madonna takes a walk on September 25, 1996.
Madonna attends the "Evita" premiere in Los Angeles on December 14, 1996.
Then-husband Guy Ritchie and Madonna attend the launch party for "The 72 Names of God," a book by Rabbi Yehuda Berg, the co-director of The Kabbalah Center, at the New Museum for Contemporary Art in New York on April 24, 2003. Madonna's interest in Kabbalah, a mystic branch of Judaism, was widely discussed at this time.
Pregnant with her second child, Rocco, Madonna walks to her car on August 11, 2000, in Hollywood Hills, California.
Performing during the "Sticky & Sweet" tour, Madonna sings onstage at the MGM Grand Garden Arena in Las Vegas on November 9, 2008.
Madonna attends the "Alexander McQueen: Savage Beauty" Costume Institute Gala at The Metropolitan Museum of Art i New York on May 2, 2011.
LMFAO and Madonna take the field during the halftime show of Super Bowl XLVI in Indianapolis, Indiana, on February 5, 2012.
Madonna performs during the "MDNA" tour at Madison Square Garden in New York on November 12, 2012.
Madonna speaks onstage at the 24th Annual GLAAD Media Awards in New York on March 16, 2013.
Madonna attends the Costume Institute Gala for the "PUNK: Chaos to Couture" exhibition at the Metropolitan Museum of Art ijn New York on May 6.
Madonna accepts the award for Touring Artist of the Year onstage during the 2013 Billboard Music Awards at the MGM Grand Garden Arena in Las Vegas on May 19.
Madonna made six songs from her upcoming album "Rebel Heart" available on Saturday, December 20, after part of the album was leaked online.
Madonna: Through the years
Madonna: Through the years
Madonna: Through the years
Madonna: Through the years
Madonna: Through the years
Madonna: Through the years
Madonna: Through the years
Madonna: Through the years
Madonna: Through the years
Madonna: Through the years
Madonna: Through the years
Madonna: Through the years
Madonna: Through the years
Madonna: Through the years
Madonna: Through the years
Madonna: Through the years
Madonna: Through the years
Madonna: Through the years
Madonna: Through the years
Madonna: Through the years
Madonna: Through the years
Madonna: Through the years
Madonna: Through the years
Madonna: Through the years