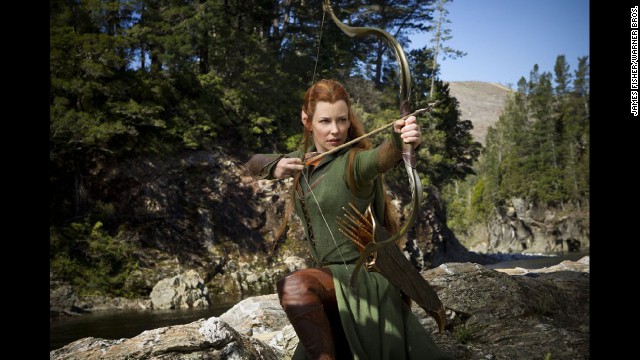 Peter Jackson's journey through his adaptation of "The Hobbit" has been unexpectedly long, as what was intended to be a two-part project was broken up into three movies. The first two, "An Unexpected Journey" and "The Desolation of Smaug," opened in 2012 and 2013. The final installment, "The Battle of the Five Armies," opens December 17. By now, Hollywood's proven that massive franchises aren't
all
bad, and the form has become so commonplace that studios are able to plan their movie release dates years into the future. So if you're curious about what you'll be watching in theaters come 2019, here's a hint: You've already seen it.
Along with the big "Hobbit" release, December 2014 will also host the sequel "Night at the Museum: Secret of the Tomb."
One has to admire Liam Neeson's commitment to playing the gruff guy who saves the day. The actor will once again fill that role in "Taken 3," which opens January 9, 2015. That month, "The Woman in Black 2: Angel of Death" will also arrive, followed by "Hot Tub Time Machine 2" in February.
You've already heard of "The Best Exotic Marigold Hotel," but its March 2015 sequel will focus on "The Second Best Exotic Marigold Hotel." (No, we are not kidding.) If you're more in the mood for a few ghost scares, the latest "Paranormal Activity" installment, "Paranormal Activity: The Ghost Dimension" will also be out.
Zoe Kravitz and Shailene Woodley had a hit on their hands when they starred in 2013's "Divergent." Like "The Hunger Games," this movie franchise is based on an action-centric young adult series, and like "The Hunger Games," it's also being told in four installments. The second movie, "Insurgent," debuts March 20, and will be followed by "Allegiant: Part I" in 2016 and "Allegiant: Part 2" in 2017.
The "Fast and Furious" franchise has been around long enough to have fallen out of favor before becoming popular again. The seventh film in the series, "Furious 7," is one of franchise star Paul Walker's final projects before his death in November 2013. Following "Furious 7's" April 3 release, we'll also get a look at "Paul Blart: Mall Cop 2."
"The Avengers" was a game-changer in 2012, and the arrival of its sequel "Avengers: Age of Ultron," is likely going to eclipse everything else happening in May.
George Miller's apocalyptic "Mad Max" is back in May 2015 with the fourth installment, "Fury Road."
One huge sequel arriving in May 2015 will be the follow-up to 2012's a capella comedy "Pitch Perfect," with the full cast back and Elizabeth Banks behind the director's chair.
With the man in demand, Chris Pratt, leading the charge, the fourth "Jurassic Park" movie "Jurassic World" is setting itself up nicely to be a 2015 summer blockbuster.
The raunchy and lovable teddy bear that Mark Wahlberg and Seth MacFarlane introduced us to in 2012 is back for a second time in June 2015.
For his follow-up to the 2012 stripper movie "Magic Mike," Channing Tatum is raising the stakes. Instead of camping out in a strip club, he's taking his male dancers on the road to a stripper convention.
Technically, 2015's "Terminator: Genisys" will be a reboot of the original 1984 story, and will kick off a new, stand-alone trilogy from Paramount. But if we were looking at all the "Terminator" movies as a whole, including remakes, this would be the fifth film. And we're not stopping with "Genisys" -- there's another installment on the books for 2018.
The "Despicable Me" franchise's little yellow "Minions" are getting their own movie, despite speaking an unintelligible language. But as one of the trailers for the upcoming film proves, we don't need to understand exactly what the minions are saying to understand that we'd totally watch this movie. A "Despicable Me 3" is on the way, too, and is scheduled for June 2017.
Following "Sinister 2" in August, the sequel to 2014's "The Maze Runner," "The Maze Runner: Scorch Trials," arrives in September along with "Hotel Transylvania 2."
Jennifer Lawrence has been Katniss Everdeen, the arrow-slinging heroine of "The Hunger Games" franchise, since 2012, and we're only halfway through the franchise. The third film, "Mockingjay -- Part I," opened in theaters in November 2014, and the final film, "Mockingjay -- Part II," will bow in November 2015.
Sam Smith will sing the theme song for "Bond 24"
is just one of the things that has us beyond excited for this installment's arrival. Daniel Craig returns as 007, and the femme fatale in this film will be played by Lea Seydoux.
Rumors that
The Force will "Awaken" on December 18, 2015, as "Star Wars: Episode VII" bows in theaters.
Tom Cruise's "Mission Impossible 5" will see the actor reprise his daredevil character Ethan Hunt in a new installment arriving on Christmas Day 2015. Also arriving in theaters that month will be "Kung Fu Panda 3."
The comedy of Ice Cube and Kevin Hart is a beautiful thing to watch, and we'll get a second dose of their buddy humor in January 2016's "Ride Along 2." That month will also see the release of the animated sequel, "The Nut Job 2."
After a bit of maneuvering, the sequel to 2013's "Man of Steel," "Batman v Superman: Dawn of Justice," has found a home on the movie release calendar in March 2016.
The last time we saw Eddie Murphy as Detective Axel Foley, it was in 1994's "Beverly Hills Cop III." But the passage of time is nothing to a movie studio eager to bet on a proven franchise; "Beverly Hills Cop 4," again starring Murphy as Det. Foley, is slated for March 2016.
Johnny Depp returns as the Mad Hatter in the long-awaited followup to 2010's "Alice in Wonderland." This 2016 release is called "Alice in Wonderland: Through the Looking Glass," and it'll follow April 2016 sequels "The Best Man: Wedding" and "The Huntsman," which is a follow-up to 2012's "Snow White and the Huntsman."
The "X-Men" franchise has been thoroughly revived with the arrival of 2011's "X-Men: First Class" and 2014's "X-Men: Days of Future Past." Now we can look forward to "X-Men: Apocalypse," which is currently scheduled for May 2016, along with another "Captain America" installment, "Captain America: Civil War."
When it comes to sequels, few have been as longed for as "Finding Dory," the next installment following Disney/Pixar's heartwarming 2003 film, "Finding Nemo." This will arrive in theaters along with "Now You See Me 2" and "Independence Day 2."
So Michael Bay's 2014 take on "Teenage Mutant Ninja Turtles" suffered some criticism; it still did well enough at the box office to make a sequel an obvious choice. Reporter April and her four turtle friends will return to theaters on June 3, 2016.
"Rise of the Planet of the Apes" was a pleasant surprise in 2011, and 2014's sequel, "Dawn of the Planet of the Apes," was considered one of the best releases of the summer. All of that means the still untitled third installment, due in July 2016, has a lot to live up to. Also arriving that month will be another "Bourne" installment, as well as "Ice Age 5."
What's a holiday season without at least one kids movie franchise? In December 2016, that go-to will be "Alvin and the Chipmunks 4." Also arriving this month will be another "Star Wars" installment.
It's been a while, but James Cameron is making a return to Pandora in December 2016 with "Avatar 2." This installment will be followed by two others: "Avatar 3" in 2017, and "Avatar 4" in 2018.
Guillermo del Toro's visually resplendent "Pacific Rim" is getting a follow-up in April 2017. The script isn't expected to be done until spring 2015, but it's a safe bet you can look forward to more sea monsters.
Marvel's "Guardians of the Galaxy" was either going to be a complete disaster or a complete hit; lucky for us, it was the latter. Following the August 2014 release's insane run at the box office, Marvel is planning to deliver a second "Guardians" on May 5, 2017.
It isn't often that another sequel is celebrated, but a fourth installment of "Toy Story"? We're in.
More certain -- at least for now -- are the release dates for the third "How to Train Your Dragon" movie, and the third "Amazing Spider-Man" movie.
At this point, Johnny Depp might want to consider making his eyeliner permanent. The actor is stepping into Captain Jack Sparrow's costume once again for the fifth "Pirates of the Caribbean" film, which is titled "Dead Men Tell No Tales."
Thor may now be a woman, but at the movies Chris Hemsworth is still wielding the hero's hammer. Following "Thor" and "Thor: The Dark World," the third installment, "Thor: Ragnarok," is slated for July 28, 2017.
A new and improved Godzilla stormed into theaters in May 2014, and in 2018 we'll get a second look at the fearsome monster. As with the 2014 installment, director Gareth Edwards again sits at the helm.
But when it comes to the fourth installment in "The Amazing Spider-Man" franchise, Sony is already planning to see the masked hero fly into theaters again in 2018.
The penguins from Dreamworks' "Madagascar" films have turned into breakout stars. The scheming seabirds now have a movie all of their own called "Penguins of Madagascar," which opened November 26. In 2018, we'll also get a fourth installment of the "Madagascar" series.
Marvel already has two more "Avengers" movies on the calendar: "Avengers: Infinity War Part I" opens May 2018, followed by "Avengers: Infinity War Part 2" in May 2019.
Sequel mania: The next 5 years of film
Sequel mania: December 2014
Sequel mania: January 2015
Sequel mania: March 2015
Sequel mania: March 2015
Sequel mania: April 2015
Sequel mania: May 2015
Sequel mania: May 2015
Sequel mania: May 2015
Sequel mania: June 2015
Sequel mania: June 2015
Sequel mania: July 2015
Sequel mania: July 2015
Sequel mania: July 2015
Sequel mania: September 2015
Sequel mania: November 2015
Sequel mania: November 2015
Sequel mania: December 2015
Sequel mania: December 2015
Sequel mania: January 2016
Sequel mania: March 2016
Sequel mania: March 2016
Sequel mania: May 2016
Sequel mania: May 2016
Sequel mania: June 2016
Sequel mania: June 2016
Sequel mania: July 2016
Sequel mania: December 2016
Sequel mania: December 2016
Sequel mania: April 2017
Sequel mania: May 2017
Sequel mania: June 2017
Sequel mania: June 2017
Sequel mania: July 2017
Sequel mania: July 2017
Sequel mania: 2018
Sequel mania: 2018
Sequel mania: 2018
Sequel mania: 2019