STORY HIGHLIGHTS
College and high school students across the country protest and hold "die-ins"
Obama outlines a plan, including a new task force and adding 50,000 body cameras for police
Attorney General Eric Holder is heckled while giving a speech at Martin Luther King's church
(CNN) -- Now this is about much more than Michael Brown and a grand jury's decision not to indict the officer who shot him.
From Harvard to Texas A&M to Stanford, college students nationwide have walked out of classes or staged "die-ins" to decry police violence and racial profiling.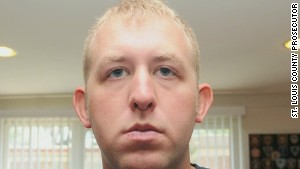 Police protect Wilson from death threats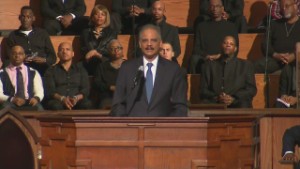 Ferguson protesters interrupt Holder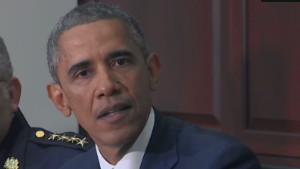 Obama vows 'follow through' after Ferguson
They've been joined by demonstrators across the country who say they won't stop clamoring for change until they see real action.
And more and more, the protesters reflect a wide array of races and backgrounds.
"We come from a privileged background, and it's easy for many of our friends to deny what's going on in this country," one white prep school student told CNN affiliate WABC as he protested Monday in Manhattan. "But we feel it's our duty to speak up for what's right -- speak up for justice."
Outside Harvard Law School, a sea of students lay on the cold bricks to draw attention to Brown's death. Others did the same in St. Louis and in front of the Justice Department in Washington, mimicking the way Brown's body lay on a street for 4 1/2 hours.
In cities across the country, one sign was so prolific that the words on it proved true:
"Ferguson is everywhere."
Moving forward
So how does the country go from die-ins and walk-outs to actual change?
After meeting with law enforcement officials and activists Monday, President Barack Obama outlined several new efforts.
"I'm going to be proposing some new community policing initiatives that will significantly expand funding and training for local law enforcement, including up to 50,000 additional body-worn cameras for law enforcement agencies," Obama said.
The president addressed concerns about "whether we are militarizing domestic law enforcement unnecessarily." He ordered a review after the widely criticized heavy-handed police response to Ferguson protesters in August, and that review suggests largely leaving intact federal programs that provide surplus military equipment to local police departments.
But Obama plans to issue an executive order to tighten some of the controls over the programs to better track equipment provided to law enforcement agencies.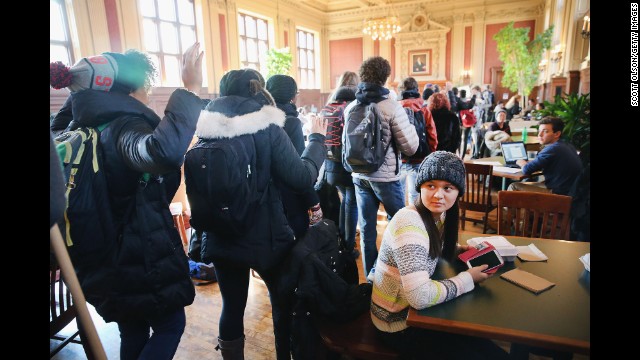 Washington University students march through a student lounge on the St. Louis campus as part of a nationwide walkout on Monday, December 1. Activists called for students to walk out of school and employees to walk off the job nationwide to protest police violence. A grand jury's decision not to indict Darren Wilson, a white police officer, in the August shooting death of unarmed black teenager Michael Brown has prompted demonstrations in Ferguson, Missouri, and across the country. See photos of the unrest in Ferguson.
Students at Jackson State University in Jackson, Mississippi, participate in the walkout on December 1.
Protesters join in the walkout at Union Square in New York on December 1.
Students at Clayton High School in Clayton, Missouri, take part in a "die-in" protest in the school cafeteria on December 1.
Boston Arts Academy students and supporters march in downtown Boston on December 1.
Members of the St. Louis Rams raise their arms as they walk onto the field in St. Louis before their NFL game against the Oakland Raiders on Sunday, November 30.
Officers wearing riot gear walk through a park in downtown St. Louis on November 30.
Several hundred people march down M Street in Washington during a Ferguson protest on Saturday, November 29.
Demonstrators in Brentwood, Missouri, protest inside the Galleria shopping mall on Friday, November 28. The protests forced some retailers to temporarily shutter their entrances on the busiest shopping day of the year.
A protester is arrested in New York during the Macy's Thanksgiving Day Parade on Thursday, November 27.
A protester sits in the back of a police bus after being arrested during a demonstration in Los Angeles on Wednesday, November 26.
Protesters gather on the steps of the National Portrait Gallery in Washington on Tuesday, November 25.
A protester adds wood to a fire burning in Oakland, California, on November 25.
A woman joins a rally near Los Angeles police headquarters on November 25.
Protesters gather in Eugene, Oregon, on November 25.
Protesters in Atlanta block all northbound lanes of Interstate 75/85 near the Georgia state Capitol on November 25.
Businesses were looted in Oakland on November 25, including a T-Mobile store.
People march in Newark, New Jersey, on November 25.
Hundreds of demonstrators gather to protest in Washington on November 25.
Protesters gather outside Los Angeles police headquarters on November 25.
Schoolchildren from the Potomac Preparatory Charter School take part in a "die-in" November 25 during a protest outside the Office of Police Complaints in Washington.
Students at the University of Minnesota in Minneapolis rally in support of police brutality victims on November 25.
Demonstrators gather November 25 outside the Minneapolis Police Department's Third Precinct.
Protesters march up New York's Seventh Avenue on Monday, November 24.
A protester in New York scuffles with police during a march toward Times Square on November 24.
Demonstrators gather around a fire in the streets of Oakland on November 24.
Protesters block Interstate 580 in Oakland on November 24.
Seattle police attempt to push back protesters with pepper spray and flash-bang grenades on November 24.
A Seattle protester pours milk in his eyes after being tear-gassed on November 24.
A protester in Denver holds up his arms during a moment of silence November 24 at Civic Center Park.
A crowd in Washington gathers outside the White House on November 24.
Demonstrators march down a street in Washington on November 24.
Community activist Najee Ali speaks in Los Angeles' Leimert Park on November 24.
Protesters in Los Angeles lie down in a major intersection to block traffic on November 24.
Protesters march near Chicago police headquarters on November 24.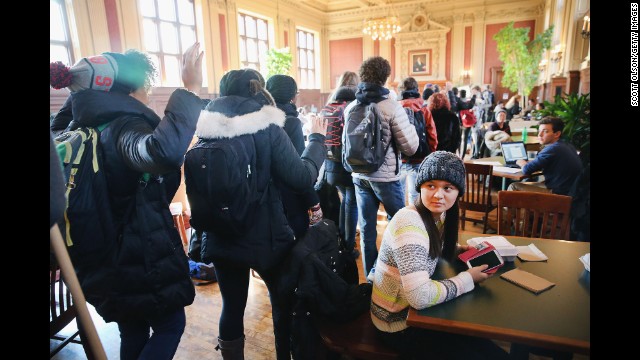 Photos: Ferguson protests across U.S.
The president also announced a new task force, chaired by the Philadelphia police commissioner and a criminology professor, that will reach out to law enforcement, community activists and other stakeholders to come up with best practices on creating accountability and trust between communities and police.
That task force must present their recommendations to Obama in 90 days.
The president admitted than in the past, task forces have fallen short.
But "this time will be different, because the President of the United States is deeply vested in making it different," Obama said.
"In the two years I have remaining as President, I'm going to make sure that we follow through."
Holder heckled
In the first leg of his national dialogue, Attorney General Eric Holder met with community members at Atlanta's Ebenezer Baptist Church -- where Martin Luther King Jr. preached.
Holder's speech was interrupted by a group of protesters chanting, "No justice, no peace" and "We have nothing to lose but our chains."
But the attorney general didn't criticize the hecklers. In fact, he praised them.
"There will be a tendency on the part of some to condemn what we just saw, but we should not," Holder said.
"What we saw there was a genuine expression of concern and involvement. And it is through that level of involvement, that level of concern and I hope a level of perseverance and commitment, that change ultimately will come. And so let me be clear, let me be clear, I ain't mad atcha, all right?"
Complete coverage of what's happening in Ferguson
CNN's Evan Perez and Catherine E. Shoichet contributed to this report.