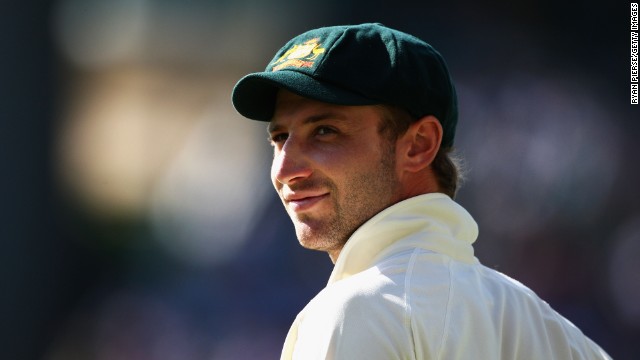 Australia international Phil Hughes died on Thursday, two days after being hit by a cricket ball while playing a professional match for his South Australia side in Sydney.
Hughes made 26 Test appearances for Australia, hitting 1535 runs at an average of 32.66.
In 2009, the 20-year-old became the youngest international cricketer to ever hit back-to-back centuries, achieving the feat against South Africa in Durban.
Hughes, whose mother and sister were present at the Sydney Cricket Ground when he suffered his devastating blow, celebrates victory with father Greg following his Test debut with Australia in 2009.
Hughes' international career suffered its ups and downs, with the batsman dropped during a disappointing Ashes series in England in 2009. He rebounded, most notably in 2012, and he was believed to be a week away from an international recall when playing the fateful match against former side New South Wales in November.
Hughes was named Australia's Domestic Player of the Year in 2013.
In January 2013, Hughes became the first Australian to make a century in his maiden one-day game. Against Sri Lanka in Melbourne, he made 112 runs from 129 balls.
The batsman was also capable of keeping wicket, doing so in a Test match against Sri Lanka in 2012.
Phil Hughes: 1988-2014
Phil Hughes: 1988-2014
Phil Hughes: 1988-2014
Phil Hughes: 1988-2014
Phil Hughes: 1988-2014
Phil Hughes: 1988-2014
Phil Hughes: 1988-2014
Phil Hughes: 1988-2014
STORY HIGHLIGHTS
England cricketer and friend of Phil Hughes gives insight to life as top batsmen
Being a batsmen takes "drive and courage to face your emotions and fears"
Compton suffered own blow to the head this year playing for English county Someset
The 31-year-old is grandson of legendary England player Denis Compton
Editor's note: This piece was filed in the hours before Cricket Australia confirmed the death of Phil Hughes. Nick Compton is a professional cricketer and was a close friend of the popular batsman.
(CNN) -- Waking up Tuesday to the news that my good friend and former team mate Phil Hughes was in a critical state in hospital after a blow to the head in a state cricket match made me instantly realize how fragile life can be.
This is a bloke who lives life to the full.
When we lived together in London and I was knocking around the flat -- getting stressed about something or the other -- it would be his arm around my shoulder, saying "You just got to enjoy it, bro" accompanied by a trademark grin.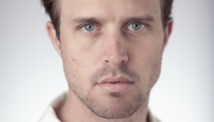 Nick Compton
Phil is the type of guy you'd expect to walk about with a surfboard under his arm, because he's always looking for the next wave.
Read: Australian cricketer fighting for his life
A strong, energetic person, he has transformed much of my thinking about the game -- and even my life.
My relationship with him started when I agreed to be the overseas player for the Western Suburbs cricket team in Sydney.
Phil was the new young gun in Aussie cricket who had burst onto the scene. We hit it off and I gained so much from this young guy who oozed such confidence.
He seemed so fearless and full of life.
He was carefree yet deeply focused and hungry; I loved being around all that energy.
It made me feel alive and it certainly brought me out of my own introspection. It contrasted starkly with the way I had gone about my career to that time. We made an odd couple.
Phil was a breath of fresh air and it was only a few months later that we were sharing an apartment in England while he ripped up county cricket during his first stint playing for Middlesex.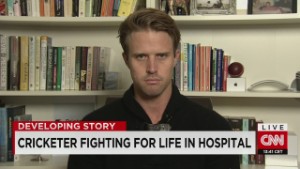 Compton 'sickened' by Hughes accident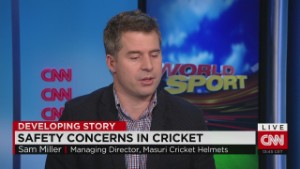 Are cricket helmets safe?
I was in awe of this young kid -- five years my junior -- "What a player!" I thought.
So when I woke up in Abu Dhabi to receive the news about his accident it sent a chill down my spine.
I had spent the weekend watching Lewis Hamilton at the Formula One Grand Prix charging towards his second world championship.
Frequently, during the weekend watching drivers careering around a track at incredible speeds, my elation at this high-octane sport was tinged with apprehension.
My thoughts tracked back to the life of Ayrton Senna, arguably the most naturally gifted racing driver of all-time.
Senna was brave, a three-time world champion, but at the same fearful. He was deeply ambitious and individual.
Yet in a split second he was gone, losing his life after a crash at Imola in 1994.
And then this happens to Phil -- left in a critical state.
Cricket is essentially a team sport but the life of a top order batsmen can be isolated and lonely.
The hours spent hitting thousands of balls trying to perfect your game can drive you mad.
On many occasions, you strap on your pads and go out to train despite feeling well outside of your comfort zone.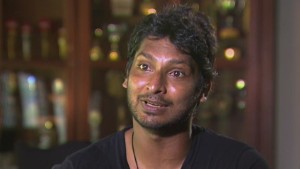 Sri Lanka's cricket sensation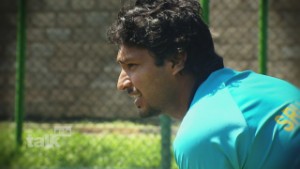 Sangakkara: Cricket brings people together
Pushing yourself to the limit, there is often more apprehension in training than there is in match play.
Then there is the lonely bubble under your helmet. Just you and your thoughts. There is always the time to mull over your next move.
Being a batsmen is lonely, it takes drive and a courage to face your emotions and your fears.
You are frequently tested by the best fast bowlers in the toughest circumstances.
But it isn't often you face someone and are truly scared. I have faced 95 mph balls from a bowling machine off 18 yards in an indoor hall, with the lights turned off, and felt horrendous.
It has become a regular occurrence in my life.
This year, playing for Somerset against Warwickshire, I got a nasty crack to the head.
I've always prided myself on the way I play short pitch stuff but that day the angle of delivery, coupled with some foggy processing, did for me.
I copped one flush on the side of my helmet. I recall, clearly, being shocked at how dazed I felt and I remember thinking "I could be in trouble."
I put my hands on my knees, and just waited for things to go dark around me.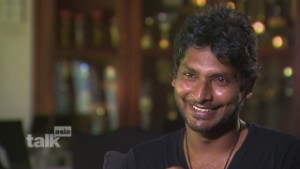 Sri Lankan cricketer tackles corruption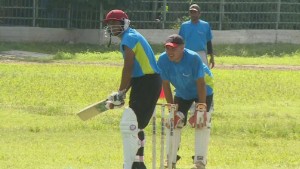 Cuba's cricket craze
Fortunately they didn't and, after lying on my back for a couple of minutes and taking on some refreshment, I was able to carry on.
So seeing Phil fall flat on his face like that was spine chilling.
Phil's accident was a complete freak. For a ball to miss everything and cause such harm to the head is desperately bad luck.
Granted, there has been a litany of incidents in recent times where the ball has found a way through the grill of the helmet bruising cheeks and noses, cutting the skin or removing teeth.
But for a ball to almost find its way through, under the helmet, behind the ear, and to cause that sort of damage is unheard of.
Phil mistimed his shot, was through it too late -- it happens to all of us -- and then got himself into a bit of a tangle.
Ninety nine times out of 100, he would simply have been shaken and down on his haunches for a few seconds, before dusting himself off and carrying on. Maybe even hit the next short ball for six.
This injury has left everyone in the cricketing world stunned. Our thoughts are with Phil and his family. I feel desperate thinking of everyone -- the love and adoration for him is overwhelming to see.
Right now I am thinking of him, that surfboard under his arm, taking on "Ours" -- the notorious surfing break located in the Kurnell National Park, New South Wales.
And if anyone can ride this wave, it is Phil Hughes.