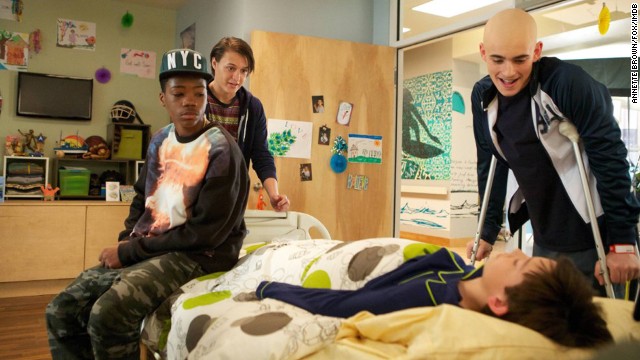 Loser:
The Thanksgiving holiday was a downer for fans of Fox's "Red Band Society." The new fall dramedy about a pediatric hospital ward has tried to survive its unimpressive ratings, but Fox has halted production on future episodes beyond its original 13-episode order. The series will air two more episodes before being removed from Fox's lineup in early December.
Here's a look at the other winners and losers of the fall 2014 TV season so far.
Loser/Winner:
Social media comedy
"Selfie"
initially was one of the casualties of the fall 2014 TV season, with ABC
axing
its updated take on "My Fair Lady" in early November. But then Hulu swooped in with an offer to air "Selfie's" six unaired episodes.
Loser:
CBS recently canceled its Will Arnett and Sean Hayes program "The Millers" just a few weeks into its second season, which caused Hayes to
"Shake It Off."
Loser:
Fox's "Utopia" has been
scrubbed from the network's calendar
entirely after the reality series/"social experiment" drew dismal ratings. The concept was there -- a group of people rounded up and dropped into the wilderness to see whether they could create the perfect society -- but the audience was not.
Winner: With Viola Davis, center, in front of the camera and a Shonda Rhimes protege behind it, it's little surprise that ABC's "How To Get Away with Murder" has been one of fall 2014's freshman hits. ABC has happily picked it up for a full 15-episode run.
Winner: Score another one for ABC with the success of its comedy "Black-ish." Despite premiering in the notoriously difficult post-"Modern Family" time slot, this comedic examination of race and family has found a sizable audience. "Black-ish" has also been picked up for a full season.
Loser: Audiences didn't fall in love with ABC's "Manhattan Love Story." The experimental comedy, which aimed to recount the romance of two New Yorkers through the liberal use of voiceovers, was the first officially canceled show of the 2014 season.
Loser: "Bad Judge," NBC's comedy about an unpredictable head of the court, has also fallen into the "canceled" pile. The sitcom starred Kate Walsh as a hard-partying judge with questionable decision-making skills and never seemed to find its footing with viewers. NBC announced that it was not continuing with the series beyond the initial 13-episode order.
Loser: You can also add the adorable "A to Z" to NBC's list of 2014 regrets. Despite having the charming Ben Feldman and Cristin Milioti star as a couple facing a question of fate, this romantic comedy never picked up steam in its Thursday night time slot. (At 9:30 p.m., it was up against stalwarts like ABC's "Scandal" and CBS's "Two and a Half Men.")
Jury's still out: "Marry Me," NBC's other romance-centered sitcom that stars Ken Marino and Casey Wilson, has gotten off to a promising start. Viewer numbers for recent episodes have been lower, but it's also in good standing critically. In November, it received an additional five-episode order from NBC, but for now this one's still a question mark.
Winner: We could be cynical and say that because "NCIS: New Orleans" is an "NCIS" spinoff, its future was all but guaranteed. Even so, the Scott Bakula-fronted spinoff has performed quite well. (Do we need to say that CBS has already picked this up for a full season? Because yeah, that happened.)
Jury's still out: NBC's version of comic hero John Constantine is carrying the weight of high expectations. Not only is the drama -- which stars Matt Ryan, second from left, as the titular demon hunter -- trying to live up to its source material, it's still in the shadow of an unfortunate 2005 movie. The TV version isn't faring much better; in late November, NBC decided to stop production on the series and keep the first season at just 13 episodes.
Winner: Debra Messing has proved that critical reaction doesn't hold weight as long as the audience shows up. The former "Will and Grace" star now plays a multitasking mom and New York detective in NBC's "The Mysteries of Laura," which has been reviled by critics but supported by the audience. That equals a full-season pickup from NBC.
Winner: CBS hit a jackpot with "Scorpion," a drama about a high-tech team embedded with the Department of Homeland Security. With top-notch ratings, it was a no-brainer for the network to pick this up for a full season.
Winner: The CW has concocted a charming new dramedy in "Jane the Virgin," which stars Gina Rodriguez, center, as a virgin who becomes pregnant via an accidental artificial insemination. (Andrea Navedo, right, plays Jane's mom, Xiomara.) The debut ratings weren't exactly cause for celebration, but with great buzz and critical acclaim, the CW has committed to this series.
Winner: Another of CBS's new dramas, "Madam Secretary," is sticking around for a full season. The series, which stars Tea Leoni, in white shirt, as the secretary of state, has made itself right at home on the network's Sunday night schedule.
Winner: If you've been counting, "Stalker" makes CBS four for four with its new dramas. The police procedural, which stars Dylan McDermott and Maggie Q as a pair of detectives who investigate stalking crimes, hasn't been a breakout hit, but its ratings are nothing to be ashamed of, either. CBS has rewarded the series with a full-season pickup.
Jury's still out: "Gracepoint," Fox's adaptation of the British drama "Broadchurch," has not been playing well this fall season. Its premiere in October was on the low side, and the second episode didn't show an improvement. Chances are we'll see this murder mystery run its 10 episodes before it fades from memory.
Winner: The reaction to "Gotham," Fox's Batman prequel starring Ben McKenzie as a young Commissioner Gordon, has been very mixed. But what is clear is that Fox is willing to at least let the series play out over a first season; "Gotham," which also does very well with DVR playback ratings, has been picked up for an additional six episodes.
Winner: The CW's take on the Flash has been a runaway success, with the premiere episode setting a ratings record for the network. It's no surprise that the CW has grabbed the story of Barry Allen for a full season.
Winner: It took some time for ABC to give new drama "Forever" the security of a full-season pickup, but the network finally committed in November. The drama, which stars Ioan Gruffudd as a NYC medical examiner who also happens to be immortal, has gained a loyal, if not enormous, following.
Winner: With ABC's "Last Man Standing" as its lead-in on Friday nights, Cristela Alonzo's self-titled comedy "Cristela" has been hanging in there. Critical reaction has been mixed, but ABC gave this multicultural sitcom time to find its footing and picked it up for a full season in November.
Jury's still out: CBS's "The McCarthys" had a disappointing debut on October 30 with a premiere viewership of 8 million. That number is nothing to sneeze at, but it's not pretty when compared with the usually sizable ratings CBS comedies receive. CBS isn't giving up yet; the network has ordered two additional episodes.
Jury's still out (technically): The verdict on John Mulaney's Fox comedy "Mulaney" could be summed up as "love the people; don't love the show." When the sitcom debuted in October, it drew only roughly 2 million viewers. It wasn't long before Fox trimmed its episode order from 16 to 13, which doesn't bode well for its future.
Fall TV 2014: Winners and losers (so far)
Fall TV 2014: Winners and losers (so far)
Fall TV 2014: Winners and losers (so far)
Fall TV 2014: Winners and losers (so far)
Fall TV 2014: Winners and losers (so far)
Fall TV 2014: Winners and losers (so far)
Fall TV 2014: Winners and losers (so far)
Fall TV 2014: Winners and losers (so far)
Fall TV 2014: Winners and losers (so far)
Fall TV 2014: Winners and losers (so far)
Fall TV 2014: Winners and losers (so far)
Fall TV 2014: Winners and losers (so far)
Fall TV 2014: Winners and losers (so far)
Fall TV 2014: Winners and losers (so far)
Fall TV 2014: Winners and losers (so far)
Fall TV 2014: Winners and losers (so far)
Fall TV 2014: Winners and losers (so far)
Fall TV 2014: Winners and losers (so far)
Fall TV 2014: Winners and losers (so far)
Fall TV 2014: Winners and losers (so far)
Fall TV 2014: Winners and losers (so far)
Fall TV 2014: Winners and losers (so far)
Fall TV 2014: Winners and losers (so far)
Fall TV 2014: Winners and losers (so far)