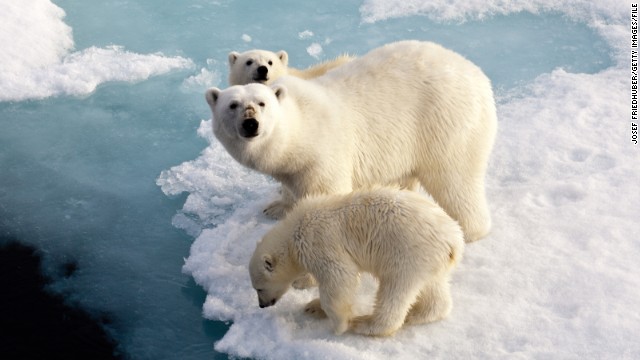 The consequences of climate change go far beyond warming temperatures, which scientists say are melting the polar ice caps and raising sea levels. Meet the team that is measuring climate change in the Arctic on CNN's
"Wish You Were Here"
series. And click through the gallery for a look at 10 other key effects of climate change, some of which may surprise you.
Drought:
In the coming decades climate change will unleash megadroughts lasting 10 years or more, according to
a new report
by scholars at Cornell University, the University of Arizona and the U.S. Geological Survey. We're seeing hints of this already in many arid parts of the world and even in California, which has been rationing water amid record drought. In this 2012 photo, a man places his hand on parched soil in the Greater Upper Nile region of northeastern South Sudan.
Wildfires: There's not a direct link between climate change and wildfires, exactly. But many scientists believe the increase in wildfires in the Western United States is partly the result of tinder-dry forests parched by warming temperatures. This photo shows a wildfire as it approaches the shore of Bass Lake, California, in mid-September.
Coral reefs:
Scientists say the oceans' temperatures
have risen by more than 1 degree Fahrenheit
over the last century. It doesn't sound like much, but it's been enough to affect the fragile ecosystems of coral reefs, which have been bleaching and dying off in recent decades. This photo shows dead coral off the coast of St. Martin's Island in Bangladesh.
Food prices:
A U.N. panel found in March
that climate change -- mostly drought -- is already affecting the global agricultural supply and will likely drive up
food prices. Here, in 2010, workers on combines harvest soybeans in northern Brazil. Global food experts have warned that climate change could double grain prices by 2050.
Pollen allergies:
Are you sneezing more often these days? Climate change may be to blame for that, too. Recent studies show that rising temperatures and carbon dioxide levels promote the growth of weedy plant species that produce allergenic pollen. The worst place in the United States for spring allergies in 2014, according to the Asthma and Allergy Foundation of America?
Louisville, Kentucky
.
Deforestation:
Climate change has not been kind to the world's
forests. Invasive species such as the bark beetle, which thrive in warmer temperatures, have attacked trees across the North American west, from Mexico to the Yukon.
University of Colorado researchers have found
that some populations of mountain pine beetles now produce two generations per year, dramatically boosting the bugs' threat to lodgepole and ponderosa pines. In this 2009 photo, dead spruces of the Yukon's Alsek River valley attest to the devastation wrought by the beetles.
Mountain glaciers: The snows capping majestic Mount Kilimanjaro, Africa's highest peak, once inspired Ernest Hemingway. Now they're in danger of melting away altogether. Studies suggest that if the mountain's snowcap continues to evaporate at its current rate, it could be gone in 15 years. Here, a Kilimanjaro glacier is viewed from Uhuru Peak in December 2010.
Endangered species: Polar bears may be the poster child for climate change's effect on animals. But scientists say climate change is wreaking havoc on many other species -- including birds and reptiles -- that are sensitive to fluctuations in temperatures. One, this golden toad of Costa Rica and other Central American countries, has already gone extinct.
Animal migration: It's not your imagination: Some animals -- mostly birds -- are migrating earlier and earlier every year because of warming global temperatures. Scholars from the University of East Anglia found that Icelandic black-tailed godwits have advanced their migration by two weeks over the past two decades. Researchers also have found that many species are migrating to higher elevations as temperatures climb.
Extreme weather:
The planet could see as many as 20 more hurricanes and tropical storms each year by the end of the century because of climate change, according to
a 2013 study
published in the Proceedings of the National Academy of Sciences. This image shows Superstorm Sandy bearing down on the New Jersey coast in 2012.
11 ways climate change affects the world
11 ways climate change affects the world
11 ways climate change affects the world
11 ways climate change affects the world
11 ways climate change affects the world
11 ways climate change affects the world
11 ways climate change affects the world
11 ways climate change affects the world
11 ways climate change affects the world
11 ways climate change affects the world
11 ways climate change affects the world
STORY HIGHLIGHTS
U.S.-China accord on curbing carbon emissions is a huge step, says Adam Sobel
He says critics who say it doesn't go far enough are in danger of missing key points
A more far-reaching agreement wouldn't have been possible at this point, he says
Sobel: The key thing is that there's finally momentum toward solving the problem
Editor's note: Adam Sobel, a professor at Columbia University's Lamont-Doherty Earth Observatory and Fu Foundation School of Engineering and Applied Sciences, is an atmospheric scientist who studies extreme events and the risks they pose to human society. Sobel is the author of "Storm Surge," a book about Superstorm Sandy, and is the author or co-author of more than 100 peer-reviewed scientific articles. Follow him on Twitter: @profadamsobel The opinions expressed in this commentary are his.
(CNN) -- The agreement between President Barack Obama and President Xi Jinping of China to reduce greenhouse gas emissions is the most important advance in the several decades-long history of international climate negotiations. It has been greeted with rage by those in Congress whose positions on the science are denialist or evasive ("I am not a scientist"). Their criticisms are specious and predictable.
But while most climate scientists I know are still sharing a period of joy following its announcement, some substantive criticisms of the agreement have also been raised. I want to address two of them here.
One is that the agreement doesn't do enough to solve the problem of global warming. The other is that it doesn't promise anything that wasn't likely to happen anyway. Both of these criticisms have some truth, but neither diminishes the importance of what Presidents Obama and Xi have achieved.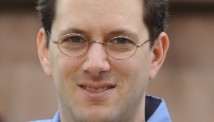 Adam Sobel
First, critics say the agreement doesn't go far enough.
The argument here is that the emissions cuts will not be enough to limit the global mean surface temperature increase to 2 degrees Celsius, the benchmark beyond which climate change will be "dangerous," according to the nonbinding international agreement reached in Copenhagen in 2009. The new U.S.-China agreement alone is indeed very unlikely to keep future warming below 2C.
To achieve 2C, further cuts beyond those spelled out in the agreement will be needed. Or -- or better, and -- we need Earth's climate sensitivity (how much warming we'll get for a given level of greenhouse gas increases) not to be at the high end of the range that the best current science, with its attendant uncertainties, has it.
The first is within the control of the world's politicians. On the second, we all just have to hope -- and we scientists have to keep working hard to try to reduce the uncertainties.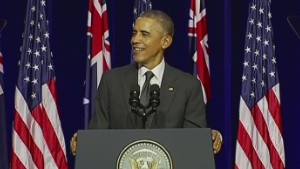 Climate change hot topic at G20 summit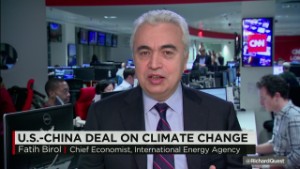 IEA: History has been made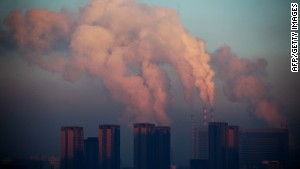 Greenhouse gas deal faces huge challenges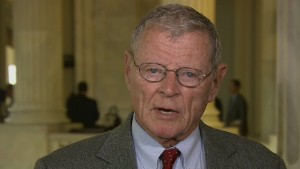 Senator: Climate change isn't settled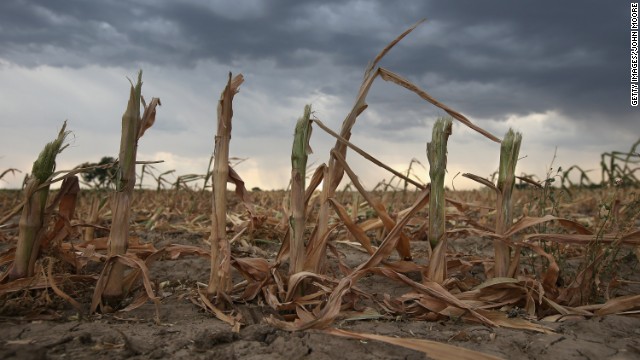 Historically bad droughts have devastated farming communities in recent years, such as these corn fields in Colorado, U.S., in 2012.
The Climate Corporation use big data tools to provide hyper local climate information that farms can turn to their advantage.
Pat Worland of Worland Farms in Vincennes, Indiana, consults the data on his fields.
The group's "Climate" platform breaks down moisture, growth rates and threats, among other variables, backed up by decades of data and simulations.
Ex-Google executive David Friedberg, who co-founded Climate Corporation with Siraj Khaliq, has ambitious plans to reshape global agriculture.
Developed by Californian startup Edyn, Sensor measures light, moisture, temperature and humidity.
The Edyn water valve automatically tops up moisture according to a site's carefully calculated needs to avoid waste.
Data readings and recommendations from Edyn as they appear on your smartphone.
Such innovation could help protect land workers from extreme climate conditions such as California's ongoing and devastating drought.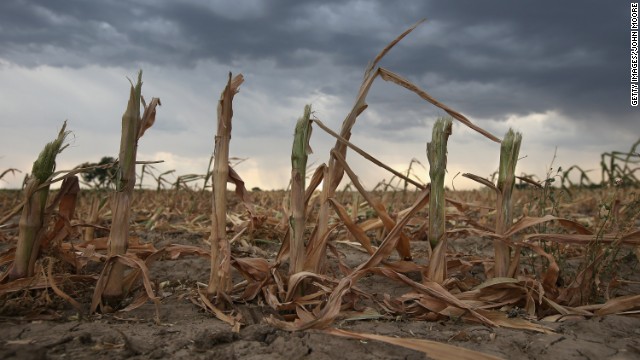 How climate change can be great for business
But we have to take success where we can get it. After decades of failed climate talks -- in which the U.S. was often a big part of the reason for failure and China was a big part of our excuse for dragging our feet -- this is every bit the political breakthrough it appears to be.
While it's not enough on its own, the momentum couldn't be more welcome after so many years of inaction and bad news. It was gratifying to see President Obama pushing the issue at the G20 summit in Australia, a country with as much denialism in its current government as the United States.
Further, while we need goals, and 2C is an important one, we have to understand that we don't get to give up if we miss them. If 2C is dangerous, 3C or 4C is more so. Emissions reductions that don't get us where we want to be are still a lot better than none at all.
The second big criticism is that the emissions cuts might have happened anyway.
The argument here is that Obama had already committed to cuts putting us along the trajectory in the agreement until 2020 (with the EPA regulation of carbon dioxide as a pollutant and the new rules on power plants) and has now just extended the same trajectory to 2025. Similarly, some argue that the Chinese too would be aiming for their targets in the agreement even without it.
On the U.S. side, at least, the howls from Congress show that this argument isn't completely true. It will take real political capital for Obama, or any future U.S. president, to fight off the attacks of the deniers and fossil fuel industry shills. And the new targets certainly represent a major policy change for China as well - even if it's one they were ready to make, recognizing a need to cut back on coal for air pollution as well as climate reasons.
But for the sake of argument, let's accept this criticism as true. This is not something wrong; history suggests that it's how these agreements work, when they work.
The most successful global environmental agreement to date is the 1987 Montreal Protocol, which began the phasing out of chlorofluorocarbons (CFCs) in order to stop the depletion of stratospheric ozone. The Montreal Protocol didn't happen because politicians found a way to force recalcitrant factions in government and industry to go along with it.
It happened because the chemical manufacturers had already come up with CFC substitutes. They were not just ready to accept the protocol's restrictions; they were looking forward to selling a whole lot of new air conditioners and refrigerators.
Unfortunately, the currently available alternatives to fossil fuels are not as ready to take over our energy systems now as the CFC substitutes were ready to take over our refrigeration systems in 1987. And neither government nor the private sector has made the large-scale investments in getting them ready that the scale of the problem warrants.
Under the circumstances, this new agreement couldn't realistically solve climate as completely as the Montreal Protocol solved ozone. But it's a sign that things have started to move.
If the United States and China had reached an agreement now that everyone could agree was definitely enough to keep us below 2C -- despite the political challenges, the technical challenges and the possibility of a more rather than less sensitive climate -- it would have been at best highly aspirational, at worst simply unrealistic.
So indeed, the actual agreement is far from a complete solution to the climate problem. But it's a huge step forward. And it is one not despite the fact that its goals are attainable, but because of that.
Read CNNOpinion's new Flipboard magazine
Follow us on Twitter @CNNOpinion.
Join us on Facebook/CNNOpinion.
The opinions expressed in this commentary are solely those of Adam Sobel.