Hotel, breast cancer 'thrivers' go for breakfast in bed world record
updated 3:37 PM EST, Wed November 12, 2014
STORY HIGHLIGHTS
An attempt to break the record for breakfast in bed was hosted in Shanghai
Wednesday's event attracted 388 people climbing into bed and eating
A breast cancer support group hosted the event
(CNN) -- They had breakfast in bed for charity.
That's why 388 people climbed into bed at the Pudong Shangri-la Hotel in Shanghai, China, on Wednesday morning.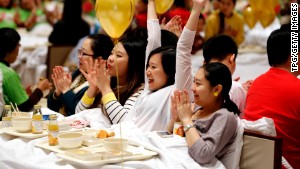 A breast cancer support group was raising awareness through the event.
Members of the More than Aware breast cancer support group and their allies were trying to break a Guinness World Record for the most people having breakfast in bed. The menu included noodles, croissants and fruit, according to Shanghaiist.com.
The previous record was set by Priceline and Women's Health (Australia) in 2012. They hosted 289 people at that breakfast at Sydney's Martin Place. There were 85 queen-size beds, with two to four people in each bed.
Each person had to be fed "two breakfast food items plus a beverage."
The Guinness World Records staff works with nonprofits to help raise awareness of their issues through world-record stunts.
.