STORY HIGHLIGHTS
Aasif Mandvi, Dean Obeidallah: Jon Stewart made us more connected to our faith
Getting hateful comments about Islam made Mandvi want to fight ignorance and bigotry
Mandvi, Obeidallah: The connection was more to our culture rather than religion
They use humor and irony to help people understand what it means to be a Muslim
Editor's note: Aasif Mandvi is a correspondent on "The Daily Show" and author of "No Land's Man." He is co-producing and co-starring in a new HBO series, "The Brink," that will premiere in 2015. Dean Obeidallah, a former attorney, is a columnist for The Daily Beast and editor of the politics blog "The Dean's Report." He's also the co-director of the documentary "The Muslims Are Coming!" Follow him on Twitter: @TheDeansreport The opinions expressed in this commentary are solely those of the authors.
(CNN) -- "How can Jon Stewart hire you to be 'The Daily Show''s senior Muslim correspondent when you don't even know how to pronounce Salaam Al-aikum?!"
This was the immediate reaction of Aasif Mandvi's father after Aasif told him the news. His father then quickly followed up that comment with the admonition, "If Jon Stewart asks you any questions about Islam, don't say a word, tell him to call your mother, she knows everything. And don't embarrass your entire family from here to Mumbai ... oh, and by the way, we are very proud of you, congratulations."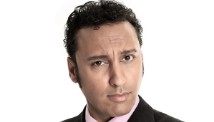 Aasif Mandvi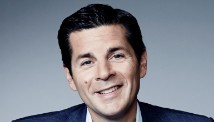 Dean Obeidallah
It's not like Aasif didn't know anything about being a Muslim before he was hired by "The Daily Show" in 2006. But he wasn't that connected to his faith at the time. Something surprising happened, however, while working on the show for eight years. Jon Stewart made Aasif more Muslim-ish. In fact, Stewart did that to both of us.
We don't mean in the religious sense. In fact, we wrote this article in a bar while drinking beer and eating bacon cheeseburger. (Okay, it's an O'Doul's ... and it's turkey bacon, but you get the point.) For millions of Muslims, including both of us, we are connected more culturally than religiously to our faith.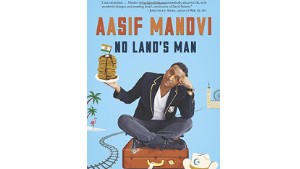 It's not like Jon Stewart intentionally wanted us to become more Muslim. Aasif didn't come to work one day and find Jon sitting in his office holding up the Quran, saying, "Mandvi, its time you start boning up on your Islam."
No, it was much more organic. In Aasif's case, covering Muslim topics for "The Daily Show" was the cause. You can read all about the experiences in hilarious detail in Aasif's new book of personal essays titled, "No Land's Man." (And yes, that was a shameless plug for the book.)
For example, there was the time Aasif was sent to Murfreesboro, Tennessee, to cover a mosque controversy. There he encountered a woman opposed to the mosque who told him that, "one in five Muslims were terrorists." Aasif, who at first tried to counter her argument with facts to no avail, finally responded, "Well, in that case I can't understand what is taking us so long!"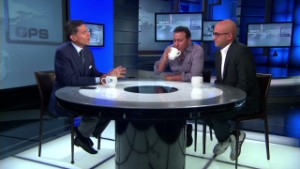 On GPS: Being Muslim in U.S. after 9/11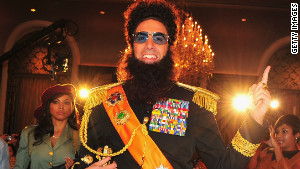 Does Hollywood 'whitewash' its movies?
Another time the show created a parody sitcom of "The Cosby Show" titled, "The Q'usoby Show," about an All-American Muslim family. The reaction from one of the people at the test screening of mostly non-Muslim New Yorkers was that the show didn't seem believable enough. When Aasif asked how it could be more so, one person responded with, "What if they had a terrorist uncle who lived in the basement with a goat?"
These Daily Show experiences "radicalized" Aasif, turning him into, as he calls himself in the book, "the jihadist of irony." The more Aasif experienced hateful or simply ignorant comments about Islam, the more he felt compelled to counter the ignorance and bigotry with missiles of satire on behalf of a group of people who after 9/11 did not have the luxury of being both patriotic and critical of Islam at the same time: American Muslims.
In Dean's case, Stewart agreed to be a part of the documentary he co-directed with Negin Farsad, "The Muslims Are Coming!" This film uses comedy to counter anti-Muslim bigotry.
Stewart being in this film was a big deal. First, the last comedy film Jon had been in was "Death to Smoochy." We are talking years ago. But more importantly, with Jon's participation, the film was able to find the financing it needed. So over the next two years as the film was shot and edited, the sheer immersion in a Muslim-themed project increased Dean's connection to Islam.
Of all the influences Stewart had on our "conversion," the one that truly stands out occurred after death threats had been made against "South Park" creators Trey Parker and Matt Stone for depicting an animated version of the Prophet Mohammed on their show. Stewart called Aasif on the phone -- which was the first time Jon ever had called him -- and asked, "How would you feel about talking about the issue on the show as Muslim? Would you be okay with that?"
Aasif's father's words came immediately rushing back to him. Terrified, he thought for a moment and then asked Jon, "Can I call my mother?"
Later that night, as Aasif was seated across from Stewart at "The Daily Show" desk waiting for the program to begin, Stewart leaned over and said to Aasif, "Thanks for doing this, I know you were hesitant."
Aasif responded, "It's just that I'm not the best Muslim and I can't speak for all of Islam."
As the show's theme music began to play, Jon whispered to Aasif, "I know. But right now you're all we've got."
Sometimes being all "we've got" is all you need. And sometimes being all "we've got" pushes you, even subtly, to be better at it. That is what Stewart did to us. So today we both have Stewart to thank, at least in part, for being able to say that we are now more Muslim-ish than ever!
Read CNNOpinion's new Flipboard magazine.
Follow us on Twitter @CNNOpinion.
Join us on Facebook.com/CNNOpinion.