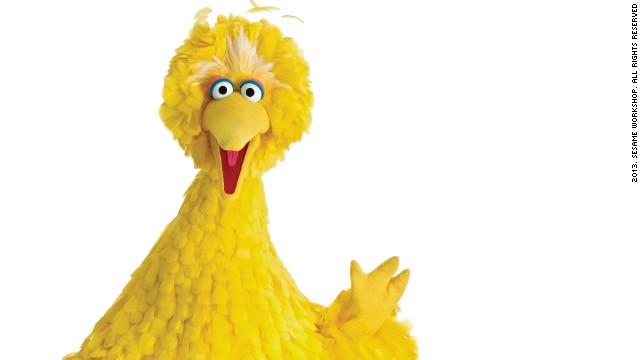 Sesame Street's original star
Big Bird
has led the show since its first episode in 1969. The eight-foot Muppet often doesn't understand what's going on, but sets the tone for the show by never hesitating to find out.
Kermit the Frog had already begun winning younger fans on Sesame Street -- explaining to kids that "It's Not Easy Bein' Green" for the first time in 1970.
The Muppet Show made him a star, but
Bert and Ernie's sketches that the producers put Muppets in starring roles. The comic duo have been two of the show's most popular characters ever since.
Sesame Street's Muppet characters were originally intended to be support for the human cast -- but test audiences responded so warmly to
Elmo getting his big break in 1984. But since then, the furry red monster with the high-pitched voice has gone on to become arguably the show's most popular Muppet.
15 years passed between the premiere of Sesame Street and
Cookie Monster's voracious appetite for his favorite chocolate chip treats have endeared him to viewers since Sesame Street's first season. He's even managed to fit in teaching some important lessons: thanks to him, generations of kids have grown up knowing that "C" is for Cookie.
"Om nom nom nom" --
Oscar the Grouch, whose ambition is to be as miserable as possible, has failed to ruin viewers moods, bringing humor and fun to the Street.
A bad tempered green monster, who loves "anything dirty or dingy or dusty" and lives in a trash can: perhaps not an obvious choice for a children's TV hero. Yet
Zoe broke into Sesame Street's largely male Muppet cast in 1994, becoming the show's stand-out female character. Appearing to be around the same age as Elmo, the two often spend time together. They are understood to be best friends.
Count when he's counting. Whether counting from one to 10, or up to a billion (as he did this year to celebrate Sesame Street's one billion YouTube video views), the Count is happiest with numbers. He can now count over 40 years of appearances on Sesame Street since his debut in 1972.
Nothing can interrupt the
Grover the coolest Muppet on Sesame Street? He certainly thinks he is, and describes himself as a "cute, furry little monster." Grover is one of the favorite creations of Sesame Street puppeteer Frank Oz, who said his generous personality and distinctive way of pronouncing each word "came about organically" when he brought the Muppet to the Street in 1970.
Is
Mr. Snuffleupagus was real. The gigantic Muppet had an uncanny way of disappearing just before adult characters arrived, and many assumed he was Big Bird's imaginary friend. The very real Muppet is one of the Street's most cultured residents, revealing a love of ballet, opera and art since his first appearance in 1971.
For many years, the adults on Sesame Street didn't believe that
The stars of Sesame Street
The stars of Sesame Street
The stars of Sesame Street
The stars of Sesame Street
The stars of Sesame Street
The stars of Sesame Street
The stars of Sesame Street
The stars of Sesame Street
The stars of Sesame Street
The stars of Sesame Street