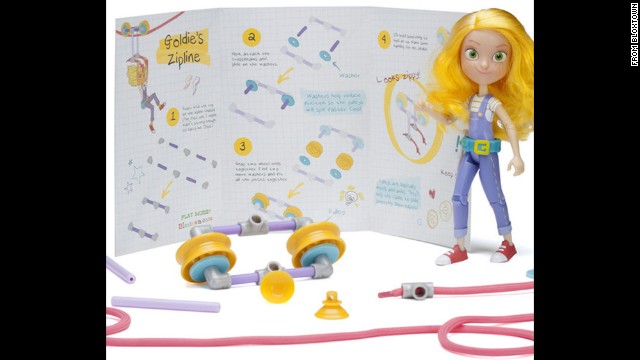 Goldie, the new action figure from GoldieBlox, loves invention, engineering and adventure. The toy company's latest effort at girl-empowerment through retail, Goldie aims to break the mold of princess-worship and oversexualization of female action figures. Click through for a look at some female action figures of the past--and see how they stack up against Goldie.
She-Ra, "Princess of Power," was an influential icon for many girls growing up in the '80s. With a successful cartoon and action figures, she was stiff competition for her twin brother, He-Man. With her long blond hair and heavy sword she resembled a Gladiator Barbie.
There's ongoing debate in the comic book community about the glamourization and oversexualization of female comic book characters and action figures. Case in point: DC Comics' Wonder Girl looks ready for a night at the disco in this sparkly, strapless number. She's also ready to kick some butt with her lasso if need be.
Teenage Mutant Ninja Turtle ally April O'Neil has gone through many iterations in her time as an action figure. Whether she's wearing a form-fitting yellow jumpsuit or the updated look seen here, April is armed with the tools of her journalism trade -- and deadly weapons too.
Batgirl's costume resembles Batman's duds, only more colorful. With built-in six-pack abs and a cape in perpetual motion, the DC Comics character seems ready to fly to the rescue at any moment.
Marvel Comics' Black Widow is the alter ego of the Russian femme fatale Natalia "Natasha" Romanova. A ballerina when she's not working as a secret operative, her black unitard comes in handy for the character's acrobatic moves.
Hit Girl is one of Marvel Comics' crime-fighting "Kick Ass" crew. The young assassin projects elements of school-girl innocence with her plaid skirt and purple color scheme. But the spear-wielding action figure is all business.
taken up archery
in emulation of the character.
"Hunger Games" heroine Katniss Everdeen is ready to fight for her supper with her ubiquidous bow and arrow. Everdeen, created by Suzanne Collins for her Young Adult book series, has become a symbol of empowerment for girls--some of whom say they've
DC Comic's Super Girl is a woman of action in her colorful getup. She may have forgotten her pants after changing in the phone booth, though.
big-screen
Wonder Woman's look stirred some controversy when a mock-up was released this summer.
This action figure portrays Amazonian princess Wonder Woman as muscular, strong and bold. The bustier and briefs ensemble harks back to the classic costume from the '70s Lynda Carter television series. The latest
Female action figures
Female action figures
Female action figures
Female action figures
Female action figures
Female action figures
Female action figures
Female action figures
Female action figures
Female action figures
STORY HIGHLIGHTS
New ad by the toy maker GoldieBlox smashes the idea "beauty is perfection"
The company's first ad went viral last year and led to a Super Bowl spot
Ads like these, women say, empower women by sparking conversations
Female empowerment ads are also good for the bottom line, women's media expert says
Editor's note: Kelly Wallace is CNN's digital correspondent and editor-at-large covering family, career and life. She is a mom of two girls. Read her other columns and follow her reports at CNN Parents and on Twitter.
(CNN) -- There are plenty of times when I literally wish I could take a hammer to the portrayal of girls and women in the media. In a new ad, a little girl gets to do just that.
The ad is by the provocative toy maker GoldieBlox, which captured national attention last year when its ad encouraging girls to "disrupt the pink aisle" and become inventors went viral and led to a Super Bowl commercial.
In this newest ad, a girl, armed with a hammer, breaks rank from the other girls, who are dressed in pink, wearing high heels and picking up Barbie dolls, and silences a machine showcasing a robotic "1984"-like figure who is repeating, "You are beauty and beauty is perfection."
"Take that, beauty talk" is no doubt the message of the ad, before revealing a new toy for girls: A girl action figure holding a hammer.
"I think it's fantastic. Girls have idolized Barbie for way too long," said Laura Beyer, a mom of two grown children in West Allis, Wisconsin. "This finally allows them to break the mold."
Ellen Williams, co-founder of the blog Sisterhood of the Sensible Moms, had an equally positive reaction. "It was about girls being more than their exteriors," she said. "My 16-year-old daughter curls her hair and does her nails every week, but she also is in the robotics club and takes AP calculus."
READ: The puberty ad you'll want to show your girls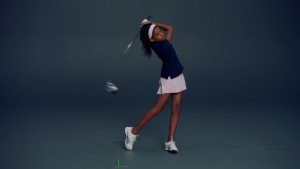 Why doing it 'like a girl' is great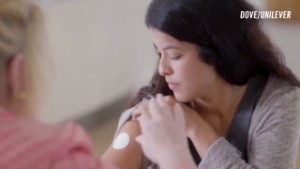 The beauty patch: Bad for women?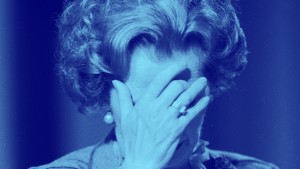 Do women apologize more than men?
The more representations of what it means to be a girl, the better, said Avital Norman Nathman, editor of the motherhood anthology "The Good Mother Myth."
"While I'm not sure if one ad has the ability to undo all of the other ads out there that send the opposite message, it at least shows that there are choices out there and not one prescribed way to be a girl," said Norman Nathan, who is also founder of the blog The Mamafesto.
The ad does have its share of critics too, especially those who think a company trying to bust gender stereotypes might be pushing some at the same time.
"It doesn't surprise me that the doll, despite its proclamation that it is here to break the beauty mold, still has a slender figure and long full blond hair," said the children's television host who goes by the name Miss Lori.
But here's my question: Do ads like the one by GoldieBlox really empower girls?
We have seen a string of female empowerment ads recently -- from the incredibly popular "Run Like a Girl" campaign by Always, which has more than 50 million views on You Tube, to Pantene showcasing how often women apologize to the Dove "Beauty Patch" and HelloFlo's hilarious "Camp Gyno" about a girl getting her period for the first time.
Audrey Mann Cronin, a communications consultant, said she used the Pantene ad on how women apologize much more than men during a recent presentation to illustrate the need for female empowerment.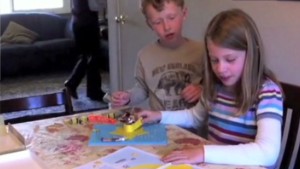 Trading tiaras for toolboxes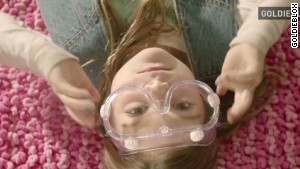 Women talk: Paging 'Aunt Flo'
"We need to empower girls and women to find their own authentic voice, but sometimes we all need permission -- and inspiring ads can be very effective as they drive conversation," said Mann Cronin, who is also the founder of the blog, "Say It Like You Mean It."
READ: Sorry to ask but ... do women apologize more than men?
The ads themselves, many women say, may not be empowering girls, but it's the conversations they are sparking that actually do.
"I've sat down with my 9-year-old daughter to watch many of these ads, and we always end up having great conversations afterwards about how not all girls are the same and it's OK for girls to like and be anything they want," said Sharon Choksi, co-founder of Girls Will Be, a company providing empowering clothing for girls.
"Those seem like simple concepts but all our kids are bombarded every day with messages that try to tell them otherwise and try to place limits on them based solely on their gender."
Raising awareness about key issues affecting girls and young women is a big plus of the ads, said Micky Morrison, a mom of two and founder of BabyWeightTV. "So that girls can start to see how they are being manipulated in subtle ways and discriminated against, so that they learn to stand up for themselves."
Diana Graber teaches digital literacy in schools and recently wrapped up a middle school unit on gender stereotypes in the media. She says young people are stressed and angry about "the unhealthy and unattainable images they are assaulted with daily ... so why not 'flip the switch' and empower young children with strong messages" like the one in the latest GoldieBlox ad, said Graber, co-founder of CyberWise.org, a digital literacy site for parents, children and educators.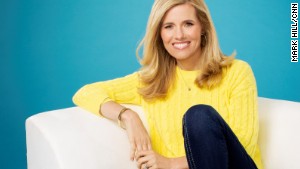 CNN's Kelly Wallace asked women around the country if they think ads like the one by GoldieBlox truly empower girls.
WATCH: The Dove beauty patch: Bad for women?
The ads can get people talking, said Melissa Atkins Wardy, author of the stereotype busting book "Redefining Girly," but "empowerment can't be sold or purchased."
"True, authentic empowerment comes from changing ideas, behaviors and comments that fail to give a girl full credit for who she is as an individual," said Wardy, who also runs a business providing gender empowerment clothing called Pigtail Pals & Ballcap Buddies.
More and more women do seem to be demanding that companies showcase an authentic view of girls and women in their advertisements, and are rewarding those companies that do.
According to a recent online survey by the women's lifestyle media platform SheKnows, 71% of women believe companies should be held responsible for using their advertising to promote positive messages to women and girls.
52% of the more than 600 women surveyed said they bought a product because they liked how the brand and its advertising portrayed women and girls, while 54% said they had stopped buying a product because they were unhappy with how women were portrayed by the brand.
"Our users have indicated clearly that they want ads that celebrate authenticity and aspiration for women," said Samantha Skey, chief revenue officer for SheKnows. "And most importantly, they will get behind the brands who empower their girls."
READ: Pink, princess-y and sexy too soon
The bottom line is no doubt one motivator for corporations in getting behind gender empowerment ads. Tackling issues such as the continued disparity between men and women in certain fields such as science, technology, math and engineering is another.
Don't miss out on the conversation we're having at CNN Living.
Follow us on Twitter
and
Facebook
for the latest stories and tell us what's influencing your life.
Verizon recently launched an ad called "Inspire Her Mind," designed to send a message to parents about encouraging girls to pursue careers in traditionally male-dominated fields and compete for the higher-paid tech jobs in the future.
"Corporate engagement isn't optional when it comes to solving pressing social issues," said Rose Kirk, president of the Verizon Foundation and vice president of global corporate citizenship at Verizon.
"We are missing a big opportunity and failing these girls if we don't find creative ways to close the gender gap quickly."
While we talk about the impact these ads could have on girls and young women, there is also the thinking by some that they are more important for boys and men.
READ: Is the 'be a man' stereotype hurting boys?
"We need more images of girl power and realistically beautiful women sewn into the fabric of entertainment and commercialism in order to reverse the longstanding socializing of our boys and men to expect girls to be girly and women to be sexy first and sometimes only," said Miss Lori, who is also a social media strategist and Babble.com contributor.
"My girls know they are strong and capable. They just need the rest of the world to get out of their way and let them be what they were born to be: powerful people, not just powerful girls."
Do you get think ads like the new one by GoldieBlox truly empower girls? Tell Kelly Wallace on Twitter or CNN Living on Facebook.